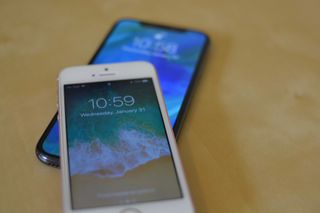 OK, maybe not everything the iPhone X has to offer. I mean, that's a lot to pack into a 4.87-inch x 2.31-inch frame, but you get my point. Since the iPhone 7 launched, I've felt that Apple is leaving 4-inch form factor fans behind. We're lucky we even have the iPhone SE, but I want a 4-inch iPhone that comes as close to Apple's top-tier model as possible. This is a wish list, after all.
Edge-to-edge display
There's a chance that Apple could stretch the screen of the iPhone SE nearly to the size of the screen on the iPhone 8 (4.7-inches diagonally). This would definitely change the entire shape of the iPhone SE casing (which I love), but I'd be willing to compromise if it meant a large screen in a small body.
I currently have an iPhone X and I'm in love with the full-front screen. The notch, though noticeable at first, has blended into my everyday life so that I don't even notice it anymore.
If the 4-inch iPhone had a screen the same size as the iPhone 8, we'd have a much better experience without having to compromise on size.
Taptic engine
Getting a little buzz in your hand when you press a button... not the same as the remarkably comforting feel of haptics. When you feel a slight ... I don't know ... "poke" from your iPhone, it's a delight to the senses. I know I sound like a dork for being so passionate about haptics, but the difference is significant and haptics are far superior to a standard vibrating motor.
Apple's Taptic Engine is a small, but somewhat space-hogging system that I've been in love with since it was implemented in the iPhone 7 Plus. The way the no-button Touch ID indentation feels like a real button being pressed is, well, magical (not literally — a lot of work went into creating this extraordinary technology).
It does take up a lot of room in the guts of an iPhone, but Apple has already significantly reduced the size of motherboard in the iPhone X, so there's no reason that same design couldn't be transferred to the iPhone SE.
Which brings me to my next wish list item:
TrueDepth camera
If they're going to fit all the good stuff of an iPhone X into the body of an iPhone SE, Apple is going to have to get rid of something and that something should be the Home button. I'm telling you, Face ID is the best thing to happen since sliced bread, and, no matter how much you poo-poo it, you'll be impressed with how quickly and efficiently it works.
Face ID needs the entire system of the TrueDepth camera, which also means an upgrade to the front-facing camera, which is currently a paltry 1.2MP garbage fest on the iPhone SE. With TrueDepth on the front, we'd get a massive upgrade to 7MP, plus a whole lot of other cool stuff, like Portrait mode and Portrait lighting, Animoji, and all that facial recognition software that the TrueDepth camera uses.
I really just want it for the Face ID, I swear.
3D Touch
What good is having a Taptic Engine if you don't get to experience it with 3D Touch? Actually, Apple has made some significant software advancements that almost give a 3D Touch experience to iPhone SE owners. Long pressing on certain things, like Control Center panels, will call up some of the same options that 3D Touch would do.
Why not just make the leap to 3D Touch on iPhone SE, Apple?
A11 chip
The iPhone SE is still running on the A9 chipset. A9! Maybe Apple doesn't think the technology inside an iPhone SE needs the power of the A11 processor, but I can say from experience that I'd like my 4-inch iPhone to run a little faster. If I'm adding all of the above-mentioned technology, it'll need the A11 chip anyway. So lets get up to speed (see what I did there) and upgrade the iPhone SE processor chip. And while we're at it, go ahead and upgrade the motion coprocessor to M11, too.
More storage
Apple gave us a boost in storage with the iPhone 8 and X. You can now get as much as 256GB in one handheld computer. Unfortunately, the iPhone SE still maxes out at 128GB. Just because the phone is smaller, doesn't mean our storage needs are. I'd be happy with 256GB of storage in my iPhone SE 2, wouldn't you?
The problem with my wish list
There are two major problems with the things I dream of seeing in the iPhone SE 2 — space and cost.
The dimensions of the iPhone SE case may only be about a half-inch wider than the iPhone X, but they're nearly an inch longer. That extra room is needed for such technology as a TrueDepth camera, the 3D Touch system, and a Taptic Engine. As much as I want to cram all the good stuff from the iPhone X into a 4-inch iPhone, I'm just not sure it's possible.
Even if everything could fit, it's important to take into consideration the cost. How many of you did not think it was a good investment to spend $1,000 or more on the iPhone X? With all of the cool features I just mentioned, the iPhone SE 2 would cost pretty much the same. Just because it's smaller in size, doesn't mean those bits and bobs would cost any less.
Realistically...
If I were to give less of a perfect-world wish list and something more realistic, I'd choose two things from the list above: 3D Touch and the A11 chipset. I think those are both legitimate upgrades that could fit in the iPhone SE, and while it would make it more expensive than the low price of $350, it would be worth it.
Realistically, I'd also like the front-facing camera to get an upgrade to 7MP with 1080p HD video recording and auto image stabilization. Basically, I want the iPhone SE 2 to have the same FaceTime HD camera as the iPhone 8.
What's your iPhone SE 2 wish list?
Do you want an iPhone X crammed into a 4-inch form factor? Are you willing to accept a little less if it means the cost doesn't go up too high? What's on your iPhone SE 2 wish list?
Get the best of iMore in in your inbox, every day!
Lory is a renaissance woman, writing news, reviews, and how-to guides for iMore. She also fancies herself a bit of a rock star in her town and spends too much time reading comic books. If she's not typing away at her keyboard, you can probably find her at Disneyland or watching Star Wars (or both).
I would like to see a slightly larger screen (edge to edge sounds good), a headphone jack, and maintain a good, inexpensive price. Other than that, obviously a faster processor and maybe wireless charging?

The larger screen would have to be done as edge-to-edge, since the SE's USP is its size so that can't really change. Headphone jack will probably go though, to keep in line with their other devices.

"The dimensions of the iPhone SE case may only be about a half-inch wider than the iPhone X, but they're nearly an inch longer."
I think you have that backwards. The SE is smaller than the X.

Agree with almost everything on the list. iPhone SE is a seriously popular handset, I see them all the time, and I think uptake on a significant redesign (even with increased cost) could be worthwhile. The other thing I'd address is space/size. I get that fitting the internals from iPhone X into iPhone SE would be no mean feat, but you know what, for all those features, I would happily compromise on size; make the edge of the iPhone SE II rounded and add a few millimetres to the thickness of the device and I certainly won't complain. I'm over thin, Jony!

You're over thin, but Jony isn't (and probably will never be)

My wish list is to upgrade the internals whilst keeping the case as is so it may remain affordable, small overall, and, a one thumb to four corners device. I haven't any desire for the fancy cameras as they will just inflate the cost. Make it available in (Product)Red and either of the blacks. The Bionic would be "epic", but, would more than likely cause the budget device to run circles around the flagship X and 8. I can definitely live with the Fusion.

Upgrade the processor and the rear camera. Save space inside for a little bit more battery, kill the headphone jack if you must. Keep the overall form factor the way it is. Keep price as low as possible. Don't add force touch but expand the "hold touch" to perform the same in everything, not just live pictures. No face ID, the price would be $599 with that. Wireless charging would be great but i don't think a glass back would be a cheap option.
My jeans have nice 5-sized outlines on the outside of my right front pockets, I don't want those to change. I've worked on those since the day the 5 was released!

This is one of the most reasonable comments here. iPhone SE should be great at the basics and skip all the gimmicky features. 3D Touch still really hasn't justified its existence as a must-have feature. iPhone SE already has good battery life, so I wouldn't even recommend killing off the headphone jack.

Personally I'm not gonna buy an SE since I like a larger phone, but for me Face ID is a must since Touch ID has caused me nothing but trouble since its inception. I also use 3D Touch a lot, but I guess I could live without it if they really can't figure out how to put it on. The headphone jack will probably go to keep it inline with the other iPhones

Budget is budget, so I will not dream about premium stuff.
In my opinion, SE needs to remain relevant being cheap and usefull.
In a smart move Apple could run an opposite game with SE, instead of compare it with the great iphones, should make if more like the (almost dead) ipod touch, but with 4G.
For this matter, put it colorfull, slimmer as the last ipods, and even cheaper.
Imagine it for teenagers that still buy regular ear phones, since they are cheaper.
Ipod is dead the SE should replace it for music, internet and basic photo.

I don't need the small phone to be a budget phone. I would gladly pay iPhone 8 prices if it had feature parity in a smaller device. My wishlist is 3D touch (and i guess taptic to go with it), updated front camera, waterproof, and updated chipset, in that order. They can change the design, make it more rounded, remove the headphone jack, etc as long as it retains the general size of the current model.

I have just one item on my iPhone SE 2 wish list: Improve the camera so that it's good in low light. I was in Europe last fall and took hundreds of photos. They were great in sunshine, but almost all those I took on overcast days were poor. I'd like Apple to keep the price low, which they clearly need to do anyway to keep a product for third world countries.

Have you tried one of the camera apps on the App Store? They let you adjust things like shutter speed and exposure to improve low light, just bare in mind if you're decreasing the shutter speed you will need a steady hand because it increases the chance of blur

I just wish I could get the X without the horns.

I feel like if Apple weren't planning on keeping them, they wouldn't have put them in in the first place. They might get rid of them eventually but not for at least a few years yet

1.4.9 inch 18:9 body ratio. 2.duall sim version. Why buy
buy two when you can have one? 3.720X1280 resolution. 4. 3GB ram, 64 and 128 GB variants. 5. Stereo speakers. I am that good.

1. 4.9 inch 18:9 body ratio.
2. Dual sim version. 3.HD resolution with HDR 10 back up.
4.3GB, 64 and 128 GB variants. 5 Stereo Speakers.
6.Ip68 certified. I am that good.

Headphone Jack so I can upgrade my 7s+ to something less high maintenance dongle wise. Options for more storage. Processor that allows it keep up with iOS updates for the next few years.
Thank you for signing up to iMore. You will receive a verification email shortly.
There was a problem. Please refresh the page and try again.