Nest Protect 2.0 update brings improved pathlight, steam check, and CO levels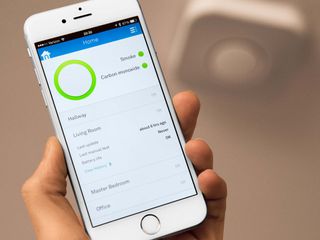 The Nest Protect is going 2.0 and getting some cool new features, which will be rolling out this week. Within the update, the Protect gets a bit smarter and will help keep you at ease in the process. New in the update are steam check, Protect history, learn and prepare, improved pathlight, and CO level notification.
Steam Check: Protect's humidity sensor, which can help it differentiate between fire and a steamy shower. This will allow Protect to eliminate up to 50% of false alarms due to steam while still keeping your family safe.
Protect History: Just like the Nest Learning Thermostat, which shows your temperature history, now you can monitor your Nest Protect's history. Within the mobile app, view your last smoke or CO incident, see how long it lasted and which room it occurred in.
Learn and Prepare: The worst time to figure out what to do in an emergency is during an emergency. With Nest's Learn and Prepare feature, Protect will help you create an emergency plan for your family and provides you with tips for how to keep your family safe.
Pathlight Gets Better: Pathlight—the white light that glows when you walk underneath Protect at night—is one of the most popular features. Nest has enhanced Pathlight so you can adjust the light's brightness and choose to leave Pathlight on at night to serve as a nightlight.
CO Level Notification: In the event of a carbon monoxide leak, it's important for emergency responders to know both the amount and length of time that your home has been exposed to CO. Now, Protect will show you, via the mobile app, the length and severity of a CO incident.
The 2.0 software is available today and will be rolling out to Protect users over the new few weeks. Users just need to ensure their Protect is connected to Wi-Fi in order to receive the update.
Get the best of iMore in in your inbox, every day!
Editorial Director - High Yield
After getting his start writing about BlackBerry in 2008, Adam is now the Editorial Director of High-Yield content at Future. Leading an outstanding team, he oversees many of the articles the publisher produces about VPN, TV streaming, and antivirus software — from buying guides and how to watch content, to deal news and in-depth reviews. Adam's work can be seen on numerous Future brands including TechRadar, Tom's Guide, T3, TTR, Android Central, iMore and Real Homes.
What? How much?
It's cheaper to rebuild the house after it's burned down.
Thank you for signing up to iMore. You will receive a verification email shortly.
There was a problem. Please refresh the page and try again.