Having Netflix or HDCP problems with Apple TV?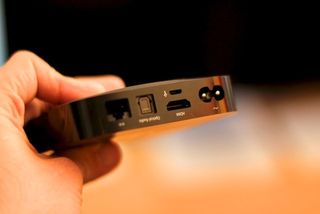 Did you update your Apple TV to iOS 4.2 (yeah, it says 4.1 sometimes, 4.2 others, let's consider it both) this week only to find you still had HDCP (high definition copy protection) problems, or worse, only to find you now had HDCP problems, maybe with Netflix in specific? Georgia's experiencing that today, and so are some members of our Apple TV Forum. Well, we'll try to help you out after the break
First a rant by way of explanation: HDCP is a horrible plague visited on paying customers by movie and television studios that consider us all criminals out to steal their content. They think it stops piracy but -- irony of ironies -- real pirates know how to get around all types of copy protection and it's usually only real customers who suffer from schemes like HDCP. Basically it enforces a secure HDMI connection from content box (Apple TV, Blu-Ray player, etc.) through intermediaries (like a receiver) to output (TV). Every link along the chain has to be secured with HDCP in order for your video to play.
This is why your Apple TV (or other video equipment) might occasionally barf up a "not HDCP compliant" warning and refuse to play the Netflix you subscribe to, the content you rented or bought from iTunes, or other DRM (digital rights management) inflicted video.
Here's what you can try to do to work around it in general, in order of severity and annoyance.
Check your HDMI cables and make sure they're securely plugged into your Apple TV, receiver if you have one, and TV.
Turn everything off and turn it back on. Start with your Apple TV but if that's not enough, try your TV and receiver as well if you have to.
Unplug everything, wait 20 seconds, plug it back in. Again, start with the Apple TV but try TV, receiver, etc. as well if you have to.
Restore your Apple TV to factory settings. It's amazing how many problems a clean re-install can solve.
Swap HDMI cables. You could have a bad connection between the Apple TV and the TV. Try a different cable. (Don't get expensive big box cables, it's digital, it works or it doesn't work. Try MonoPrice.com for reasonable cables).
You'll still have the nuclear option of taking your Apple TV to an Apple Store and maybe even swapping it out for a non-inflicted unit but start with the above and let us know if it works for you. If you have any other trouble shooting tips, let us know about those as well, and make sure you check out our Apple TV Forum for more expert help and advice.
Rene Ritchie is one of the most respected Apple analysts in the business, reaching a combined audience of over 40 million readers a month. His YouTube channel, Vector, has over 90 thousand subscribers and 14 million views and his podcasts, including Debug, have been downloaded over 20 million times. He also regularly co-hosts MacBreak Weekly for the TWiT network and co-hosted CES Live! and Talk Mobile. Based in Montreal, Rene is a former director of product marketing, web developer, and graphic designer. He's authored several books and appeared on numerous television and radio segments to discuss Apple and the technology industry. When not working, he likes to cook, grapple, and spend time with his friends and family.
Does HDCP mean that if I download my content (movies, tv shows) from torrent sites, that I won't be able to play them on an Apple TV? I HAVE to download from iTunes?

No, did you read the article? It just says its there to prevent this from happening, so how would you download torrents if they wont let you?

It appears to be a handshake issue with the TV and Apple TV.
Unplug both devices - wait 30 seconds - plug TV in FIRST and then plug in Apple TV. This should solve the problem.

@ ohferfuxsakes: no, HDCP enforces copy protection embedded in netflix or other content of that type. The idea behind it, is it would prevent you from copying whatever is coming through the HDMI cable. For example, HDCP would prevent you from streaming dexter on netflix plugging it into an HDMI input on your computer and recording it. Content you rip (or torrent) has had the HDCP removed allowing it to be played on any device.

Thanks for the reply Justin. :)

How ironic is it that pirated content avoids all the problems caused by ill-considered Hollywood anti-piracy dongles? Sigh.

@Rene it's always been that way. Ten years ago one had to get his DVD player modified to get rid of macrovision in order to be able to use it with a big-ass CRT projector. Hardware dongles are such a pain that even if I have a license for a protected software I use the cracked version which is more stable. Etc.

ohfer, it's the other way around. You can't play your itunes stuff but you can play the torrented stuff. It's the latest thing in copy protection. :)

I just got my Apple TV yesterday; hooked it up (I already had HDMI and TOSLINK cables); created a trial NetFlix account; and started watching free movies. No problems at all. It shows the Software Version as 4.1, and when I tell it to update, it says the Apple TV is up to date.
A happy customer. Apple does it again -- as usual.
Sunny Guy

It doesn't work with my Netflix. HDCP error blah blah. I am ready to send it back to apple. I plugged it in to my LG 42 inch, one year old tv. Did everything in this helpful article, but unfortunately, nothing.
NOt to mention that I really don't want to spend a buck for some crappy tv show. Ready to go with GOOGLE TV!!

@joe A. Google TV is $400 and only comes built into TV's right now. Go get yourself one.

I agree with all that you've said on HDCP although I'm really not convince that it's simply Apple's poor HDMI implementation, rather than the encryption layer, that's causing the problems. I get all kinds of strange effects that wouldn't possible if the link was simply failing to decrypt the information. Sometimes the picture is there but it's all green, or all purple for instance.
I've been using the Apple TV (seemingly because I have masochistic tendencies and like torturing myself) since the release of the first unit. The HDMI problems were bad in the first version, worse in second (before the update) and even worse after the update, if that was truly possible!
WTF!? Every other device in my system is able to be switched by my amplifier...except the Apple TV. Why is it that everyone else can get it right, but not Apple? Their products are media and network devices; I've never had more media and networking problems than with Apple products. I'm completely p!ssed off (if you couldn't tell) and finished with Apple and the way they come up with awesome ideas and completely stuff it up with rubbish implementation.
Worse still, until recently Apple completely refused to acknowledge the problems and even wanted to charge me support fees to debug the problems. The Apple TV, whilst having so much potential, is just an embarrassment and it's a joke when my mates come over as to whether it's even going to work or not.
Do not bother buying this device.

SOrry, first paragraph should have read "I'm not really convinced that it's NOT simply Apple's poor HDMI implementation, rather than the encryption layer"

Was getting the HDCP error, unplugging the Apple TV did the trick. Seems to be the cure for all evils with the little device.

Power cycle worked here as well. Thanks.

Powered off the apple tv, but also noticed my hdmi cable was not pushed all the way in, when I rebooted, started watching with no error

I set up my ATV2 with Netflix streaming and it worked great for weeks. Apple forced a firware/software upgrade, and NOW I have a problem with the HDCP error. Nothing else on my system was changed. This is obviously an Apple/Software issue. APPLE - FIX IT PLEASE AND DON'T LEAVE YOUR CUSTOMERS HANGING. This is just sloppy business practice, like the iPhone antenna, and you're not fooling anybody.

I've got a 2006 Toshiba 42" plasma and a brand new top of the line HDMI cable from Best Buy. The TV manual, and Toshiba technical support both confirm the TV is HDCP compliant. NONE of the solutions in this article, including the nuclear (exchange for a new unit - which cost me half a day of my life, thank you Steve's geeks) have solved this problem. The unit freezes exactly 5 seconds into any HD content and then about 30 seconds to a minute later barfs up the HDCP error message- It plays copy protected SD content just fine. If everything were available in SD, and always would be, that would be an acceptable work around for me but I'm going to get my money back because I believe everything will be HD only fairly soon and lots of content already is

I had the problem with netflix, ATV 2, Sony LCD Television.
Like the previous posters say - pull the power chord from the electrical outlet, then plug it back in. Apple TV's white LED light will blink for a couple of secs, then "Bam" netflix works.

power cycling the ATV and TV worked for me!!! Thank you!!

Have apple TV 2nd Gen... and Samsung TV... plugged apple tv into HDMI 2 which is labeled HDMI2/DVI... had no issues until tried Netflix.. switched cable to HDMI 1 and problem solved.. looks like HDCP is only supported on HDMI 1 on some Samsung models.. hope this helps anyone..

Power cycling the ATV and TV worked for me too!!! Thank you!!
After 4 calls to Netflix and one to Apple, where they best they could do was to make sure your HDMI cable is HDCP-compatible, unplugging both ATV and TV worked. My research said all HDMI cables are HDCP compatible and my TV, purchased on Black Friday 2010 also said HDMI ports are HDCP compatible.

This can also be caused by the hdmi cable being snagged or pushed up against the wall or another component. Make sure it is attached securely but isn't encumbered

I have a new Apple TV unit and a 2009 LG 47LH40 UA TV and everything works on NETFLIX until I select PLAY. Then I get the HDCP screen OR I get the perpetual moving wagon wheel. I did a total reset and reinstall of Apple software and no difference. Tried all of the power cycled suggested... no difference. Tried all 4 HDMI ports on the LG... no difference. Last chance is the HDMI cable, but I am not betting on that since everything else on the APPLE TV works with it.

I'm experience the same thing as rom m. New LG TV (purchased earlier this month 32LD350), new Apple TV. Plugged into HDMI 1 - got the HDCP error after the wagon wheel spun for a while. Turned off, on, etc., got Netflix to work for a little while, then it froze and popped up the error again. Tried HDMI 2, thought it was fixed, but eventually crapped out there, too. I have contacted Apple several times and have now contacted LG to see if I need a firmware updated (Apple's suggestion). Apple went through the standard plug/unplug, restore, check cable scenarios. This is obviously something they need to deal with.

Oops - obviously I meant "I'm experiencing.... blah, blah, blah". I hate it when I publish a typo.

All, I've tried with 3 HDMI cable and LED, LCD and PDP TV. Samsung LED works. Panasonic PDP works. Toshiba LCD doesn't work. Seem problem with TV instead of Apple TV. I've contacted Toshiba Thailand to help but they just say their product is HDCP compliance. I'll visit their service center to test Apple TV with all of their models.

แล้วเค้าว่ายังไงมั้งคับผม ใช้ Toshiba Resza 42 นิ้วไม่ได้ แต่ 40 นิ้วดันดูได้งงเลย

Experienced the same issue, but would only intermittently receive the HDCP error - most of the time the image would freeze or the screen went black after just a few seconds viewing Netflix. We just completely stopped using it. When I finally got around to troubleshooting it, I was always chasing down the issue as a streaming problem (which is what Netflix would have you believe), but after letting the unit sit frozen for about 10 minutes, the HDCP error popped up consistently. That's when the problem was narrowed down. Powered down, removed the HDMI cable from the TV and Apple TV, reconnected (tough getting it in the TV end), and (so far...) all is well. First time we've been able to watch a video from Netflix since we got the box at XMAS. Sad waste of time. You both (Apple & Netflix) can and should do better.

Just shuting off the TV, apple TV and Rogers receiver then turning on, apple TV is picking netflix and anything else. TKS

I found that by switching my ATV to the primary HDMI port (HDMI 1) on my receiver, that I have almost completely rid my system of HDCP issues. Evidently Pioneer doesn't support HDCP through all their inputs, and I'm sure they're not the only company with this annoying design flaw...

i got a brand new ATV2, a brand new HDMI cable, plugged it up, synced it with my iTunes, synced it up with NETFLIX, watched 4movies in full.
On the morning of November 6, 2011, i finished a whole documentary on the PIXIES, went to lunch, came back to watch another, (the Madoff story) it bent me over and shoved a HDCP comment up my arse.
I could only imagine a software update from apple to solve this. turning things on and off, swapping cables, etc seems too elementary.
Apple, please do some magic.
thanks

I was able to fix the HDCP error by following these steps on my Apple tv device:
Click on Menu / Settings / iTunes Store / Video Resolution (changing the 720p HD setting to Standard Definition).
Then click Menu button twice to return and you should be right to go.
Hope this works for you too.

Hi, Neat post. There's a problem together with your website in web explorer, could test this? IE still is the marketplace chief and a huge portion of other folks will leave out your magnificent writing due to this problem.

Luxury wallets store supply all kinds of Louis Vuitton Wallet Louis Vuitton Wallet in a low price with high quality.Our online store sell a lot of famous brands wallets such as Chanel Wallets Chanel Wallets and gucci wallets.

It's sufficient just restart Apple TV. HDCP occurs both Netflix and iTUnes contents. THis problem don't occurs before 4.2 update.

I have ATV2 and ATV3 with two HD1080p LED TVs both HDCP compliant. The ATV2 works perfectly on both TVs with any one of 3 cables that I have. The ATV3 will not work on any combination. I have tried all combinations of power cycles - full factory reset. I have wasted hundreds of dollars of my time stuffing around with this and I have no doubt it is an Apple problem that they just refuse to fix. Why not offer unencrypted SD at least for now as an option rather than no solution.
Thank you for signing up to iMore. You will receive a verification email shortly.
There was a problem. Please refresh the page and try again.