New Beats Music streaming service acknowledges problems, extends trial subscriptions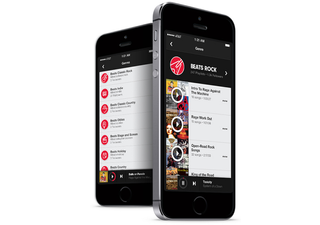 Beats Music is the newest streaming music service to hit the American market - the service launched this week and offers subscribers a $9.99 monthly subscription fee. Apparently they've been a bit overwhelmed by the response, judging by a new e-mail that went out today:
If you've pre-reserved your user account, you're all set - they'll get it online as soon as they can. And everyone who registers this week will get an extra seven days tacked on to their trial subscription.
Beats Music holds a lot of promise, but time will tell if it lives up to expectations. Right now customers are getting more frustrated than anything, so it's good that they're putting the brakes on letting new listeners in until things get straightened out.
Does all this drama make Beats Music more or less interesting to you? Let me know in the comments.
Glad to know they're acknowledging the issues. Each time I relaunch the app after a while it resets, and crashes. But it does work from time to time. I like that they're giving a longer trial period, I'd like to see a month of trial, but we will see. Once they launch a Mac app, I will likely switch from Spotify. Sent from the iMore App

I've been unable to fully use the service since almost every time I open up the app it kicks me back to the initial setup, but when it works it works pretty good. Let's see how this goes after all the bugs get fixed. Sent from the iMore App

I have seen some of these issue but still love the service. I got early access to the service and have seen much improvement since I got access to it! Sent from the iMore App

Well I'm so satisfy with this application that I erased 598 songs from my iPhone because Beats Music allows me to listen and download to listen offline! The sound I get from beats music it is way better than the sound from iTunes or any other application including google play music, Djay 2, amazon cloud player etc etc. and the most important thing is that beats music have all kind of music from old to new, from English to Latin, I am very happy with the application so far Sent from the iMore App

They just released an update with post launch bug fixes! Sent from the iMore App

I just noticed this! Thank you!
Everyone download! Sent from the iMore App

I've already cancelled my other subscription service. Beats™ makes everything so easy! Granted, when it works. I have faith in them though, Dre has done a good job in making sure this brand succeeded and continues to do so. Sent from the iMore App

I'm happy for Beats. I'm sure they will work out the issue and the service will be great! I've seen mix reviews about the service, but time will tell. Sent from the iMore App

I'm excited for this app...but it's unusable right now. Sent from the iMore App

Unusable may be for you, because for me work perfectly! Sent from the iMore App

It's actually pretty good, when it works. But I think it's just yet another music streaming service. There's too many to choose from now. Sent from the iMore App

Anyone else feel weird using a service created by a company who made their fame by selling overpriced crappy headphones?

Nope. Their music is just a s good as anyone else's.

That's one reason why I would never use it.

I have a monthly subscription with Spotify. Why would I want to switch to Beats? Is there music they have that Spotify doesn't?

I'm sure there is some to be found somewhere along the line but off the top of my head, no. There doesn't really need to be a 'reason to switch', it's just another option and people like options.

I've been clinging to Xbox Music for a while, thought about Spotify but still didn't switch. Then this came along and I caved. Sent from the iMore App

From my experience, Spotify tends to be more Euro-centric, while Rhapsody tends to have more artists of the Folk, Country, Americana and Blues genres.

I like the Beats app, but not enough to pay $10 a month.

This will just be another overpriced scam like their crappy products. Pass.

Don't think anyone could pry me away from Slacker...just so awesome it is...
Thank you for signing up to iMore. You will receive a verification email shortly.
There was a problem. Please refresh the page and try again.