With newest devices, Apple continues to push the price ceiling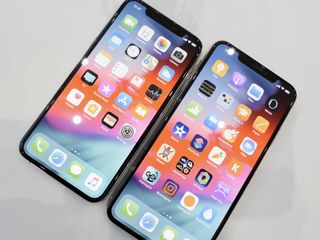 (Image credit: iMore)
With the new iPhones and the Apple Watch Series 4, many have commented on the higher prices Apple is charging its customers.
Let's start with the Apple Watch Series 4. Here are the starting prices for the new, larger watches:
40mm Aluminum with GPS: $399
40mm Aluminum with GPS and LTE: $499
40mm Stainless Steel with GPS and LTE: $699
44mm Aluminum with GPS: $429
44mm Aluminum with GPS and LTE: $529
44mm Stainless Steel with GPS and LTE: $749
The Series 3 watches were all less:
38mm Aluminum with GPS: $329
38mm Aluminum with GPS and LTE: $399
38mm Stainless Steel with GPS and LTE: $599
42mm Aluminum with GPS: $359
42mm Aluminum with GPS and LTE: $429
42mm Stainless Steel with GPS and LTE: $649
Depending on what SKU you consider, the new Apple Watches are between $70 and $100 more this time around. The new Watches are all slightly larger and packed with a lot more tech, including the haptic Digital Crown, revamped speaker and rear cover, as well as the hardware needed to take electrocardiogram readings.
I'm not thrilled with the price increase, as I think the Apple Watch should be accessible to as many consumers as possible. However, looking at how many features Apple crammed into this new device, I can understand the price increase.
So, there is truth to the comments about the Apple Watches being more expensive this year, but what about the iPhone?
As usual, the devil is in the details. For example, the iPhone 8 started at $699 for 64 GB of storage, while the 64 GB 8 Plus ran $799. The new iPhone XR comes in right between those price points, at $749 of the same amount of storage.
This means this year's new entry-level iPhone is more expensive than what it replaces, but when you step back and consider the whole picture, I think the price is in line with where Apple has been the last few years.
The iPhone XS starts at the same $999 as the iPhone X replaces, just with an additional 512 GB model offered at $1,349. In line with the Plus, the XS Max is simply $100 more across the line, starting at $1,099, maxing out (sorry) at an eye-watering $1,449 for the 512 GB model.
Of course, all of these prices are the full, one-time purchase price in American dollars. Here and in other countries, many people pay their phones off over the course of one to three years, so these price increases are absorbed little by little, month by month.
It is accurate to say this year's hardware is pricier than last year's, and while the increases aren't criminal for what they bring, I sure don't want to see the trend continue, especially on the Apple Watch.
All of this got me wondering about the price of iPhones over the years, so I fired up Numbers and put this handy graph together:
This chart lists the starting price for the flagship phones Apple has launched since the iPhone 5S way back in 2013. Missing are two outliers: the iPhone 5C and the iPhone SE, which were sold for $549 and $399 respectively because they were introduced new as mid-tier devices. The XR is included, as Apple didn't clearly introduce it as a mid-tier phone, and its future is still unknown. The green trendline shows the moving average of these totals over three consecutive releases.
Another way to consider the iPhone's pricing is to look at the its average selling price (or "ASP," in financial nerd speak) over time. This chart shows the ASP starting in Q4 2013, when the iPhone 5S first went on sale:
(Many thanks to Jason Snell at Six Colors for the data in those charts.)
As before, the trendline shows the moving average of these totals, over three consecutive quarters.
Looking at sales price and ASP is a little like pondering the chicken and egg problem. The ASP goes up when iPhones are more expensive, of course, but the iPhone's price points aren't what investors look at. Growth in things like the iPhone ASP is a key metric in determining the health of Apple's business, and ASP tells a clear story: over time, iPhone purchases have been worth more to Apple.
The question is why.
There's an argument to be made that Apple charges more because it can. The iPhone 6 Plus, at $749, proved that people were willing to purchase a phone at that price, and over the next two releases, that crept up to $799 with the 8 Plus.
The biggest push, this argument says, was the iPhone X, clocking in at $999. Before it went on sale, many were dubious that anyone besides the hardcore enthusiasts would be willing to buy an iPhone that expensive, but Apple reported that it was consistently the best-selling iPhone on the market.
There's no doubt that the iPhone X was met with praise from lots of users, but most of them probably didn't pay that $999+ price all at once. Many consumers pay for their phones on a monthly basis thanks to a wide range of billing options available through carriers and even Apple itself. For those customers, the iPhone X may have cost just another $15 a month or so.
The center of this argument is greed, but I don't buy it. Yes, Apple wants to make more money each and every quarter. Wall Street demands it. However, more than that, Apple says it wants to make great products.
Just consider all of the technology that first appeared in the iPhone X. It was Apple's first OLED phone, debuted Face ID, featured two optically-stabilized rear cameras, and was the first to ditch the home button in favor of a fluid gesture system. All of this was wrapped in a glass and stainless steel package befitting of the advancements it held.
While we may be in a "boil the frog" situation with Apple's prices, one has to think there is a ceiling to what Apple can charge for iPhones and Apple Watches, especially in years where huge advancements are not present. Blogger Ben Thompson recently addressed this:
The iPhone X and Apple Watch Series 4 were big departures from previous products, and they each came with a price increase. An "S" year isn't the time to increase the ASP, and I think Apple knows it. Customers are willing to pay more for the new and shiny, but I hope Apple doesn't push things too far. Apple needs to continue to grow its bottom line; that's what all public companies are called to do, but there's a balance to be struck as well.
Could Apple make and sell cheaper iPhones? Of course, and the iPhone XR is the most recent proof that, but I think the company is more interested in making products that move the bar in terms of quality and capability. In technology, that often comes with a higher price tag.
Get more iMore in your inbox!
Our news, reviews, opinions, and easy to follow guides can turn any iPhone owner into an Apple aficionado
Stephen Hackett is the co-founder of the Relay FM podcast network. He's written about Apple for seven years at 512 Pixels, and has more vintage Macs than family members living in his Memphis, TN home.