The part of the Apple TV experience that really sucks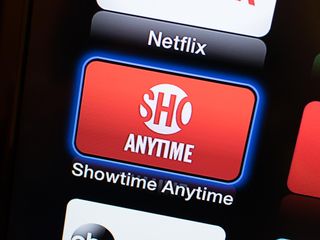 Setting up an Apple TV for basic streaming and iTunes access is ridiculously easy: Plug it in, turn it on, then hold your iPhone or iPad to the top of the Apple TV. The Apple TV copies Wi-Fi and iTunes account information from the iOS device and you're off and running. When it comes time to watch stuff from cable channels, however, the setup process becomes a nightmare.
Apple's recent price cut on the Apple TV to $69 caused me to go out and get a second one. It replaces a second-generation Apple TV I've had for years, which is now relegated to my bedroom. To be fair, the problems I had setting it up really aren't Apple's fault. Netflix, Crunchyroll and other premium services were about what I expected: I had to sign in using account credentials before I could access content.
The cable and dish content providers who have created Apple TV channels are a different story. They use a validation system to make sure that you're actually paying someone — your local cable or dish provider — to watch their stuff. Over and over again I'd access the settings of each channel, get a validation code, then have to go to my Mac or Safari on my iPhone and type often cryptic URLs into the address bar, then verify to unlock.
In fairness to the content providers, Apple and the Apple TV itself, I didn't run into any show-stoppers doing this: Each time I visited a validation URL, I'd enter a code and then be told the content was then mine to watch. But after a half an hour I realized I'd only unlocked about two or three rows of Apple TV channels, and decided I was done for the moment. It was repetitive, it was boring, and it was so...un-Apple-like.
Clearly that's not the ideal user experience for Apple. I'm sure they'd like to do something very different.
We've heard rumors about a new Apple TV for a while. Maybe we'll even see such a device make an appearance at WWDC in June. I don't know. I don't have the faintest clue.
But one thing's for sure: Whatever Apple brings to home televisions next has to have a better gatekeeping system than the current version does. Because what's happening now just sucks. While that may not be Apple's fault, it's definitely Apple's problem to solve.
Get the best of iMore in in your inbox, every day!
This is the same process on Roku...open channel and then enter login for cable provider or service or go to website to login and retrieve a code and then wait for validation.

I must be using a different AppleTV than you guys, because I don't have the same experience. I have 3 AppleTV 3's and have zero trouble with any of them. I have Comcast so had to validate HBO and Netflix *once,* but haven't had to do it again since I switched over to Comcast.

You must not log in to that many channels. ALL of them require it to watch full episodes. PBS, Disney, HBO, Showtime. I have comcast and Showtime logs me out regularly. It's quite annoying.

Yes I do; I'm on HBO and Netflix almost every night. I haven't had to log back into either of those in months.

I doesn't sound like you are hearing the issue. *Some* apple TV users use more that HBO and Netflix. To get Apple TV access to channels like ABC, Lifetime, A&E, History, Weather, Fox, ESPN, PBS, PBS Kids, FYI, Showtime, USA Now, CBS Sports, CNN go, ABC News, CBS News, Disney Channel, Disney XD, Disney Jr. -----One must go thru a multistep-process FOR ACCESS TO EACH CHANNEL. We know that once we sign-in/ activate/ whatever THE FIRST TIME, there's likely no need to repeat this process in the future. ---Unless you get a new apple tv, device whatever.
But to go thru 20-some channel apps on 3 devices---which requires navigating thru several different websites with varied levels of steps, hoops to jump thru is incredibly arduous and time- consuming! The point is-- there MUST BE a better way to connect all services, channels, devices, etc.
You may not have encountered this as you've described your use of apple tv apps as minimal, at best. Some of us intend to get the full experience and expect the apple user experience.

I never said that "my use of AppleTV apps was minimal;" far from it. I use my AppleTV every day, have had one since the day it was available; I don't subscribe to a ton of premium channels, but even if I did, I fail to see how Apple would get 30 different premium channels to all verify account holders through a single portal. Every premium channel (HBO, Showtime, Netflix, ESPN, etc.) has its own method for verifying account holders. I doubt many people have twenty different premium channels that require account verification, but if someone's crazy enough to spend that kind of money for 20 premium channels, he or she will have to spend the time to verify them... What you're asking for is some sort of "clearinghouse" that will log you into all the premium channels; that's like asking to have a login that will log you into your bank, your electric company, your cable provider and your yacht club all from a single site. Which will never happen.

My all-time favorite with this is the Disney stuff (Junior, XD, and plain old channel) that don't share authorization, and thus require you to authorize them separately. I have also had the experience of lost authorization after an AppleTV update, so I had to go back and re-authorize about 8-10 channels on two Apple TVs. If it were a less kludgy process, I would probably not care, but it took me like 30-40 minutes per AppleTV to get fix it.

Oh, man. Having just gone through an AppleTV reset, this post and this comment, in particular, hit home. It's just freaking ridiculous (especially Disney). If it's a paid cable subscription that needs verification, AppleTV could provide a single place to enter that credential, and all of the apps requiring such could pull it from that one central location. That makes AppleSense to me.

The really crappy part about the AppleTVs validation system is that, by leaving it up to the operators, they get to decide what you can see. For example, I pay for Showtime, but I can't access any of the content on the Showtime app because Comcast doesn't allow it. Same with other channels like History, etc. It's a lame system. If I'm paying for the content already, Comcast and others should be required to authorize access to it.

Since I don't have cable nor dish, this isn't an issue. MY big issue is with the friggin' remote. Can I please use my iPhone or iPad to easily, smoothly and quickly scroll/search/input info. *SMH*

Yeah, the Apple Remote app is really bad lately. It never sees my Apple TV. Although, I think it has more to do with the Apple TV itself, because once i restart the Apple TV, the Remote app can see it again, without even having to close the app.

Of course you can. There is the Remote App. Look for it in the AppStore

Cutting the cable is not an option with these channels. You have to pay Comcast. So is is worth it? Are you just watching cable on your Apple TV? Is the same content on your cable box? I also hate the process.

many people have access to a cable account and password. Like from a friend with cable or a parent or sibling with cable. They use those log in credentials. Otherwise yes seeing the channels isn't free. But you can always get an antenna.

Once the Channels are subscription based I guarantee Comcast or whoever will charge so much more for Internet. And they will get away with it too. Sent from the iMore App

they already are. Time warner does. But i just called and bitched and they'll renew your introductory rate if you ask. And the guy told me so in a few months call and make sure you ask again. I'm hoping more providers come in to provide competition for internet service like google.

I feel you. My  TV seems to reset every once in awhile requiring me to log into the online access points (from a desktop, mind you, since the mobile login has been broken since late last year for my provider), and reconfirm a series of apps to use them. So I'll be doing this once every few months, it seems like, for a series of apps unless they are connected directly to iTunes.

Thanks for being unbiased towards Apple. Posted via the iMore App for Android

Seriously. Who cares? It's not like we're talking about Presidential politics. Good grief.

I care. I read articles for thorough analysis not to hear a one sided, less than complete perspective. I have no time for platform zealots.

The process isn't horrible, but it isn't good. It isn't Apple like. I've had issues with HBOGo though that are make me want to pull out my hair (the little that's left). I signed in and authorized HBOGo, it works perfect for a couple days, then after a couple days I get a message telling me that I'm not authorized to access the content and need to do the process all over again. I did this 4-5 times before I finally gave up. I really hope the rumors are true and Apple is working on a new Apple TV and streaming service. I will cancel Direct TV immediately. Sent from the iMore App

I can't login to ANY of the channels as my cable company, Charter Communications, does not participate at all. They have their own lame-brained, half-assed mobile subscription service. They say they offer 150 channels for viewing on mobile devices BUT only if you are inside their network (i.e. they are your ISP). Outside of their network you are supposed to get 4o channels but the Apple TV is not included in the list of devices.

My TV frequently stops giving out a signal, or just cannot be woken up. About 2 or 3 times out of 5, I get "No signal" on my TV until I reboot the Apple TV altogether, at which point it works perfectly. Though I prefer the TV interface, I have gone back to my BluRay player for most streaming.

Can I please get private listening mode on the next gen?? One of the few reasons why I go to Roku first before ATV.

This is such an obviously great feature to have, but given it hasn't been mentioned in any of the leaks... I doubt it will be included.

I use Apple keyboard as the remote. It's a little big for a remote but we love it

Setting aside the wish for an Apple TV subscription content service, Apple needs to work out a Global/SINGLE sign-on authentication for cable services so all apps can be activated once.

and why the h... do we need to sign up with appleID and use HomeSharing to play DRM-free media? The first generation Apple TV with Hard-drive was the best and is still the best for people who only needs an Apple TV to stream their own DRM-free media to any TV in the house. My current generation appleTV also needs to be rebooted every time it goes to sleep to access computers again when using ethernet connection: a known bug that Apple still has not fixed!

Thank you for writing about this. Disney channels on Verizon seem to require activation every time we want to use them. Surely there's a better way. The FiOS app on Xbox 360 just knows it's on the verizon network and grants access.

Showtime BLOWS! Sent from the iMore App

CBS doesn't work no matter what I do, the ESPN URL doesn't work, and the whole thing is a mess. I agree with Peter, this system sucks.

I watch CBSN Live. Or so they say it is, that also is repetitive.
Although not having a cable subscription. The ATV comes in handy with the Air Play feature.
I stream live news on the Boston channel.
The commercials are another story, those are repetitive.
It can be annoying to a point where I shut the TV off.
And after its asleep, it loses the connection to WIFI, several times this happened.

I was hoping you were going to say the lack of apps :( Sent from the iMore App

Yah, if I had a cable contract, I wouldn't be using Apple TV. My cable company wasn't participating with these "WatchABC" and "HBOGo" apps when I did pay for cable.
My Apple TV is new too, and right now I'm mostly using it to watch my extensive iTunes library, and YouTube. I can't wait for HBO Now so I can tell people that the only thing I watch is HBO ;-)

for me, it's the slowness of some apps...crackle, Netflix even can just have the spinning loading icon forever....or if you've watched a lot it requires a reset in the middle of a movie since its out of ram/space?

Typing is also a horrid experience. Sent from the iMore App

Anytime you need to type something (which shouldn't be often) you should just use the remote app on your iPhone. Not only is the keyboard much better than the one on the Apple TV, but you can also use Siri to transcribe what you want without typing anything manually.

Had the same experience with my Roku Streaming TV Stick I just got. It's the first streaming device I've owned. Yes, the process was easy, but it sure was tedious. Thankfully, I only had 10 channels I wanted to use. I deleted the others.

I agree completely, I brought my Apple TV the week of the price drop. I thought I could use it to drop my cable provider, but unfortunately with this structure it is not that easy. Maybe the next edition of the Apple TV can solve these problems.

The main thing Apple TV needs is a completely new UI that lets you search for and access your desired programming without going through individual channels and their crappy menus.
Thank you for signing up to iMore. You will receive a verification email shortly.
There was a problem. Please refresh the page and try again.