OS X Mountain Lion goes on sale tomorrow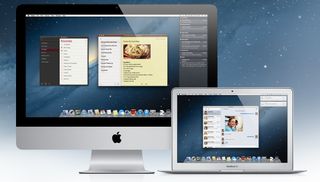 Apple has announced in their Q3 financial earnings press release (opens in new tab) that OS X 10.8 Mountain Lion will be released tomorrow. It will be available in the Mac App Store for $19.99 to all Snow Leopard and Lion users.
Mountain Lion brings even more of the iPad and iOS experience back to the Mac, including renamed Contacts and Calendar apps, and new Reminders, Dictation, AirPlay, Game Center, and Notification Center, and unique features like PowerNap and Gatekeeper.
Are you planning to upgrade to Mountain Lion or will you be sitting this one out?
Get the best of iMore in in your inbox, every day!
Former app and photography editor at iMore, Leanna has since moved on to other endeavors. Mother, wife, mathamagician, even though she no longer writes for iMore you can still follow her on Twitter @llofte.
i'm only worried by the fact that if you click software update from the apple menu then it just goes to the app store, now things not in the app store for reasons legitimate or not will have to check themselves for all those programs

I'll be waiting first to see reports on performance for my Early 2008 iMac (2.4 GHz Core 2 Duo with 4 GB RAM). Lion is SIGNIFICANTLY slower for me than Snow Leopard. So much so that I have Snow Leopard on a separate partition and dual boot when I do intense work rather than casual web browsing. Since I'm above the minimum requirements for Mountain Lion (instead of at the requirements), I am hoping Mountain Lion will bring the kind of performance increases that Snow Leopard did. Crossing my fingers!

I'm with you CycloneFW. I have a Early 2008 MacBook Pro (2.5 GHz Core 2 Duo w/4 GB RAM). The last time I was in the Apple Store, the tech did mention that Lion may be the last update I may want to install on this computer. What I've really noticed is that my battery life is greatly reduced (& I got a new battery this Spring). So, my fingers are crossed, too.

I have had zero performance issues running Lion on my ancient mid 2007 iMac (2.4GHz Core 2 Duo, 4GB RAM just like yours.) Just as snappy as Snow Leopard in everything from Xcode to iDVD burning to Pixelmator to Time Machine. Have also had zero performance issues running Mountain Lion developer previews on an old late 2008 MacBook Pro (2.53GHz Core 2 Duo, 4GB RAM.) Running the same workload. Here are two things you can do: restart and hold down <command>R during boot. This will boot from the Recovery HD partition. Launch Disk Utility, then run Repair Disk. The Disk Utility on the Recovery HD is vastly more effective than the one in Applications > Utilities. File system issues could be slowing down your disk access. If that doesn't help, you should hit the Apple support discussions:
https://discussions.apple.com/index.jspa

Tried all that, trust me. Repaid permissions, repair disk, zap the Intel equivalent of PRAM. Had a Genius Bar tech look at it and we used a utility to turn off some of the animations and such. Still I get Beach Balled if I have too much going at once. They basically said the problem is that 4 GB is not enough anymore (Snow Leopard min was 512 MB, Lion has 2 GB minimum) for zippy performance. My hardware supposed has an "unsupported upgrade" to go above 4 GB, but I use my iPhone and iPad so much, that I've just lived with Dual booting if I need to do more than casual work. The big culprits on my machine are if Safari is running, iTunes is running, and iPhoto is running. If the three are up at the same time, I'm Beach Balling like crazy and my Activity Monitor is showing TONS of disk swaps for virual memory.

On it. Tomorrow. For three Macs.

I think she meant "OS X 10.8 Mountain Lion" instead of OS X 1.8 Mountain Lion". Either way, fuck yes!

I have been waiting for this so I can syn my iPhone, iPad, and iMac through the cloud. What I don't want is getting forced to mess with the Notification Center and Game Center. I hate them both and wish that I hadn't updated my iOS devices. Perhaps there3 is a way to disable both.

why not just not allow anything into NC? that would be just as good as removing it completely.

So is it like midnight tomorrow or 2pm tomorrow? Lol. Heck yes i will be! :)

i was wondering the same thing. does it go live and ready to download at the stroke of midnight? or after cupertino wakes up and get into their offices? lol...

I am in CA this week so I will be d/l right away. Hopefully the process of making a recover image is just like Lion last year.

I'm very excited about this one! I'm going to try to do the mature thing and wait a few weeks while the dust settles. We'll see how that goes! I'm going to want it tomorrow...

Have been running ML on a MBP for many months now. Very solid, nice new features, and yes, there are a few performance improvements here and there. Interesting that Microsoft says the Windows 8 upgrade will go for $40. Even the "Pro" edition. Compare that to Windows 7 pricing: $120 for Home Premium and $200 for Professional. Apple is hitting Microsoft where it hurts: right in the software margins.

So.....it's tomorrow. Where is it?

1:07 BST just checked not out
Thank you for signing up to iMore. You will receive a verification email shortly.
There was a problem. Please refresh the page and try again.