OSX Yosemite developer preview 5 now available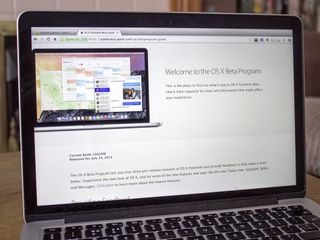 Apple has released a new version of OSX Yosemite for developers today. Yosemite developer preview 5 is now ready for action and is available for developers from the Mac App Store or Mac Developer Center (opens in new tab). We've seen some new and tweaked features with each release along the way, so this one is certain to be better than the last.
This version is only for registered developers, however a public beta is available as well for anyone looking to get in on the action.
Get the best of iMore in your inbox, every day!
Editorial Director - High Yield
Getting his start writing about BlackBerry in 2008, Adam is the Editorial Director of High-Yield content at Future. Leading an outstanding team, he oversees many of the articles the publisher produces about subscriptions and services – VPN, TV streaming, and antivirus software. From buying guides and how to watch content, to deal news and in-depth reviews. Adam's work can be seen on numerous Future brands including TechRadar, Tom's Guide, T3, TTR, Android Central, iMore, and Real Homes.
No update for the Public Beta is available as of now...

We probably won't see an update to the public beta until later this month. Edit: Failed to realize that August is this month. Don't blame me! I haven't had my coffee yet!

Is there a list of stuff in the update? Posted via iMore App

This whole strategy is messed up. Once you go into Beta mode, the Developer version should have been retired and all new updates made to the Beta. Sucks.....

not really. The dp's are generally very unstable because whatever function their implementing is half done sometimes not even, so they can't put out a beta that could potentially crash people's macs. They send out the 'broken' broken of the OS to the Devs who then send it back with all types of bugs and corrections, and it only goes out to the public WHEN the internal team feels the build is solid enough to not cause damage. The entire purpose behind the "public beta" is free advertising for Yosemite essentially. They want the OS to spread like a virus so it builds hype and the adoption rate will be in the 90 percentile, and the best way to do that is to give it away for free 4-5 months before its release with frequent Major updates. it's kinda genius actually. So the strategy is very good in fact. And now you know more about it. :)

It's formatted "OS X" not "OSX". FYI. :)

The volume clicker is different and is c only audible when you hold shift. They switched it! Posted via iMore App

It's awesome Sent from the iMore App