Secret panorama mode found in iPhone Camera App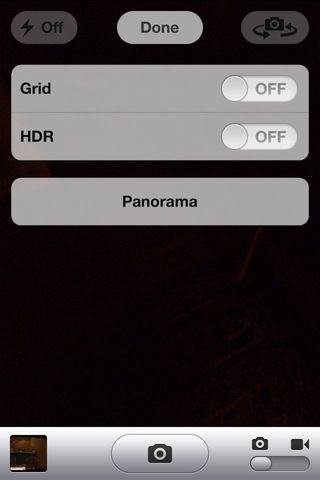 iPhone hacker @conradev has found a way to enable the "secret" panorama mode within the iOS 5 camera app. At the moment, you can only enable it on a jailbroken iPhone by tweaking a plist file, com.apple.mobileslideshow.plist, and setting 'EnableFirebreak' to YES, but an easy-to-use hack should appear on Cydia at some point tomorrow.
Don't worry, if you're not on #ATeamJailbreak -- hopefully Apple will officially enable Panorama Mode in an iOS 5.1 or iOS 5.2 update at some point in the not-so-distant future.
Source: Twitter
Writer for iMore, YouTube Vlogger, and Host for [TEChBrits]
This could actually prove useful. Hope it gets enabled soon! Maybe even in a 5.1 Beta 1 :D

And check this out : http://j.mp/u85VRD

This is nice. I'm using Der Man Der right now for my panoramic/360 photos. An apple integrated solution would be even better!

WOW this is shit ! ... not good at all :(

WOW this is shit ! ... not good at all :(

This would be cool, but I'm guessing it's "secret" because it's buggy. Then again it could be something that Apple wanted to release at a later point to show they are "improving" the system.

the package is on cydia for that look here http://www.iphone4g-pro.com/firebreak-prendre-des-photos-panoramiques-su...

Yeah... doesn't work so great inside, I'll try it outside later today!

The next time I read a blog, Hopefully it doesn't fail me just as much as this one. After all, I know it was my choice to read through, nonetheless I actually believed you would probably have something useful to talk about. All I hear is a bunch of crying about something that you could possibly fix if you were not too busy seeking attention.
Thank you for signing up to iMore. You will receive a verification email shortly.
There was a problem. Please refresh the page and try again.