Parallax Enables Scrolling/Panoramic Wallpapers on Your iPhone [Jailbreak]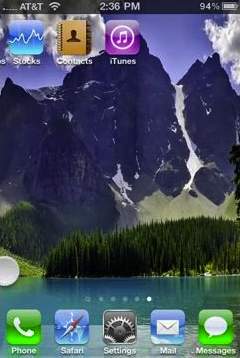 Thanks to a new tweak available in the Cydia store called Parallax, you can now enable scrolling/panoramic wallpapers on your jailbroken iPhone.
If you are unaware of what panoramic wallpapers are, they are simply pictures that will scroll as you change pages on your springboard. This is a great feature if you have a wide shot of a family or group or for amazing nature photos.
Unfortunately iPhone 3G/iPod touch G2 (2008) owners are warned to not install this tweak as the developer has said it is fairly memory intensive and could cause those devices to run slower. If you have an iPhone 3GS or an iPhone 4 you can hit up the Cydia store and download Parallax for $1.49.
Check out a video of this tweak in action after the break!
[GeekWord ]
Get the best of iMore in in your inbox, every day!
Get Simple Background it's free and works better.

Just use Simple Background. It's free and it does the same thing. Enjoy I know I did!!

Awesome! Why doesn't Apple think of this kinda stuff?

@Dexter because they don't wanna copy Android :)

Does anyone know where
I can get cool panoramic wallpapers?

FINALLY! My friend's lame droid x has this and I always wanted it.

Don't use Simple Background if you have an iPhone 4.

wow, when 4.2 jailbreak I am differently do so just for that

simple background sucks! It totally jacks with multitasking to the max

What's wrong with simple background and multitasking? I just installed it and have noticed no issues so far

Lol Android has had this for a while now.

This is cool and I'd love to use it... but I consolidated everything I ever use onto one page and removed my page dots and the search menu. So much cleaner, less swipey swipey.

i purchased Parallax - but where will i get the wallpapers?

Up Your A SS YOU NIG GER!!

Why do you have to be racist?
Thank you for signing up to iMore. You will receive a verification email shortly.
There was a problem. Please refresh the page and try again.