Prime members usually get the best deals at Amazon, and today is no exception. The Blink XT2 Smart Security 2-Camera Kit is on sale for just $139.99 right now, though it's a deal that's exclusively available with Prime. At nearly $50 off its regular cost, today's deal brings the set $5 lower than it's ever reached otherwise. If you're not a Prime member already, you can start a free 30-day trial to get in on today's discount.
Building upon the features of last year's well-received Blink XT camera, the Blink XT2 offers extended battery life that will keep it powered for two years on just two AA batteries. And just like the original model, it's designed to be 100% wire-free and weatherproof so you can use it anywhere you'd like — whether that be indoors or outdoors. The Blink XT2 records in 1080p HD and features two-way audio, giving you the ability to talk with anyone on the other side of the camera using the Blink Home Monitor app on your phone. That could mean chatting with your family or even reminding your dog to stay out of the garbage.
Blink and you'll miss it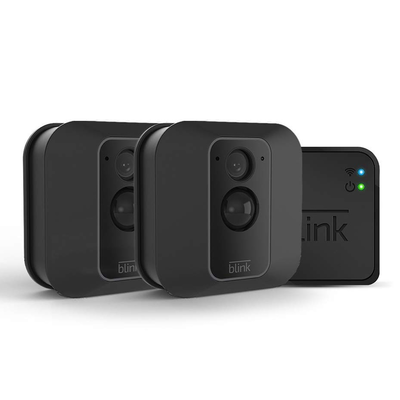 Blink XT2 Outdoor/Indoor Wireless Smart Security 2-Camera Kit
The Blink XT2 cameras are suitable for use indoors and outdoors and can be set up just about anywhere in your home. Today Amazon is offering $45 off the 2-camera kit exclusively for Prime members.
$134.99 $179.99 $45 off
Unlike many other smart security cameras, the Blink XT2 requires no monthly fees and even offers free cloud storage for clips for a year. Considering that most other camera makers usually only let you store your clips for 30 days without paying, that's a huge deal that could save you a ton of money going forward.
The XT2 also offers enhanced motion detection which is customizable to help reduce false alerts, as well as compatibility with Amazon Alexa, allowing you to view its livestream on an Echo Spot, Echo Show, or Fire TV by simply asking Alexa to show you the camera's livestream.
Buying this two-camera kit will also score you a Blink Sync Module that acts as the central hub. Homes which already have the Blink Sync Module set up can choose to purchase a single add-on camera for $89.99 instead. Both the Blink XT and XT2 use the same sync module hub so you can mix and match the two generations.
We may earn a commission for purchases using our links. Learn more.