Problems streaming iTunes purchases to Apple TV? Try these fixes!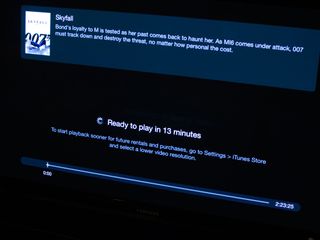 There's nothing worse than sitting down to watch a movie on the Apple TV and having streaming issues. Lately a lot of users, including myself, have been having issues in particular with iTunes purchases. From playback errors to excruciatingly long wait times for streaming to start, there are a few things you can try in order to get streaming straightened out and back to full speed again!
1.Check your internet connection
Before trying any troubleshooting steps, be sure that your internet connection itself isn't the problem. Your Wi-Fi could be working but not your ISP. You could be connected but bandwidth could be low or packet loss high.
The first thing you can do is go to a site like speedtest.net on one of your computers. If you're getting more than 15 mbps on the download side, you should be able to stream HD video without a problem.
2. Check other services
To make sure iTunes is really where the problem lies, check other streaming services. If nothing works, including iTunes, Netflix, Hulu Plus, etc., then the problem is likely with your Apple TV itself. If Netflix or Hulu Plus works but not iTunes, then the problem is likely iTunes.
(You can use the same procedure to diagnose Netflix or other streaming services — if iTunes or Hulu Plus works, but Netflix doesn't, Netflix is likely the problem.)
3. Restart your Apple TV
Most Apple TV streaming issues can be fixed by restarting your Apple TV. This can easily be done through the Settings menu.
Launch the Settings app on your Apple TV.
Click on General.
Click on Restart, it's located all the way at the bottom of the menu.
Wait for your Apple TV to restart.
If your issues persist after the above steps, continue on.
4. Unplug your Apple TV for a minute or two
This is the fix that worked for me, if only temporarily. While many find it only necessary to leave the Apple TV unplugged for 30 seconds or so, I'd recommend unplugging it for a minute or longer. After plugging it back in, try streaming iTunes purchases again. If you're still receiving errors or seeing a long wait time, continue on.
5. Forget and rejoin your Wi-Fi network
Sometimes forgetting your Wi-Fi network and re-joining it solves streaming issues. It's worth a try before going with a complete restore.
Launch the Settings app on your Apple TV.
Click on General.
Click on Network.
Click on Wi-Fi. It's the first option and should already be highlighted.
Click on name of the network that you are already connected to.
Click on Forget Network.
You can now rejoin the network again and test to see if the issue was resolved. If not, continue on.
6. Reset your Apple TV's settings
Resetting the settings on your Apple TV can sometimes get rid of corrupt files that could be causing the issues.
Launch the Settings app on your Apple TV.
Click on General.
Click on Reset, it can be found towards the bottom of the menu.
Click on Reset All Settings.
Wait for your Apple TV to reboot and try streaming again.
7. Restore your Apple TV
If none of the above options worked for you, or they only worked temporarily, it may be time to completely restore your Apple TV. While having to type in our passwords and rejoin networks is never ideal, it's worth it if the issues themselves are fixed.
Launch the Settings app on your Apple TV.
Click on General.
Click on Reset, it can be found towards the bottom of the menu.
Click on Restore.
Wait for your Apple TV to restore. Be sure you don't unplug it while the restore is in progress.
More help with your Apple TV
If the above suggestions still aren't working for you, or you need help with something else, our iMore forums are a great place to ask. And if you've found another way of getting iTunes purchases to stream more consistently, be sure to let me know that in the comments too!
Get the best of iMore in your inbox, every day!
iMore senior editor from 2011 to 2015.
Honestly, I became so fed up with AppleTV streaming issues a few months back - Netflix, iTunes, Hulu Plus - that I turned to the Amazon Fire TV and haven't looked back. Haven't had a single streaming issue with Fire TV, or our Xbox One. It's also another reason why I've been purchasing videos from Vudu lately. I've kind of given up waiting on Apple to update the AppleTV hardware line.

I sadly have to agree. We have moved (back) to the PS3 for streaming, and keep the AppleTV around just if AirPlay. Sent from the iMore App

I've been super irritated lately too - unfortunately I have hundreds and hundreds of dollars of movies purchased in iTunes over the years that I'd like to be able to watch without waiting an hour :\

I've even tried using Ethernet but I am sure a lot of these problems are to do with the last few updates of iOS on the Apple TV. I've even been half way through watching something and it will drop out of it as if I had pressed the 'menu' button and if I airplay something or use the Apple TV to listen to something such as music or an audio book the Apple TV will power itself down as if it is not doing anything and then start back up again. All these issues only occurred after the Apple TV's version of iOS 8 (whatever it is referred to) was delivered to it. I've tried all sorts of things and the problems just continue. I've even started using the old Roku and Chromecasts again because they don't have these issues but I prefer AppleTV. Hopefully Apple will roll out a fix or find out what is wrong.

I would agree. We have 3 Apple TVs in our home. Two of them are the older Apple TV 2 models that didn't receive the iOS 8 update. Those have zero issue streaming iTunes purchases. Only the newer model has the problem.

You only wait an hour??? I stopped trying after waiting 3-7 hours!!! Sent from the iMore App

Why I buy tons of music through iTunes, I have avoided buying any movies or TV shows there for that reason -- while I don't think Apple is going to have a PlaysForSure-type debacle, I am leery of buying heavily into content that is locked to one system.* * Yes, I have heard of tools like NoteBurner, though have never tried them.

Hi Allyson, do you have any better luck with either of the following:
1. Downloading the movie to iTunes on a Mac or PC, playing the movie over your local network via Home Sharing?
2. Downloading to an iPad or iPhone, streaming to the AppleTV via AirPlay? I've downloaded all of my movies onto my Mac just in case Apple and a studio have some contract dispute down the road that would potentially lead to my iTunes movie downloads no longer being streamed from Apple's servers. Another use case: if my cable (and thus Internet) service is out, and I want to watch something I've bought. I also prefer to stream from my Mac because my cable co. has a 250 GB/month limit. I don't think I've ever come close to hitting it, but some heavy users might and streaming from iTunes' servers would contribute to that. P.S. - a lot of holiday movies are on sale for $9.99 right now on iTunes: Elf, A Christmas Story, Christmas Vacation, Home Alone 2: Lost in New York, etc. Just wanted to share that.

I found that if my Apple TV is sitting on my receiver or cable box, I get tons of streaming issues. I moved mine to a different location and the problems completely vanished. I think the Apple TV's wifi suffers greatly from EMI from other devices.

The streaming issue I have is TV shows downloaded via FamilyShare purchased by a family member... if I go to play them via the AppleTV/HomeShared library - they error out, saying the computer needs to be authorized for the content... but the computer is already authorized... however, AirPlaying the same shows from the computer to the AppleTV works fine... Weird...

Can't wait for the days that these devices will be truly "smart" and fix their own connection issues. AirPlay from iPhone 6 to my 3rd Gen Apple TV through my new AirPort Extreme is delayed and unwatchable at times. All on 5 ghz and all within 20 feet of router. Doesn't make sense. Sent from the iMore App

Earlier this week I had long load times. Restarted the router, Apple TV, and various other fixes. Finally I got fed up and plugged in my FireTV that has been collecting dust and instantly, AHS was up and running for viewing. FireTV from this point. Sent from the iMore App

I've had very few streaming issues with Apple TV in general.
Whe I do have issues, a quick restart of the wifi router solves the problem right away.
AirPlay is my main problem (whether mirroring or just using the Remote app) and I can't get to the bottom of it!

Sometimes the device read very slowly, so we have to wait for a while. Sent from the iMore App

Im agree with that we have to forget the wifi or internet connection and rejoin again or unplug tge tv etc, especially sometimes the wifi run also very slowly and also depend on time. Sent from the iMore App

Have any of you checked your serial number to see if you own one of the units recalled by Apple because of connectivity issues? I have one of the units but I heard of the recall after expired and thus was refused. Maybe if Apple hears back from enough of us stranded types it will do the right thing and exchange the unit.

Unplugging your wifi router, waiting 30 seconds, plugging it back in cas sometimes solve problems.

Had my Apple TV for a couple of days then returned it. I had to unplug that thing and plug it back in every time I wanted to play movies from the Mac. My Sony TV plays back everything just fine using PS3 media server. Apple TV was better back in its day when it had a hard drive on it. Sent from the iMore App

Apple TV sucks ass. I'm shocked and appalled these problems exist. Based on how much Apple is "worth" it should not be an issue ffs. Sent from the iMore App

How much is Forbes paying iMore to highjack our mobile browsers each and every time readers click on an article when using a mobile device?

Doesn't happen with my Android phone, but does when I use my iPhone 5...Apple has to pay the bills somehow... Too bad they won't fess up and admit they're ad driven revenue is the same model as Google... iAds Posted via the iMore App for Android

One thing not mentioned is DNS
When i had issues i changed my DNS server to Googles 8.8.8.8 or 8.8.4.4 and it solved the issue for me

Just buy an Android phone and tablet, and Google Chromcast... Solved. Next! Posted via the iMore App for Android

no, you buy me a new phone, tablet and computer! next!

I have had that problem for over a month. I did the "reset all settings", and now it's fixed. Thank You for the great article.