Quake 3 Arena for iPad [Jailbreak]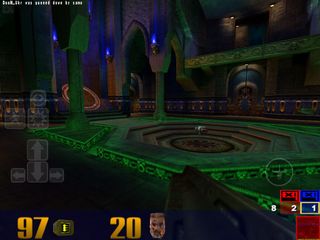 Quake 3 Arena is coming to the iPad by way of Cydia, with integrated touchscreen controls and reportedly far more stable gameplay than the current version for iOS devices. The port comes courtesy of Alexander Pick, forum member at Paduser.com, who has been refining this unique verson so that it's a perfect fit for the iPad. Here are some of the additional features included in the game:
Onscreen controls with virtual joystick
iTunes Filesharing enabled
1024x768 resolution running at 50-60 FPS
Play in online or offline mode
Runs just fine on iOS 4.2 for iPad
Being a huge fan of Quake 3 Arena (even still to this day), I'm really excited for this release. We'd suggest hitting up the link below in order to grab the high-res texture pack for the best fragging experience. You can also view a quick demo of the test version running on an iPad (Facebook link).So will you be practicing your headshot skills on the iPad after this hits Cydia? Let us know in the comments![Paduser via Gizmodo]
Get the best of iMore in your inbox, every day!
Andrew Wray is a Salt Lake City, Utah based writer who focuses on news, how-tos, and jailbreak. Andrew also enjoys running, spending time with his daughter, and jamming out on his guitar. He works in a management position for Unisys Technical Services, a subsidiary of Unisys Corporation.
so do you need to original data files and resources, or does this app include all of that? if so, these guys are going to get a massive C&D from ID Software over piracy of their property. The game binaries may be open source, but the resources, textures, models & sounds are not.

You use the PAK and license files from your retail copy of quake 3. I used mine from my installation and it works perfectly, except I have no sound for some reason

U have thé 4.2 GM for iPad ? How did u jailbreak it !

@Rob:
I hereby serve you with your on C&D. Never come back to this blog, troller.

Find similar product here. By the way, nice article.

I also have no sound on quake 3 on iPad, any ideas out there?

I have to say that for the past couple of hours i have been hooked by the impressive articles on this blog. Keep up the great work.

You've got a great weblog here! would you like to produce some invite posts on my blog?