Resolve to take better care of your Mac in 2015 - here's how!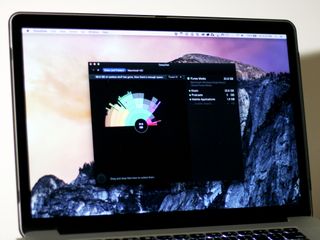 New year, new resolutions. If "take better care of my Mac" was on your list of things to do, here are some practical tips to make that happen. I've split this list up into three topics: Back up your Mac, batten down the hatches and improve your security, and clean up the crud (get rid of data you don't need).
Back up your Mac
First thing first: Back up your Mac right away.
Assuming you don't already have a backup, it's time to make one and save what's important to you. There are some great ways to do it that don't involve too much work on your part: Using Apple's built-in, free Time Machine software is the best place to start, and you can pair it with an inexpensive external hard drive or Apple's own Time Capsule. If you're on an even tighter budget, you can back up your essential files by copying them to a USB thumb drive.
I strongly advocate a second line of defense for backups, too. After all, the data on your Mac is your digital life, and you shouldn't take any chances: a single point of failure at home could wipe out your entire system. That's why I recommend looking at a second backup plan that's off-site — services like BackBlaze, Carbonite, and CrashPlan are often recommended, and for good reason. They cost an additional fee each month, but they can provide peace of mind if something happens to your primary backup system.
Batten down the hatches
Managing passwords on the Mac is easier than it has been in the past, thanks to Apple's own iCloud Keychain. It provides system-level password protection for frequently-used websites that syncs across your devices using iCloud. If you need more than that, I'd recommend one of the following two options: They're excellent at helping you manage passwords.
The first is AgileBits's 1Password, a master password utility that keeps all your Web passwords under a single password that you control. Mac and iOS apps are available, and it can also be used to store other vital info like software license keys, credit cards, and other important information.
If you're on a tight budget, look to LastPass: The service is similar to 1Password, keeping your passwords under lock and key, but it does so from the Web. As an Internet service, you'll need a browser extension to get it working — and Internet access to view your vault. It also has the virtue of being free to start with — though you'll need to become a Premium subscriber to get things like iOS syncing.
For more, check out Ally Kazmucha's writeup:
Clean up the crud
Over time, your Mac amasses a great deal of data you likely have no use for — data caches, downloads, and other files that have outlived their usefulness. You probably have apps you're not using, too.
It's easy to drag stuff like that into the Trash and empty it, but sometimes you're bound to miss things — extraneous files those apps used; system kernel extensions (known as "kexts"); and other content that not only occupies space, but left to its own devices, can create problems and conflicts with other software on your Mac. Luckily, you can clean up your Mac with any of these useful utilities.
FreeMacSoft's AppCleaner is, as the developer's name implies, free to download. It finds those pesky supporting files that apps use and deletes them, along with any extraneous apps themselves. You simply drag and drop the app you want to remove onto the AppCleaner window, and it scans your drive to find whatever's "attached" to that app — preference files and the like. AppCleaner doesn't have some of the more thorough disk-cleaning capabilities as the other apps on this list, but the price is right.
DaisyDisk is one popular way to get rid of the junk on your Mac. It provides you with an interactive map that shows what's taking up space on your Mac's drive and helps you recover disk space quickly and easily. It integrates QuickLook support so you can preview file content, and if you have more than one disk to check, it runs those scans in parallel to do it faster.
DiskDiag is yet another tool you can use to check the status of your hard drive and to clean up space. It shows you a "smart gauge" that tells you how much space different types of data are taking up on your drive, and helps you manage app caches, downloads, mail attachments, and other frequent disk hogs.
Your suggestions?
Hopefully this list will get you on your way to a safer, more secure and more reliable Mac. I'm sure you have some other ideas for apps or tools you'd like people to know about, so share 'em in the comments!
Get the best of iMore in in your inbox, every day!
So AppCleaner, an app designed to eliminate app junk, requires you to install an app called MacFonts before you can clean out apps? I'm all for some new years cleaning, but installing crud to remove crud seems a bit backwards.

Sorry to disagree, Peter. I used App Cleaner on my MacBook Air for close to three years. It has a 128GB SSD so I've had to be aggressive about clearing out apps I wasn't using. App Cleaner was awesome for that task. Six weeks ago I got a new iMac. Even though its SSD is 4X larger than the MBA I figured I'd need App Cleaner at some point. I downloaded and installed it. App Cleaner immediately hijacked my browser; it eliminating my preferences and started serving ads whenever I opened Safari. App Cleaner was a good app, now it's not. Developers of free apps need to earn a living too. Unfortunately FreeMacSoft has taken the low road. Now I only get paid apps.

Agreed. Had a significant amount of grief from App Cleaner. Tossed it in the bin.

Yes to Crashplan and Daisydisk. Crashplan is also crossplatform. I also use SplashID.

Inventory x is a great free program that shows you the largest files on your Mac and allows you to navigate the file system giving you the size of every file there is also a visual representation with a grid of interlocking squares and rectangles the bigger the shape the bigger the file and you can click and get the name of any file you also have a number of options for the files you navigate to such as deleting them or showing the in finder if permission needs to be given Sent from the iMore App

For me CleanMyMac 2 works brilliantly. It helps to uninstall programs and scans for files you probably don't need. In the end of course you still have the control to say what you want to get rid of and what not. Saved me around 200 GB so far. Sent from the iMore App

+1 It's not free but I feel it does better than some of the others out there.

I agree. I got it when it was free on cult of mac and it works beautifully.

any opinion on the value of Cocktail? Been using for about 5 years. I feel it helps keep my computers clean.

I've used Cocktail and Onyx in the past. Both are great for putting a friendly face on tasks typically buried on the command line.

Daisy Disk is pretty cool. I got it a Long time ago.
Best way to clean a mac: back stuff up.
Pay for iTunes match if you have personal music on the Hard drive.
Throw your Aperture library and docs on an external and Wipe the hard drive.
Do a clean OS install.
Reinstall just the software you Need.
Import pics back in, download music and done.
Clean as you can get.
I do this about every 8-12 months. My iMac runs like a dream. Perfect.

I do this myself as well, and it's the best.

DaisyDisk is my fave. I love it, such a good little utility.

Hi, I use Backblaze and recommend it over the Crashplan application. First and foremost, Backblaze is a better product with much better support than Crashplan. It's also cross platform. Crashplan's application uses Java and I avoid Java applications. Backblaze is a native OS X application and its worked flawlessly for me for the past year. I have my rMBP and an external drive of my Pics and Movies (1.1TB) backed up and its been working well. The initial backup took about 10 days and I never new it was running. Its resource lite as far as running on my system. I don't notice it at all running in the background. I set it up and forgot about it.

+1 Backblaze
Works a lot better than crash plan and is a native app.
$5/month unlimited backups.

I won't touch Crashplan after it lost all my data. There's a major flaw with Crashplan and that is, if your system crashes during a backup job (which is highly likely due to the nature of how Crashplan backs up so frequently), your entire archive is rendered useless and corrupt. Since Crashplan doesn't use common backup tools and uses their own proprietary backup software you can't even extract portions of the archive manually. I lost everything in my Crashplan backups and won't ever go back to it. Sent from the iMore App

I use Time Machine to backup my internal had drive but it doesn't help with my external drive. For that I use ChronoSync, a very flexible backup system that works great with both my Mac Mini and remotely backs up my Macbook Air as well as the external drive.
I found AppCleaner sometime ago and it works perfectly.

I agree that Chronosync is great, but Time Machine is absolutely capable of backing up external drives by removing them from the "Exclude these items from backups:" list in Time Machine preferences --> options.

I prefer WhatSize over Diskdiag. I've had both for about a year and WhatSize has been more useful to me during that time. I also dislike the dialog screen that popups up from Diskdiag giving me a barrage of advertising BS and asking me to rate its product. When I receive good service or find a great product, I recommend accordingly. I also check out the company or developer for other great products. I certainly don't need an application to remind me.

Using disk utility once in a while to fix permissions sometimes helps and can't hurt.

Thanks for the sharing Peter, that's a great list!
Our pick up goes to:
-MainMenu pro: allows you to automatically erase your trash bin, clean and put order on your desktop and customize
-Cleanapp: automatically delete any software installed with a cleaning history and zip functions for old apps
-Gemini: helps you finding duplicates of any files
-TechTool Pro: when your Mac's hardware has a failure
-Onyx: the best free utility tool to install on any Mac with a lot of features
-Google Drive: in order to back up small and medium files (15 Go free with a Gmail acount)
-iCloud Drive: even if it's messy, it will surely be improved by Apple this year to back up files on Mac

I would also add Carbon Copy Cloner to the Backup options, as its yet another method to backup your Mac prior to any changes, and also is a method of recovery

I agree! If you check my "complete backup strategy" link, you'll see that I included cloning as part of the program. :)

I also use Carbon Copy Cloner and it seems to work well so far. What I especially like is that you can boot from the backup and restore the entire image in one sweep. I've tried this and it indeed works. There are some downsides to the software but the benefits far outweigh Sent from the iMore App

Battery doctor for ios. Free and Amazin! Sent from the iMore App

I would use Backblaze. Got it back when they had a Black Friday sale and was really impressed with it. Way faster than clunky CrashPlan. However. Backblaze does NOT support NAS. CrashPlan does. CrashPlan (CP) is also slow as heck. And with that. I'm stuck with them.
The moment Backblaze supports backup for NAS, I'm switching over. Even though I have signed up 4 years with CP. Three months in, and I'm still backing up to CP. All 1.8TB worth of data (I deal with video/photo files). So beware if you have large data. Regardless, an offsite backup solution is always crucial. Some data is still better than none.

You missed the best one i.e CLEAN MY MAC 2 ..!! Sent from the iMore App

What about CCleaner, I have used it before and it was pretty good.
Thank you for signing up to iMore. You will receive a verification email shortly.
There was a problem. Please refresh the page and try again.