Rupert Murdoch says iPad may be savior of newspapers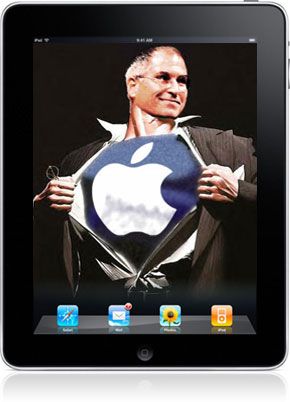 Rupert Murdoch, head of the massive News corp. whose holding include the Wall Street Journal and FOX, told the National Press Club in Washington that the iPad may just rescue old print-and-delivery-bound media:
Unfortunately, neither the iPad nor any piece of technology can rescue old media from the old world thinking of its out-of-touch leadership -- the people who want to charge as much or more for iPad versions of their newspapers and magazines despite the lack of physical media costs, and who want to merely transplant text from static paper to dynamic displays with no creative thought or understanding of the new medium.
I
Who and what's going to save newspapers from that?
[Australian via Gizmodo]
Rene Ritchie is one of the most respected Apple analysts in the business, reaching a combined audience of over 40 million readers a month. His YouTube channel, Vector, has over 90 thousand subscribers and 14 million views and his podcasts, including Debug, have been downloaded over 20 million times. He also regularly co-hosts MacBreak Weekly for the TWiT network and co-hosted CES Live! and Talk Mobile. Based in Montreal, Rene is a former director of product marketing, web developer, and graphic designer. He's authored several books and appeared on numerous television and radio segments to discuss Apple and the technology industry. When not working, he likes to cook, grapple, and spend time with his friends and family.
Won't there be a lot of truckers, inkers, and printers that lose their jobs too though?

Internet is the reason for truckers, inkers and printers that lose their jobs. But iPad is a chance for newsmakers not to lose their job with truckers! And newsmakers have to think twice about realizing this chance, and deliver really new content as for XXI century.

Of all of the media companies making the transition from print to digital News Corp is probably the most forward looking. They should have no problem figuring out what content to include given the media companies that they own and have experience with online communities (MySpace). They'll likely overcharge for a subscription initially because that market has yet to set a price, but they can adjust that. Other big media companies, like Time-Warner, should make the transition just fine because they are assembled like News Corp. It's companies like the NY Times that may have difficulty keeping up because 1) like News Corp they'll over charge at first; but 3) they're not vertically integrated, must partner for content or will have to find a way to gather that content on their own. Once they do that the added content may not have the polish that their print pieces do.
I think that the real battle will be what kinds of reporting will capture people's imagination. Newspapers will have short or nonexistent stories on late breaking events due to pending press times. With the iPad that will not happen and they can dedicate unlimited space to a story if they wish. The question is how much coverage is enough on a topic and how much will an iPad user be willing to read. Will it be shorter USA Today style stories or longer expose pieces like magazine features complete with pictures, video, graphs, etc.

"by making it cheaper to"... "distribute"? How about also making it cheaper to purchase, then, fellas?

When will the world realize that there is almost no point to newspapers now? All the news you need is available online for free. Why the hell would anyone pay for news nowadays???

Why purchase when you can browse to their site and read for free?
I don't care how they do an app or what eye candy they give to it. If you publish your product for free on your website, then good luck selling it via hardcopy or apps.
WSJ has the right idea..

Why pay for propaganda when news is free?
RM is just another control freak loosing grip...his empire is doomed.

Mr. Murdoch is starting to annoy me.
He first blames Google and Bing for the decline in newspaper interest. Then says that the iPad will be the savior just because he can charge them.
Yes...making someone pay for something that was previously free is going to save it. My Lord.
As many have said, why pay for something that you can get free. I don't read newspapers because I don't need the whole thing. I read certain parts, throw away the rest.
So if I can pay for the parts I only want, then he's on the right track.
If not...I need him to get with the programs. I never felt that we needed to pay to know about things that are happening in our world.

Here's the problem. I work in the newspaper industry, and what you guys don't understand is money is not made on subscriptions, it's made on ads. Look at a newspaper and the number of ads within. Then look at your typical digital edition of a newspaper. What do you notice? Less ads. That means less money. Sure it costs less to produce it, but you also make less to do it that way too.
You guys on the podcast constantly reference newspaper web sites that are free. The problem is, those web sites are losing money like crazy. The only reason those businesses survive is through their ad sales in print.
It's not as simple as just switching to the iPad, they need to find a way to incorporate ads into the product to survive. Problem is, people throw a fit with digital ads, and they aren't as successful for advertisers, so they're harder to sell. Less to sell means they need to cost more to have the same effect. In other words, what needs to happen for newspapers to survive is all but impossible, in the current setup. And no one outside the industry understands.

@TheReptile
NewsCorp's experience with MySpace shows exactly why they will not figure it out. Before its acquisition by NewsCorp, MySpace was the king of the hill. A cesspool, sure, but an innovating, revenue creating cesspool. :) Since NewsCorp's takover, MySpace has stopped moving forward techincally, and has only hemorraghed money and marketshare. (Their MySpace unit reported a $203m loss in 2009 alone, while the market as a whole grew by leaps and bounds, fuelled mainly by Facebook and Twitter.)
Why did MySpace tank as soon as NewsCorp took over? Precisely because they are backwards looking, not forward looking. MySpace was the undisputed king of the hill in the early 2000s. As soon as NewsCorp took over MySpace, it locked down as much as possible, stopping any further innovation as a socially creative force, essentially freezing its feature set, and instead becoming as much as possible venue for top-down "old media" content distribution. That was Murdoch's vision, and it still is. Facebook, on the other hand, offered both users and developers the key to the candy store in terms of an open platform. Mock your fan-ofs, your zombie games, your Farmvilles all you want (I cannot stand playing them), but those 3rd party social efforts are what blew Facebook right past MySpace, leaving it an afterthought with a vestigial userbase.
Murdoch loves the iPad solely because he sees the same ability to impose old-media-style top-down controls on content that he has long since lost on the internet, and he thinks that Apple's hardware is cool enough to let him pull it off this time, despite all failures in the past. Murdoch's infatuation with the iPad is not forward-looking; it is extremely backwards-longing.

Well, Murdoch could be right. But not at the price he wants for the Wall Street Journal app. I can subscribe to the paper Journal and the online WSJ for less than he wants for a working subscription for the iPad app. My prediction: The price will be lowered. Because there's no way that will bring in revenue at $17.99 a month. Not while you can go to the website on the iPad via Safari and get it a lot cheaper.
It looks like a very well done app. But the app alone is nothing, and that subscription price is way too high.

Hello, Neat post. There is an issue together with your website in internet explorer, might check this¡K IE nonetheless is the market leader and a big element of other people will omit your fantastic writing due to this problem.
Get the best of iMore in in your inbox, every day!
Thank you for signing up to iMore. You will receive a verification email shortly.
There was a problem. Please refresh the page and try again.