Samsung Galaxy S7 vs. iPhone 6s: the more things change ...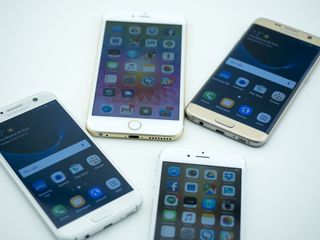 Samsung has officially announced the new Galaxy S7, and it's one hell of a phone, and a potent challenger to the Apple iPhone 6s and eventually the iPhone 7. Let's run down where these phones sit.
Swipe to scroll horizontally
Category
Samsung Galaxy S7
Apple iPhone 6s
Samsung Galaxy S7 edge
Apple iPhone 6s Plus

Row 0 - Cell 0

Row 0 - Cell 1

Row 0 - Cell 2

Row 0 - Cell 3

Row 0 - Cell 4

Operating System
Android 6.0 Marshmallow
iOS 9
Android 6.0 Marshmallow
iOS 9
Display Size
5 inches
4.7 inches
5.5 inches
5.5 inches
Display Resolution
2560x1440
1334x750
2560x1440
1920x1080
Display Type
Super AMOLED
IPS LCD
Super AMOLED dual-curved
IPS LCD
Processor
Quad-core Snapdragon 820
or Octa-core Samsung Exynos 8
Dual-core Apple A9
Quad-core Snapdragon 820
or Octa-core Samsung Exynos 8
Dual-core Apple A9
Internal Storage
32GB
16GB, 64GB, or 128GB
32GB
166GB, 64GB, or 128GB
External Storage
microSD
none
microSD
none
RAM
4GB
2GB
4GB
2GB
Rear Camera
12MP ƒ/1.7
1.4μ pixels
OIS
12MP ƒ/2.2
1.22μ pixels

12MP ƒ/1.7
1.4μ pixels
OIS
12MP ƒ/2.2
1.22μ pixels
OIS
Front Camera
5MP ƒ/1.7
5MP ƒ/2.2
5MP ƒ/1.7
5MP ƒ/2.2
Connectivity
802.11ac
Bluetooth 4.2 LE
802.11ac
Bluetooth 4.2 LE
802.11ac
Bluetooth 4.2 LE
802.11ac
Bluetooth 4.2 LE
Charging
microUSB with fast charging
Qi wireless
Powermat wireless
Lightning port
microUSB with fast charging
Qi wireless
Powermat wireless
Lightning port
Battery
3000mAh
1715mAh
3600mAh
2750mAh
Water Resistance
IP68
not rated
IP68
not rated
Security
One-touch fingerprint sensor
Touch ID
One-touch fingerprint sensor
Touch ID
Dimensions
142.4 x 69.6 x 7.9 mm
138.3 x 67.1 x 7.1 mm
150.9 x 72.6 x 7.7 mm
158.2 x 77.9 x 7.3mm
Weight
152g
143g
158g
192g
Image 1 of 2
Samsung in 2016 has adopted a philosophy that's remarkably similar to Apple's: iterate, don't reinvent. The Korean manufacturer in 2015 landed on a design language that worked and resonated with customers in the Galaxy S6 and a neat gimmick with the S6 edge, and it improved on that language later in the year with the Galaxy Note 5. And now we're looking at a Samsung Galaxy S7 that is, at first glance, remarkably similar to the S6 that came before.
By virtue of that similarity, the Galaxy S7 also has a lot in common visually with the iPhone 6s (which is itself all but indistinguishable from its predecessor, the iPhone 6). That's not necessarily a bad thing: with each generation of iPhone we've seen Apple distill the concept of a smartphone down to its purest physical form, and Samsung's designers have similarly followed suit.
There are, of course, notable and distinct visual differences here, especially once you flip the phones over. But face-on there's no denying the similarity. Then again, any phone that places a physical home button below the display (Samsung and Apple being one of the few companies still doing that) is going to end up with a similar look. Full glass fronts have been all the rage since the first iPhone hit, and that's not going to change anytime soon. Interestingly, the home button/fingerprint sensor on the Galaxy S7 has grown taller from the S6 (itself taller than the old swipe-style sensor on the S5). It's still an oblong pill shape, but it's closer to the circular home button slash Touch ID sensor on the iPhone than it's ever been. (But we'd be hard-pressed to believe someone could honestly mistake one for the other.)
Unlike Apple, Samsung also carries the color of its phone across the entire body, e.g. the gold Galaxy S6 has a shiny gold glass back, a matte gold metal trim around the sides, and shiny gold glass around the screen up front. That front glass slopes off softly at the corners (2.5D glass, as Samsung has been calling it for a while now) in a manner that's shared with the iPhone, making for a softer grip against the soft pads of your fingertips.
And, yes, when you look at the bottom end of this phone you'll see some distinct visual similarities between the iPhone 6s and Galaxy S7: headphone jack and microphone hole on the left, connection port in the center, and drilled speaker holes on the right side. And, yes, Samsung's holes don't line up as perfectly as Apple's holes. (That's a matter of deliberate placement, not manufacturing sloppiness. And in any event, it's on the bottom of the phone.) As to whether that's a sign of Apple's obsession with the sweating the small design details (and symmetry) or Samsung making a compromise in the name of engineering design and the most efficient placement of each particular component is up to you — if it even matters at all to you.
Around back things are very different. Where the iPhone has a continuous metal body interrupted only by antenna lines, a camera module, and their logo, the Galaxy S7 back is composed of an incredibly glossy glass plate that curves up on the sides. The iPhone 6s features a matte metal finish, the S7 has a remarkably reflective metallic layer under the glass — the silver and gold editions are practically mirrors.
The camera module on the Galaxy S7 sits along the center vertical axis about 1/5 the way from the top, right above a Samsung logo ( the space between is where the reflective Apple logo would sit on an iPhone). Both the iPhone 6 and Galaxy S6 had camera modules that notably protruded from the back of the phones, a concession to the restraints of optical physics and each manufacturer's seemingly overzealous quest for thinness.
Samsung hasn't abandoned that quest entirely, but it's worth mentioning that the Galaxy S7 is thicker than its predecessor by a full millimeter. That increased thickness means the camera module no longer sticks out nearly as far (it's barely noticeable at 0.46mm). Thanks to the curve of the back glass the increased thickness isn't really felt, but it does mean that Samsung has consciously conceded this round of the thinnest phone contest to Apple.
Image 1 of 2
The upside of that thicker body is a dramatically-larger battery in the Galaxy S7, both over the predecessor S6 and even more so over the iPhone 6s. Clocking in at 3000mAh in the S7 and 3600mAh in the larger S7 edge, Samsung says you'll be able to easily make it through a typical day on a single charge (something the smaller iPhone's never been able to convincingly claim). It's notable that those batteries are significantly larger than you'll find in either size of iPhone, but it's also worth noting that the power demands of Samsung's higher resolution Quad HD displays are far greater than Apple's 1080p display (on the 6s Plus — the iPhone 6s has a display that's slightly better than 720p). Apple has for the past few years put a focus on increased efficiency, building their own processors to make sure the phones stay can use smaller batteries for lighter and thinner devices.
The 1080p display in the iPhone 6s Plus is fine, but in 2016 we've reached the point where the 750x1334 4.7-inch screen in the iPhone 6s is no longer acceptable. It's a fine size for those who want a smaller phone, but the quality of the display pales in comparison to what Samsung, LG, and others are offering. Sure, Samsung's Super AMOLED displays have a tendency to oversaturate colors, but the also look phenomenal and offer incredibly clarity thanks to their obscene pixel density. In the space that one pixel takes up on the iPhone 6s display you'll find four on the Galaxy S7. That means that everything, from photos to app icons to text in the web browser is noticeably sharper.
When Apple rolled out the iPhone 4 six years ago with its 4-inch "Retina" display, it was a revolutionary moment in smartphone displays — suddenly we were looking at pocket computers with remarkably sharp displays. The Android manufacturers followed suit with 720p displays and very quickly pushed beyond with 1080p and now QHD screens that offer four times the resolution. It's true that the 326 pixels-per-inch density of the iPhone 6s is technically beyond the resolving capabilities of the human eye, we can perceive beyond that. That's why the 401ppi iPhone 6s Plus looks better than the iPhone 6s and why the 587 ppi of the Galaxy S7 looks simply phenomenal.
And then there's the matter of the camera. Samsung made a surprise move with the Galaxy S7, dropping from a 16MP unit on the Galaxy S6 to a 12MP sensor on the S7. The move means that the sensor has larger pixels than before, coming in at 1.4-microns across, compared to the 12MP sensor on the iPhone 6s with 1.22-micron pixels. (A micron is one-thousandth of a millimeter. It's small.) The larger pixels combined with the even brighter ƒ/1.7 aperture should mean improved low-light performance from the Galaxy S7, an area where even the improved sensor on the iPhone 6s has struggled to compete. Samsung's also amped up the autofocus capabilities of the Galaxy S7, using every pixel in autofocus instead of roughly 5 percent of the 12 million pixels. The end result is autofocus that is absurdly fast. Incredibly fast. Obscenely fast. Seriously, it's ridiculously fast.
Then there's the matter of software. The Galaxy S7 is running Android 6.0 Marshmallow with their own customizations in features and design on top of it, though it's closer to "stock" Android than any proper Samsung phone before (excluding the Nexus and Google Play Edition devices). For the Marshmallow iteration on the S7 we're looking at a design that carries over a lot from the previous Samsung takes on Android, though they've added a few smaller design flourishes that iPhone users will find familiar: a grid view folder icon and squircle backgrounds behind app icons.
Apple's app developer design guidelines have long required developers to craft their app icons as rounded squares (Apple has very a specific rounding, at that), but Android has long been a free-for-all of icon design. There are some particularly great implementations of both strategies, but there's no denying that the whatever-you-want path Android's taken for app icons has led to greater variety for those apps. Samsung has adopted something of Apple's strategy, wrapping app icons in a highly-rounded rectangle of translucent white. Users can turn it off, but it is turned on by default. Carriers, too, will have the option of turning this feature on or off.
With the Galaxy S7 and iPhone 6s we're seeing Apple and Samsung at their very best. Samsung is far more focused than they've ever been, and it shows in the design and technology of the Galaxy S7. Apple's follow-up, the iPhone 7, isn't expected until the fall of 2016, but they've got a monster of a contender to face in the Galaxy S7.
Get more iMore in your inbox!
Our news, reviews, opinions, and easy to follow guides can turn any iPhone owner into an Apple aficionado
Derek Kessler is Special Projects Manager for Mobile Nations. He's been writing about tech since 2009, has far more phones than is considered humane, still carries a torch for Palm, and got a Tesla because it was the biggest gadget he could find. You can follow him on Twitter at @derekakessler.