With the holiday season upon us and Black Friday only a few days away, your front door is going to be busier than ever thanks to visiting relatives and package deliveries. Equip your door for the battles to come with the Ring VIdeo Doorbell 2 discounted to $129 on Amazon. You'll also be able to find this deal price at B&H. The Ring Video Doorbell 2 normally sells for $199, and today's drop is one of the best we've ever seen outside of refurbished units.
If you are interested in this, you might consider another bundle from Amazon. This package includes the Ring Video Doorbell 2 and Amazon's Echo Show 5 for just $139 total. That's $10 more and you get a smart display that can control your smart home and work directly with the video doorbell.
Knock Knock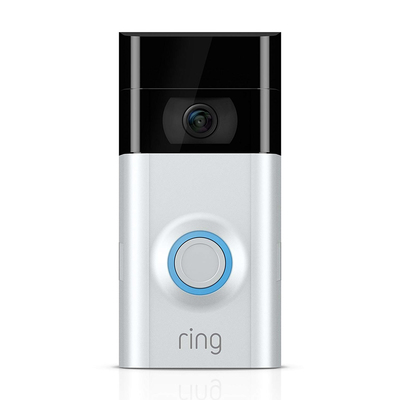 Ring Video Doorbell 2
This video doorbell can be powered by a rechargeable battery instead of hardwired. Records 1080p video and gives you live on-demand video. Two-way audio lets you communicate with visitors. Works with Alexa, your phone or tablet, or even PC.
$129.00 $200.00 $71 off
The Video Doorbell 2 lets you use your mobile device or computer (or new Echo Show 5) to see, hear, and speak to anyone visiting your home. You can use the free companion app or connect the video doorbell to your smart home. It works with Amazon's Alexa so you can open up video with your voice. Just say "Alexa, talk to the front door" and you won't even have to standup to deal with your visitors. Plus, since you can do this from anywhere in the world you can pretend you're out of the house when that annoying neighbor comes knocking. That's a life changer right there.
The camera on the doorbell uses motion detection, infrared night vision, and records in 1080p HD video. There's a rechargeable battery so you can install it anywhere. That's beneficial if you don't have a standard doorbell where you plan to put this device. You do still have the ability to hardwire it, which you'll probably end up wanting to do so you don't have to worry about the battery. Nothing worse than a doorbell that doesn't bell because you need to recharge it.
Ring backs it up with a lifetime of theft protection.
We may earn a commission for purchases using our links. Learn more.