How to manually update iCloud Music Library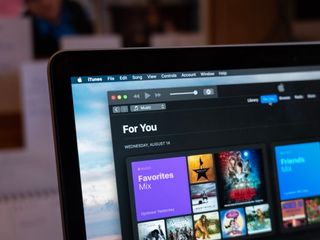 (Image credit: iMore)
iCloud Music Library's offerings are great: You can stream and download any of your Mac's songs to any of your other devices, and if you're subscribed to Apple Music, you can even do the same for any song from the streaming catalog. But unsurprisingly, something so ambitious isn't without its bugs.
Whether you're uploading new tracks to your music library with your Mac, or you've subscribed to Apple Music and need to sync new tracks, playback progress, or something else, sometimes you're going to need to pound a fist on the jukebox, so to speak, to get it to work right. In this case, that means manually updating your iCloud Music Library. Luckily, this is accomplished easily in iTunes on your Mac. Here's how.
How to manually update iCloud Music Library
Open iTunes.
Click File.
Hover your cursor over Library.
Click Update iCloud Music Library.
Your "Waiting" tracks should shortly be matched to the iTunes catalog or uploaded to iCloud Music Library.
Questions?
After you run the update function, you may need to wait a few minutes for the server to talk with your computer; if your tracks' status still don't change within the hour, it might be worth considering wiping and rebooting your iCloud Music Library.
Update August 2019: Updated through macOS Mojave and macOS Catalina beta.
Sweet Music
(opens in new tab)
Millions of songs in your pocket.

Apple's music streaming service boasts over 70 million songs, live radio stations anchored by renowned personalities, and thousands of curated playlists spanning every genre you can imagine.
Get the best of iMore in in your inbox, every day!
Joseph Keller is the former Editor in Chief of iMore. An Apple user for almost 20 years, he spends his time learning the ins and outs of iOS and macOS, always finding ways of getting the most out of his iPhone, iPad, Apple Watch, and Mac.
Thanks for the tip! I have a question, if anyone can help: when I plug in my iPhone or iPad to my Mac/iTunes, I used to be able to click on the Music tab for the device and manage the music that I wanted on the device. In other words, it listed everything in my iTunes library by song or genre or album etc. with checkboxes next to them. Now all I see is "iCloud Music Library is On." I'm not clear on how I would manage the music files on my iPhone/iPad that I formerly designated and synced. I must be missing something here, sorry.

If you have iCloud Music Library enabled, you cannot select and de-select music to sync like you once could. Anything you had synced to your phone before the update, will still be physically on your phone and in your library. If you want to remove music from your phone, you have a couple of options and it depends what you're trying to accomplish; 1. Delete your music for good: Remove the music from your library all together, within iTunes, select the music and delete, CTRL+SHIFT+DEL if you want to send it to the trash bin. 2. Remove from your library: Go into the music app on your iPhone, find the music in question and hit the "..." and "Remove from my music". This will remove the music from your iCloud music library but keep the physical files in iTunes. 3. Save space on your phone: This is the route I went, find the music on your phone that you had once synced, hit the "..." and then "remove download". This will a) keep the music in your library b) keep the files in iTunes c) make the music available to stream from your iCloud music library. The whole thing is really complicated and it would really help if you could manage it better from iTunes, choose which music to physically copy to your phone. To help decide how to proceed, think of it like this, basically what is happening here is wireless syncing with iCloud music library is the intermediary between iTunes and your phone's music library and it is all centered around streaming, until you save for offline listening. Whether you add music as files in iTunes, or you add to your music library from your iPhone, both go to iCloud to sync, to stream, or save offline.

Thanks, Mike, for taking so much time to explain this! Before I saw your post, I was on the phone with Apple and all my Apple Music questions were answered. The main thing now that I'm frustrated with is: large files that I want to sync to my iOS device that were not synced prior to activation of Apple Music/iCloud Music Library (these are 200MB+ .wav files) can no longer be synced. I went to Apple.com/feedback and requested a change so that we can choose to use up storage space on our iOS devices and selectively bypass iCloud Music Library altogether, thereby not going over their file size limit nor the 25,000 file limit. Does anyone have a work-around for transferring large files that can be played in the Music app or a 3rd-party music app? Perhaps some 3rd-party file management app? Thanks!

Have you tried converting them to ACC in iTunes? This can shrink them, although I'm not sure it will be small enough to sneak below the Apple size threshold. "Only songs under 200 MB or less than 2 hours are uploaded."

Most are, but the .wav files are that way for a reason (to keep all the data for very low frequencies and other data not audible). But I'll look into that option again, thanks!

Your explanation was far more complicated than iTunes Music. You could have reduced your 300 words to just the following 17: "find the music on your phone that you <have> synced, hit the "..." and then "remove download"."

I also wanted to know how do I sync up phone for changes made on iTunes.. Sent from the iMore App

I still had some tracks on a couple albums I added that still had the "Waiting" status. This tip didn't help with that. I ended up having to remove the albums, then add then back. This worked -- no more "waiting" status. I tried to remove these albums via iTunes, but there wasn't a "Remove from My Music" option in the ellipses menu. I had to remove them from the iOS Music app (where this Remove option is present). I guess iTunes is just being iTunes... confusing. Too bad that there is inconsistency between the iOS app and iTunes.

I have an iTunes Match subscription. Since activating Apple Music, I can't get any new music I import to iTunes to match. They all end up getting uploaded. These are tracks that are in the iTunes Store AND the Apple Music catalogue. Is anyone else experiencing this? I subscribe to these services in order to upgrade the quality of the imports to the Apple music standard. I will probably be giving Apple a call, but doubt they will have anything to say about it.

Does anyone know if there is still a way to update music on the phone using smart playlists?

Didn't work for me. However, that's probably because all 3 of these tracks are 4 seconds long, and I suppose I can live with them not being in the cloud.

"In iTunes, go to File > Library > Update iCloud Music Library." This option is greyed out for me. http://i.imgur.com/szGgDuB.jpg Edit: Actually, it was only greyed out because an update was already in progress. I have 116 songs with a "waiting" status. Let's see if these clear up once the update is complete...

Update complete, and 116 songs still show iCloud status as "waiting".

Anybody have tracks that just refuse to upload? I have a track that just won't. I've tried removing it and reading it as well as using the above. Any other ideas. BTW its a track I bought from Amazon; the original matched immediately, this is a version I "OOPSed" the vocals out of.
Thank you for signing up to iMore. You will receive a verification email shortly.
There was a problem. Please refresh the page and try again.