Sharing photos with family is the one area where Apple's iCloud Photo Library still falls short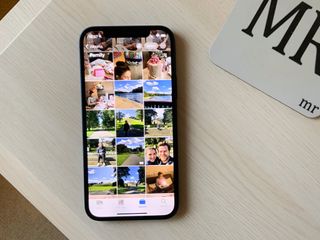 (Image credit: Adam Oram / iMore)
Apple's cloud services have come a long way in recent years and very few aspects of iCloud are more impressive than iCloud Photo Library. Built into iOS, iPadOS, macOS, and tvOS, the service keeps your photo library perfectly in sync across all of your devices and it's pretty much rock-solid whether you're rocking the latest iPhone and iPad or not.
Take a picture on your iPhone and it will appear on your iPad in seconds. Edit a photo on your Mac and those changes are reflected on your other devices straight away, too. But iCloud Photo Library, even after the announcements last month at WWDC, is still missing a huge feature: proper family iCloud photo sharing support.
It's strange to see this feature still lacking since Apple has improved and encouraged use of its Family Sharing feature more and more over time. Initially, it was just a function for allowing shared purchases, shared calendaring, and parental controls, but it has been extended to include shared subscriptions, like Apple Music, iCloud storage, and even the Apple One bundle.
Apple knows this lack of a proper, unified family photo library is a problem as it has come up with various workarounds in order to try and fix it without just merging libraries. For example, when Family Sharing is set up, a Family album in iCloud is automatically created but this requires family members to manually add photos and videos to it, and it's limited to 5,000 items.
In the For You tab of the Photos app, you can also see Sharing Suggestions that prompt you to share a set of photos from a location or event with others that were also there in an effort to unify everyone's libraries. The recipient is even asked to use a feature called Share Back to throw some photos and videos the other way.
The problem is, this process still involves manually sending photos and videos to people, and choosing to save those down into your own library and duplicating them in the process. For many families, having multiple copies of the same photo is less than ideal and, at some point, you have to pick one person in the family who will hold the canonical photo library to avoid duplication.
I had hoped that Apple's latest updates to the Photos app at WWDC 2021 would address this problem once and for all. While Apple did take the wraps off a new Shared with You feature for different media types and an improved UI for photo sharing within Messages, the actual sharing of photos remains essentially unchanged.
What I'd love to see is an opt-in function that allows members of an iCloud family to automatically have their Photo Library kept in-sync together. I take a photo, it appears on my wife's iPad. She records a video, I can see it on my Mac. I turn a Live Photo into a looping gif, she sees that too. No AirDrop, no iMessage, just sync them together. All the time.
I understand this comes with privacy implications, and that's why I think this feature should be entirely opt-in, and perhaps even require an Apple ID password or Face ID/Touch ID authentication to set it up to avoid misuse, but I can't be alone in wanting this feature — it make sense for couples and allows families with children to get easy access to (and monitor) the photos they are taking.
It also comes with the potential problem of clutter in the Photos app, but the feature could be engineered to filter out things like screenshots and memes so these don't sync across everyone's devices. I'd also rather risk a little bit of clutter and save the time of manually importing everyone photos into one place and being solely responsible for the (lack of) upkeep of the family album.
What do you think? Do you wish there was better family sharing with photos? Let us know in the comments.
Get the best of iMore in your inbox, every day!
Adam Oram is a Senior Writer at iMore. He studied Media at Newcastle University and has been writing about technology since 2013. He previously worked as an Apple Genius and as a Deals Editor at Thrifter. His spare time is spent watching football (both kinds), playing Pokémon games, and eating vegan food. Follow him on Twitter at @adamoram.
Thank you for this article. I completely agree, and wish this option were available. Back a few OS X versions ago, my wife and I both had separate logins on our shared mac, but the (then iPhoto) file was in a shared folder. So, when we plugged our iPhone into the Mac, we had set it to automatically copy any photo on the phone into the iPhoto file. Then, sync the iPhone with that iPhoto file. So, as long as we plugged our iPhones into the Mac once a week or even once a month, it would generate a single location where all of our photos lived, and to which each of our iPhones synced. But, when Apple moved to Photos and got rid of iPhoto, this workaround (which a Genius taught us) was no longer an option. We're several years in, and I keep hoping that it will come back, but as your article correctly states, it doesn't. So, essentially, my wife and I both have separate sets of photos and no real-world, workable way to merge them without spending way more time that it should take (and way more than parents of young children have).

This is absolutely needed. This exact problem is still the ONLY reason why my wife's iPhone is signed in with MY iCloud account. It's the only way to sync photos automatically. Of course, it comes with the drawback of also syncing call history as well, cluttering up her phone app.

Yeah, sharing iCloud accounts is less than ideal now that it links to so much other stuff. Apple has solved a lot with Family Sharing - just not Photos!

One way Apple could solve this is to allow the Family Organizer to designate certain Faces as part of the family. Then whenever the Organizer or Parent/Guardian snaps a shot of anyone in the family, then it could sync to a shared Family album. Then Apple could use machine learning to allow the Organizer/Parent/Guardian to designate certain Days or Events to sync to the Family album (this would allow photos that didn't contain the Family Faces to also sync up.

That's certainly something that would help automate some of the process, but the latter portion of your suggestion still sounds like too much manual photo management to me when I'd happily just let entire photo libraries sync across my iCloud Family.

This is sooooo needed. It's long overdue. We also used to log into the same iCloud account purely to sync photos but it had other unwanted side effects as others have noted. Please, Apple, make this happen!

This is something Google Photos does well. It has the option to automatically share a library or parts of a library based on things like Faces/Albums and it works great. The person you are sharing with has the option to see the photos or have them automatically added to their library. I realize many do not want to use Google products but they sometimes get things right and Google Photos is one of them.

Apple would never implement such a feature in this way because it's kludgy. It would create more problems than it would solve. Imagine a husband wanting to use that feature and share all his photos but wife doesn't.. now the husband is resentful and suspicious. Someone at Apple needs to sit down and think of a super simple way to have photos shared easily and quickly between family members. They need to do this without causing too many unnecessary divorce proceedings. The feature you described would be used only by the most devoted and saintly spouses. My wife doesn't need to see absolutely every little photo I take anywhere I go and I'm sure most wives and husbands would agree.