Should You Buy a HomePod?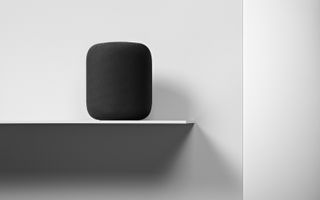 Arguably, no one needs a smart speaker like Apple's HomePod. But if you're interested in a ubiquitous computing device for your home — whether to control your music, tell you about the news, turn off your living room lights, or just because you want a robot to talk to — Apple's new device could be the one for you.
Should you buy a HomePod when it goes on sale January 26? It depends on what you want from your smart speaker.
Sound
Apple has spoken at length about the company's pride in the HomePod's speaker: The 6.8-inch device packs in seven beam-forming tweeters, a high-excursion woofer, and an A-series chip that helps aid in the speaker's acoustic modeling, echo cancellation, spacial awareness, equalization, and more.
iMore analyst and editor-at-large Rene Ritchie came away after a brief demo impressed with the sound:
The HomePod's latent spatial awareness feature should also delight audiophiles; it uses the A8 processor, its six-microphone array, and its full speaker system to virtually "sense" the depth and scale of a room, and adjusts equalization accordingly. Sonos has done something similar with its TruePlay feature inside its companion iPhone app, but the HomePod theoretically shouldn't need anything but itself to figure out the same information.
If you're first and foremost looking for an excellent speaker on par with the likes of Sonos and Bose, you should find the HomePod to your satisfaction.
If sound quality isn't at the top of your list for a smart speaker, you might be better served with one of Amazon or Google's offerings.
Music
The HomePod is designed to work best with Apple's ecosystem, and that means being deeply tied into iOS, AirPlay, the Apple TV, and Apple Music.
In fact, you'll need an iOS device to even set up the HomePod: Either an iPhone 5s or later, iPad Air/iPad mini 2 or later, or a 6th-generation iPod touch — essentially, anything that can run iOS 11.2.5 or later. There's been no word on setting up HomePod with a Mac; at present, it looks like you either need to have an iPhone, iPad, iPod, or you're out of luck.
Additionally, Apple Music is the only service that runs natively on the HomePod. If you like Spotify, Pandora, or any other number of music streaming services, you'll still be able to play songs — but only through a connected iOS device. Apple Music may or may not be your preferred service, but it does come with a huge benefit: Siri's integrated bevy of music commands.
HomePod does support both AirPlay and Bluetooth, though it's not clear as of yet if the latter is just used for the initial setup or can be targeted for full Bluetooth connectivity. On the AirPlay side, HomePod currently supports the OG 1.0 AirPlay spec, which lets you send music from any iOS device or Mac.
But that's not where the AirPlay goodness stops: Later this year, Apple plans to release the AirPlay 2 spec; it will add support for multi-room and stereo speaker pairing, which will let you join a HomePod with any other speaker that supports AirPlay 2.
The HomePod will also support music access for guests via peer-to-peer AirPlay, which should let you send music when connected to the same Wi-Fi network.
If you live in the Apple Music ecosystem and either own soon-to-be compatible AirPlay 2 speaker systems (like Sonos) or plan to pick up multiple AirPlay 2 devices, the HomePod will fit nicely into your living room.
If you prefer other music services or your home already has a capable connected speaker system that doesn't support AirPlay 2, the HomePod may not be the speaker for you.
Multi-room music
Unfortunately, the HomePod won't ship with multi-room music at launch, as that requires Apple's yet-to-be-released AirPlay 2 standard. Until it ships, you'll only be able to play music directly to a single HomePod, or stream audio from your Apple TV to your HomePod.
The good news? AirPlay 2, when it launches, will support a variety of different speakers — including the entire Sonos lineup. The feature also offers studio pairing with multiple HomePod speakers, so you can set up a multi-point sound system to work with your Apple TV.
If you don't mind waiting for multi-room audio or you have a small space, you should have no issue with a HomePod
If you need multi-room audio immediately or already have a system of multi-room products, you might want to continue picking up speakers for that line.
Smart assistants
Apple's HomePod is equipped with Siri, Apple's voice-activated digital assistant. As with Amazon and Google's various speakers, HomePod uses a trigger word — "Hey Siri" — to activate its six-microphone array and start listening for any commands. (You can also always touch and hold the top of the device to talk to Siri.) When Siri is listening to you, its patented animated waveform will appear on the LED screen along the top of the speaker.
Siri on HomePod is similar in many ways to its iPhone counterpart: You can ask the assistant to play your music, send iMessages, set timers, convert measurements, play podcasts, check the news and sports scores, look into traffic or weather, get language translations, control HomeKit accessories, hand off a call from your iPhone to your HomePod, create lists, and even use third-party messaging, reminders, note-taking, or to-do apps through HomePod.
Siri's music controls are almost identical to those on iOS: You can ask Siri to pause or play songs, request playlists, note that you like or dislike the song, add songs to a playlist, or ask it to play songs themed to a certain mood. All of this syncs to your Apple Music account on your iPhone, iPad, and Mac, so your tastes will be updated as you listen.
Though I don't yet have confirmation, it looks like HomePod currently will sync to just one iCloud account (and with it, Apple Music and third-party SiriKit apps); as such, your music tastes may change slightly with each user in your household that requests music.
If you want the power of Siri on a home speaker with full access to Apple Music, HomePod is a compelling option.
If you don't like Siri or you're concerned about multi-account support, consider looking into Amazon or Google's speakers, both of which support multiple accounts.
HomeKit
Not only will HomePod be able to control your HomeKit-enabled lights, switches, shades, fans, and other accessories — it's also a HomeKit hub. As such, it lets your HomeKit devices talk to your iCloud account remotely; if you're out of the house and your HomePod is active, you can still control your lights even without being on your Wi-Fi network. (Note: The fouth-generation Apple TV and later also offer this feature.)
If you're hooked into HomeKit and you need a HomeKit hub for remote access, you can both control your lights and access them from afar with HomePod.
If you use an assortment of HomeKit and non-HomeKit automation products, or you already have an Apple TV providing remote access, you might want a device that can control multiple types of home automation accessories.
Privacy
When it comes to potential security concerns, the HomePod stands above the rest in its efforts to safeguard your voice data.
Currently, Amazon, Google, and Apple process your voice-based requests on their servers; the speakers don't currently have enough computing power to do that sort of processing on-device. But that processing only happens after you speak your wake word (which is processed locally on-device), keeping your general conversations out of the record.
But what happens to that audio data after it's on their servers? Both Amazon and Google store it for a limited amount of time in order to catch transcription errors, but in the meantime, that data is linked directly to your account.
In contrast, Siri (and HomePod) anonymizes your data through an unlabeled identifier; as a result, even if law enforcement were to request to analyze the recordings after the fact (or some ne'er-do-well manages to break into Apple's sever), they can't be traced back to the device you used to make that request — or the device's location.
If you want the most secure voice assistant out there for your smart speaker, consider HomePod.
If you're less worried about security and prefer the benefits that come from being able to view past speech-to-text transcriptions, get an Echo or a Google Home product instead.
Price
Apple's HomePod sits at the top end of the price spectrum at $349 (U.S.), in large part due to its audio quality. It's priced on par with devices like Sonos's $249 non-intelligent Play:3, Libratone's $299 non-intelligent Zipp, and Google's intelligent $399 Home Max.
Whether that price is worth the cost depends on what you value in a smart speaker: Do you need smarts over speaker quality? There are cheaper smart speakers out there, with Amazon's Echo Dot going for just $49.99. Do you want the best multi-room speaker in the business but don't care so much about smarts? Sonos's more expensive $479.99 Play:5 and lesser-cost Play:3 can help you mix and match your way to full sonic bliss.
Do you want the best of both worlds? Cheaper options like the $199 Sonos One exist, but do so at the expense of the highest-possible sound quality the HomePod provides.
Who should buy a HomePod?
If you're tied into the Apple ecosystem, the HomePod has an immediate starting advantage. It hooks into both Siri and Apple Music, provides a HomeKit hub for any HomeKit accessories, works natively with iOS, offers a one-tap setup with your iPhone, and will support Apple's flavor of multi-room audio later this year.
Audiophiles will appreciate the speaker's sound quality, while privacy advocates will like the HomePod for its greater anonymization in the home voice assistant industry.
You can pre-order the HomePod on January 26 from Apple's website.
Who should buy another speaker?
The HomePod won't be for everyone at launch — even the aforementioned folks tied into Apple's ecosystem. The lack of multi-room audio and stereo pairing limits its ability to become a replacement home audio system. Additionally, limiting the device's controls to Apple Music alone will keep it out of most Spotify users' homes, as manually streaming to the speaker from an iPhone is more cumbersome than the options Amazon and Google provide.
If multi-room audio, alternative streaming services, and pricing is a concern, there are plenty of other great smart home speakers out there to consider; you can even hook up your existing system to a low-cost smart microphone like the Echo Dot (either through its Bluetooth connection or through Alexa Skills, which are available for systems like Bose, Sonos, and other major speaker manufacturers).
Your choice?
Are you considering buying a HomePod when it goes on sale? Why or why not? Let us know in the comments.
Master your iPhone in minutes
iMore offers spot-on advice and guidance from our team of experts, with decades of Apple device experience to lean on. Learn more with iMore!
Serenity was formerly the Managing Editor at iMore, and now works for Apple. She's been talking, writing about, and tinkering with Apple products since she was old enough to double-click. In her spare time, she sketches, sings, and in her secret superhero life, plays roller derby. Follow her on Twitter @settern.