Should you buy a Nintendo Switch?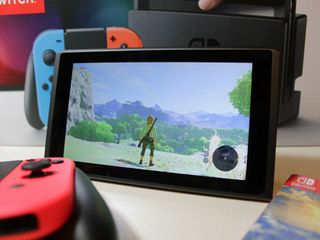 (Image credit: iMore)
When Nintendo first unveiled the Switch hybrid console/mobile gaming device, the community gave out a collective "meh." Even after the company announced the release date game lineup, we were not impressed. As time went on, though, the Switch has grown in popularity and Nintendo announced in its Q1 financial results that it had sold 4.7 million of them in the first four months. By comparison, in December of 2016, there were only 13.56 million Wii U consoles sold across its entire existence. Stores literally couldn't keep Switches on the shelves during the first six months.
It appears that Nintendo has finally, at least temporarily, caught up with demand and you can walk into most retailers and just buy a Switch. Now that it's so much easier to buy than every before, you might be wondering whether you should join in the fun or if you should put your money toward something else. Well, it depends on a few things.
See at Amazon (opens in new tab)
Do you already own a Wii U?
Though the Switch is a beast all its own, it only has a couple of exclusive titles. Wii U owners are able to take advantage of some of Nintendo's biggest game launches of the year, including The Legend of Zelda: Breath of the Wild (opens in new tab) and Mario Kart 8 (opens in new tab). If Nintendo games are the only thing you're focused on and you already own a Wii U, you're not getting a whole lot extra by adding a Switch to your lineup (though Splatoon fans will need a Switch to play the super fun sequel). That's not to say the Switch isn't a fun addition to your gaming options. Nintendo super fans are known to have multiple versions of the same game across different devices (you know who you are).
Do you hog the family TV set to play console games?
When my friends ask me what makes the Switch stand out from other game consoles, I always mention the fact that the Switch can be used with your big screen TV or as a handheld device. It's not just that you can switch screens. The changeover is seamless. Without missing a beat, you can go from TV display to touch screen display. You don't have to save anything or close any windows.
If you or anyone in your family tends to bogart the family TV set to play video games, the Switch is invaluable for everyone. It frees the TV set for movies and television shows, while letting the gamers continue their campaign. Even multiplayer games can still be enjoyed away from the big screen. The Switch's tablet sized screen works independently of a TV set.
Do you like to play video games with the whole family?
Nintendo focuses on family-friendly games. The majority of its titles are multiplayer and only a few are meant for solo play exclusively. If you invest in an additional pair of Joy-Con controllers, you can easily make a night of fun with multiplayer games like ARMS (opens in new tab), Mario Kart 8 Deluxe (opens in new tab), Splatoon 2 (opens in new tab), and more.
Because the Switch can be played on a TV set or a tablet-sized screen, you can take your gaming fun on the road. Play ARMS with the family on a weeknight, and then take your Switch to your favorite watering hole for a Splatoon 2 competition. It's not just for family, but all kinds of multiplayer gaming fun.
Check out every Nintendo Switch game available right now (and what's coming soon)
Do you want the most advanced graphics and games?
Nintendo has made it clear that it's not trying to compete in the graphics-heavy gaming market. Switch games run graphics at about 720 - 1080p, which isn't bad considering it's a mobile gaming device. It does, however, pale in comparison to such console graphics powerhouses as the Xbox One X and Playstation 4 Pro, which both support 4K graphics.
Nintendo banks on its exclusive iconic character brands like Mario, Link, and those adorable Inklings. Fans are more loyal to the brand than they are to the hardware. Nintendo has to keep up, but it doesn't have to compete.
If you're all about the 4K graphics, the painstakingly detailed weapons, the deeply immersive online gaming community, or the huge, open world aspect of video games, you're going to be disappointed in the types of games the Switch has to offer. You'd be better off sticking with Microsoft or Sony.
So, should you buy a Nintendo Switch?
Of course, the most important question is whether you can even get your hands on a Switch, which is nearly impossible right now without having to pay an increased price. Before you even start looking for a Switch, you should decide whether you even want to put out the effort, and how much extra you're willing to spend in order to not have to wait.
If you already own a Wii U, and the only reason you'd think about adding a Switch to your life is exclusive games, it's just not worth the price. Many Switch games release at the same time on the Wii U at the same price.
If you or someone in your family tends to take up the living room with hours and hours of game time, you can free up your TV set by investing in a Switch. It can be played on the big screen, and switched over to handheld without missing a beat. Everyone will be happy.
If game night with the family includes some video game fun, the Switch is a no-brainer. Your whole family can participate in all kinds of fun, including competitive shooting games, racing games, dancing games, and simple party games. Because the Switch is easy to go mobile, you don't have to keep it in the family, either. Take it to your buddy's house for some late night fun, too.
If all you care about is graphics heavy, fully loaded, AAA games, you will be disappointed with the output of the Switch. The hardware can only handle 1080p, at max, and the games tend to be more light hearted, less immersive. You'd do better to save your money for an Xbox One X or Playstation 4 Pro.
See at Amazon (opens in new tab)
Check out our review of the Nintendo Switch
Still can't decide?
Are you still on the fence about whether you should buy a Nintendo Switch? Talk to the iMore community in our Nintendo Switch forums. We have a wonderful, friendly group of fans that are happy to provide their advice.
Updated October 2017: Added information about Nintendo Switch sales
Lory is a renaissance woman, writing news, reviews, and how-to guides for iMore. She also fancies herself a bit of a rock star in her town and spends too much time reading comic books. If she's not typing away at her keyboard, you can probably find her at Disneyland or watching Star Wars (or both).