Should you upgrade to iPhone 8?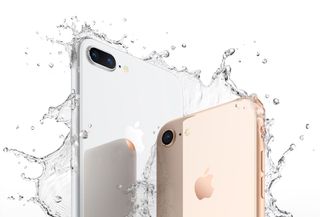 iPhone 8 and iPhone 8 Plus are here, and for the next month, they will be Apple's latest and greatest iPhone models — that is, until the iPhone X appears in November.
Even without the specter of Apple's "future" iPhone lurking over their shoulder, however, the new iPhone models have a lot for potential upgraders to love: While their display sizes remain the same as those introduced with the iPhone 6 and 6 Plus, the iPhones 8 add True Tone to the display, better glass fronts — and backs! — along with the supercharged six-core A11 Bionic, improved-motion-detection ISP, Portrait Lighting, Slow Sync flash, 60FPS 4K video, wireless Qi charging and fast charging over USB-C, and support for iOS 11.
Are they worth the upgrade for those who don't want the iPhone X? Read on.
iPhone 8 vs X
The iPhones 8 and 8 Plus are at a disadvantage this year: Rather than being Apple's tentpole device updates, they're instead living in the shadow of the currently-announced but not yet shipping iPhone X. If you're considering one of these three devices, what makes the iPhone 8 or 8 Plus more appealing than pre-ordering an X later this October?
iPhone 8 and 8 Plus vs iPhone X: Which should you buy?
Design and colors
iPhone 7 and iPhone 7 Plus came in silver, gold, rose gold, (matte) black, and (glossy) jet black. In contrast, iPhone 8 and 8 Plus have dropped the black looks for simplified silver, light copper-pink gold, and gray looks.
The iPhone 8 and 8 Plus also have redesigned cases to feature all-glass backs. Not only does this enable the technology for wireless Qi charging, but it offers a new two-tone coloration for the new models that looks spectacular in person. It also provides a slightly grippier feel, though we still caution against carrying your device caseless.
If you like your colors from last year and worry about how you'll handle an all-glass phone, consider sticking with your current iPhone until you see how others have handled it. If you simply must have the new gold color or glass frame (and with it, wireless charging), the iPhone 8 or 8 Plus are the models to pick up.
Wireless and fast charging
The iPhone has charged via Lighting cable for quite some time now, but iPhone 8 and 8 Plus add a new charging option to the mix: wireless Qi charging. It's an existing standard, which means the charging technology already lives in cars, at Starbucks, and in plenty of wireless charging pads.
iPhones 8 can charge wirelessly on any of these pads with compatible software updates — whether they have cases on or not — and Apple will have its own AirPower charging mat out in 2018.
In addition to this technology, the iPhones 8 also feature fast charging when using a Lightning cable paired with a 29W adapter — they'll charge up to 50% in 30 minutes.
If you don't have any wireless charging gear and don't need fast charging on your iPhone, you can continue to use your current iPhone without fear. But if your current iPhone's battery is going and you'd like to charge more efficiently and wirelessly, the iPhone 8 and 8 Plus may be the perfect options.
Water resistance
Like the iPhone 7 and 7 Plus, the iPhones 8 are fully water resistant at IP67; this means the iPhone is designed to withstand dust and liquids. The liquid part is the key, though.
While Apple hasn't released the definition for their liquid protection, it's equivalent to the original Apple Watch and so should survive splashes and even full submersion into water.
You won't want to use it for shark diving or an underwater camera, but it can save you when you might otherwise have lost your phone.
If you have an iPhone 7 or 7 Plus, the iPhones 8 have the exact same water resistance and aren't an upgrade in this arena. If you're coming from an older iPhone, however, upgrading might keep you from catastrophic spills, rough work conditions, or an accidental toilet drop.
Speeds and feeds
iPhone 7 has a 64-bit "dual" dual-core Apple A10 Fusion processor with integrated M10 motion sensor hub. Until very recently, it was the best smartphone silicon on the planet, paired with 2GB of memory.
iPhone 8 and 8 Plus, however, blow the Fusion processor out of the water. The A11 Bionic has six 64-bit cores, a built in neural engine for processing on-device machine learning, and an M11 co-processor. All of this silicon works together to provide one of the fastest ever phone experiences on the planet, let alone overall mobile device.
iPhone 8 and 8 Plus also offer 64GB of storage by default, with 256GB as the sole upgrade size. You'll get more baseline storage, and your upgrade is also worth more for your money.
If you care about super-fast rendering, graphics, AR capabilities, machine learning, and great bang for your buck on storage space, this upgrade is a no-brainer.
LTE Advanced
iPhones 8, like the iPhones 7, support 24 bands of LTE Advanced, which can hit a theoretical 450 Mbps.
But as with the iPhones 7, the iPhones 8 don't support all networking technology; if you want support for Verizon or Sprint's CDMA network in the U.S., or CDMA in China, you need to buy the version of iPhone 8 that includes it.
If you live in an area that supports LTE Advanced and you don't already have an iPhone 7, you'll want to check out the iPhone 8.
Camera
If you love taking photos, the iPhone 8 and 8 Plus cameras are the best they've ever been. Both the wide-angle (all models) and telephoto camera (Plus only) are hooked up to an improved image signal processor that helps predict movement in frame for sharper photos, less noise in low-light situations, and better Portrait mode images (8 Plus only).
The iPhones 8 also support taking photos with Apple's new Quad-LED True Tone flash with Slow Sync, which times the flash against a slower shutter speed to add flash to low-light photos without over- or underexposing the background of the image.
If you're shooting video, the iPhones 8 now shoot 4K in 24FPS and 60FPS alongside 30FPS, and they also shoot slow motion video in 1080P at 240FPS, doubling the iPhone 7's 1080P at 120FPS.
On the front side, the iPhones 8 sport a 7MP f/2.2 FaceTime HD camera, same as their iPhone 7 predecessors.
While there hasn't been a big change to the lens systems of the iPhone 8 and 8 Plus, a ton of work has been done under the hood; as such, if you love taking images and don't plan to pick up the iPhone X, the iPhone 8 or 8 Plus are both excellent options.
Home button
iPhone 8 and iPhone 8 Plus have a virtual Home button (like iPhone 7 and 7 Plus). It uses similar technology to the Force Touch trackpad on the Mac, or 3D Touch on iPhone. It's far more resilient than a mechanical button, and can be programmed to provide different feedback depending on the app you're using at the time. It does require direct finger contact, though, so won't work if you're wearing regular non-touch-sensitive gloves or otherwise can't make contact.
If you love your click home button on the iPhone 6 or earlier, you may not want to upgrade. But if you're okay with a virtual home button and coming from an older iPhone, you'll have a blast with the iPhones 8.
Headphone jack
The 3.5 mm headphone jack left the iPhone line with the iPhone 7, and the iPhones 8 continue this tradition. Instead, Apple expects you to use Bluetooth, Lightning EarPods, 3.5 mm to Lightning adapter, or something like Apple's AirPods
If you own a lot of nice analog headphones and don't want to use an adapter, you may be stuck with your older iPhone. But if you own Bluetooth or W1 accessories, or otherwise no longer need the headphone jack, the iPhone 8 or 8 Plus is a fine option.
Should you upgrade from the iPhone 5 or iPhone 5c? Definitely!
iPhone 5 was introduced in September of 2012. iPhone 5c is essentially the same phone as the iPhone 5 with a new, fun, plastic coating. Neither has Touch ID or Apple Pay, or the improved processor or cameras, or the larger screen sizes and 3D Touch. Given the phone is increasingly the most personally important device we own, if you can upgrade, now's a good time to do it.
Should you upgrade from the iPhone 5s? Seriously!
iPhone 5s was released in September 2013. It has Touch ID but not Apple Pay, and a middling camera by today's standards. It doesn't have the larger screen sizes or 3D Touch, so unless that's expressly something you don't want, you'll immediately see a benefit from that alone.
If you want it to, the iPhone 5s will likely still serve you well for a year or so more, but if you can upgrade a new iPhone will serve you better and well into the future.
Should you upgrade from the iPhone 6 or iPhone 6 Plus? Probably!
iPhone 6 and iPhone 6 Plus were released in September 2014. They're essentially the same size and shape as more recent iPhones, but lack options for the gold coloration, don't have 3D Touch, and don't have cameras that can do 12-megapixel stills or 4K.
If you're due for an upgrade, especially if you care about colors or cameras, check into upgrading.
Should you upgrade from the iPhone SE? Probably!
Apple's 4-inch 2015 iPhone has its fans (our own Lory Gil among them), but the smartphone is showing its age: While still available for sale on Apple's website, the SE is running the iPhone 6s's A9 chip, doesn't feature 3D Touch or LTE Advanced, and its camera isn't up to snuff. It's still not a bad phone, but if you love speed and camera improvements, the iPhones 8 will be a huge leap over the SE infrastructure.
Should you upgrade from the iPhone 6s or iPhone 6s Plus? Possibly!
iPhone 6s and iPhone 6 Plus were released in September 2015. Their antenna lines are much more prominent on the back, there's no black or jet black color option, the Home button is still mechanical, and the wireless support isn't quite as fast or broad. The cameras are still good, but not as great, and the A9 still packs a punch, but not as big a punch as the A11 Bionic.
To consider upgrading, you'll want to be a big enough of a camera buff or AR buff to take advantage of the photography features and sheer speed.
Should you upgrade from the iPhone 7 or iPhone 7 Plus? Think carefully!
The iPhone 7 and 7 Plus are 2016's prior flagship models, and they're still quite speedy. Like the SE and 6s, these older models are still available for purchase from Apple.
While the iPhone 7 gets the same selfie camera as the iPhone 8 and the 7 Plus has features like Portrait mode, the iPhones 8 still have the better camera, thanks to the ISP, and far superior speed.
That said, it's still only last year's model. If you're really considering upgrading and don't use Apple's iPhone Upgrade Program, you'll only want to shell out if you can't live without the camera system, A11 Bionic, wireless charging, or new design and colors.
Still undecided?
If you're still not sure about upgrading to an iPhone 8, ask questions below or jump into our iPhone discussion forums and the best community in mobile will happily help you out!
Then, once you know, let us know why — or why not — you've decided to upgrade in the comments so everyone else can benefit from your thoughts!
Master your iPhone in minutes
iMore offers spot-on advice and guidance from our team of experts, with decades of Apple device experience to lean on. Learn more with iMore!
Serenity was formerly the Managing Editor at iMore, and now works for Apple. She's been talking, writing about, and tinkering with Apple products since she was old enough to double-click. In her spare time, she sketches, sings, and in her secret superhero life, plays roller derby. Follow her on Twitter @settern.