Skype 2.0 for iPhone brings VoIP over 3G!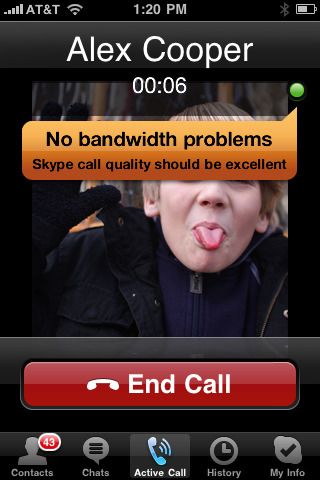 Chad just Skyped me over 3G to tell me Skype has finally (finally!) released Skype 2.0 for iPhone with support for VoIP calling over 3G cell phone networks.
We'll spare you the long drawn out AT&T, Apple, Skype drama and the out-loud wondering about why it took so long. We'll also skip the reminder about how, with iPhone OS 4, you'll be able to leave it running in the background. We figure you've already tapped through and are busily installing the app.
When you're done and have tried it out, come back and let us know what you think about the experience and call quality.
UPDATE 1: Sigh. Skype-to-Skype over 3G won't be free like traditional Skype-to-Skype over Wi-Fi calls:
UPDATE 2: Launching Skype 2.0 on iPhone OS 4 will result in a warning that it only works on "unmodified iPhone OS 3.0.x, 3.1.x, 3.2.x". Sorry developers on iPhone OS 4, no Skype 2.0 for you!
[iTunes link (opens in new tab)]
Rene Ritchie is one of the most respected Apple analysts in the business, reaching a combined audience of over 40 million readers a month. His YouTube channel, Vector, has over 90 thousand subscribers and 14 million views and his podcasts, including Debug, have been downloaded over 20 million times. He also regularly co-hosts MacBreak Weekly for the TWiT network and co-hosted CES Live! and Talk Mobile. Based in Montreal, Rene is a former director of product marketing, web developer, and graphic designer. He's authored several books and appeared on numerous television and radio segments to discuss Apple and the technology industry. When not working, he likes to cook, grapple, and spend time with his friends and family.
Dang next stop. App store

HALLELUJAH! Dude...wait what? There will be a monthly fee after august 2010...

Remains worthless without push. Move on.

Hahaha monthly fee? Guess that frees up a nice little spot on my second page for google voice

Skype-to-Skype calls are going to have a monthly fee over 3G? ROFL goodbye Skype you keep doing downhill fast.

wtf? 3G calling is free until 2010 and then a monthly fee????

Does this mean Skype Video calls?

Ummm, I have 4.0 installed, and the warning came up, but everything works. You should probably test before you actually post stuff.

A fee over 3G? Skype this!

That makes no sense at all. Is AT&T getting a kickback or something? Why would there be a fee? Please explain this please, Rene.

Hi Skype. In England, we call this taking the p*ss. Bye bye Skype.

I agree with JDGeek, Notifications would have been a cheaper and more battery friendly solution that relying on backgrounding it in order to receive incoming calls.

It's pointless to post your complaints here.
If you really want to get involved, post it on the Skype for iPhone forums. The link below is a direct link to the thread that discusses this. Let the developers know their customers' opinions on it, and maybe we can do something about it!
Oh, and the only thing I can think of is that AT&T may be scared that we'll eat up more of their cellular bandwidth, but Skype decided to leave out the reasoning for their price gouging, come the end of August.
http://forum.skype.com/topic/587861-skype-for-iphone-with-3g-calls

Makes me no difference I will just use it till august and allow my att mins to roll over. Come on ppl just trick your phone into believing that it is using a wifi connection while on 3g
Gotta love the Dev Team !!

Skype works for me on iPhons OS 4. Unmodified means no jailbreaking, it does not you can't install a new iPhone OS...

Wonder what the case is if you already subscribe to a Skype package? I have the $2.99 USA and Canada Unlim.

Ah, isn't Skype only popular because it's free?

Anyone getting Bluetooth audio for calls with this update?
Intro sounds work over BT but after that.... Nada.
Boo

Um ok what if I call someone from skype on their mobile number? Is that free (because I already have a skype subscription, meaning do I have to get a differnt one now?

Egg-Zactly
Paying for Skype? Nah, no thanks.

F U SKYPE! YOUR NOTHING BUT GREEDY PIGS ! 

Re. the skype fee over 3g. I was wondering what changes were coming down the line for that. Didn't they do a version on Verizon that uses cell phone minutes?

Doesn't work on bluetooth. Pretty worthless in the car. And that's where you need this. Bad job.

I'm glad that I have 3g unrestrictor running. So skype is still cool with me.

Anyone know this question the Virgin asked?
" Mobile Virgin says:
May 29, 2010 at 6:43 pm
Um ok what if I call someone from skype on their mobile number? Is that free (because I already have a skype subscription, meaning do I have to get a differnt one now?"

I just called a bunch on mobile and land lines through Skype 3G and the sounded BETTER then ATT! I pay a $2.95/ month Skype US fee for something like 25,000 minutes( YES i say 25,000) !!!! You people need to get over it!! Skype rocks and is even better now!!

3g unrestrictor.. nuff said..

Boooooo! I hate paying for services I use! The people at Skype should work for free for me and be my slaves! I will never pay them a fair and reasonable fee for the excellent service they provide! They are evil greedy pigs who just want to be able to buy food and stuff!

Huh, its free on Verizon...funny.

Notifications.....
Wouldn't it be just as easy to text ur friend and be like "wanna skype?"
There are ways around push...

Still get my "This version of skype is only supported on unmodified os iphones..." :(

People constantly claiming to never use their iPhones for calls are suddenly thrilled to make calls?
There's a green phone app at the bottom left. :roll:

Hey Skype!
Thanks but no thanks. I don't need your service that bad. On the other hand, I'm sure you'll be successful in finding some suckers to pay for your overrated service.

I would like to tell people Ive installed Skype 2.0 on Ipod touch and once you connect Skype through the VPN(over Wifi), it even then consider that you are connected through 3G not Wifi and you cant receive incoming calls through Skype-In number. It seems like this version is worse than the previous version.

pay for 3g go suck and just for doing that i will be removing you from my mac.
for any one who want's free call over 3g download (FICALL) from the app store.
download the mac and windows versions from the web.
BOYCOTT SKYPE THEY SUCK BIG TIME

My minutes with AT&T are more than sufficient for my voice calling requirements. Skype is only necessary for video calls and the very occasional international call.

Google voice is better when it comes to quality, once it has a official app in app store

google voice is only available in US.

@Niko - how can you boycott someone you were never giving money to in the first place? If you've simply been using the service for free the whole time, now that they're charging if you stop using you'll just be freeing up their bandwith and making the call quality better for their actual customers. Gosh, I guess they'll really miss you...

3G Unrestrictor
Best $2 i spent
makes any app think its on WIFI

I love my google voice account

So someone explain me this with 3g unristrector I can make calls over 3g and the app will think I'm on wifi I have a subscription for 2.99 a month so on my skype I have my friends number the 6 contacts I choose totall too can I call them from my app or no

@Rio
3G unrestrictor fajes ur wifi status. So as always ur skype to skype calls would be enabled. U still would have to pay wifi or not, when u call homes and mobiles

This news looks like 4 years old for us in UK... 3 UK rulez the 3G world.

I'm still trying to understand how this new 3G Skype service would work overseas. If I'm in India, for example, and I want to call home to the US with Skype over 3G...is that free (till the end of 2010)?

I do not believe you, yourself are suitable, have you in fact read the details?

I don't even know how I ended up right here, but I believed this write-up was fantastic. I don't recognize what person you are but surely you are going to a legendary tumblr if you are not actually ;) Take care!

yourself are suitable, have you in fact read the details?

Hi Ileane, if you do not want to be known for that topic now or in the future you probably should shut it down so G will stop sending you undesired traffic and association with that topic. If you leave it up, it won't hurt your site's ranking for other search terms and who knows, there may be a way to sell a relevant affiliate product from that post some day.Tom Shivers recently posted..Business Development: Using Technology to Build Relationships

I have to say that for the last few of hours i have been hooked by the amazing articles on this website. Keep up the wonderful work.

I am really impressed together with your writing skills and also with the layout in your weblog. Is that this a paid subject matter or did you customize it your self? Either way keep up the nice high quality writing, it is rare to look a nice weblog like this one today..

You can definitely see your skills within the paintings you write. The arena hopes for more passionate writers like you who are not afraid to say how they believe. All the time go after your heart.

Amazing issues here. I am very glad to peer your article. Thank you so much and I'm having a look ahead to contact you. Will you please drop me a mail?
Get the best of iMore in in your inbox, every day!
Thank you for signing up to iMore. You will receive a verification email shortly.
There was a problem. Please refresh the page and try again.