Spotlight is completely redesigned, more powerful in OS X 10.10 Yosemite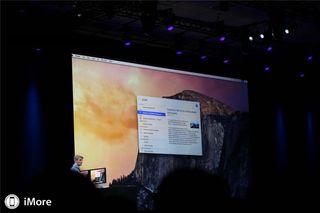 OS X 10.10 Yosemite has a brand new design, but it's also getting drastically more functional with a new set of features for Spotlight. Instead of just residing in the top-right corner of your Mac, when you launch Spotlight it comes front and center on the screen with a simple search bar. The interface expands as you begin to type, giving you results and live previews of content in the middle of the screen.
When you perform searches, it can pull up local content, online content and even make unit conversions on the fly. Spotlight can pull up news items, Wikipedia entries, Maps locations, Yelp reviews and iTunes content that you can buy or stream instantly. This new improvement to Spotlight brings it back in line (and ahead, in some cases) with third-party Spotlight replacements, and we can't wait to try it.
Get the best of iMore in your inbox, every day!
Keeping you up to date with mobile news and analysis since 1989.