Start Downloading iPhone Apps NOW!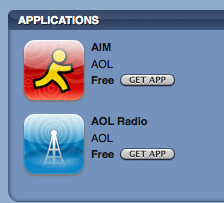 I just told you today would be like peeking at your Christmas presents early and Rene just told you that iTunes 7.7 is live. Put those two things together and what ydo you get? Why, you get the ability to browse and download iPhone apps today. Once you have iTunes 7.7 installed, just use this handy tip from MacRumors:
Search for "aol"
Click on the AOL iPhone App.
Use the breadcrumbs at the top go get to the app store .
OMGAPPZ!
Check out the gallery after the break for some of the stuff we're browsing for -- including a free AOL App, a free iTunes Remote App (YES), and more! What are you downloading? Let us know in the forums or -- even better -- chat it up in our forums.
(opens in new tab)
(opens in new tab)
(opens in new tab)
(opens in new tab)
(opens in new tab)
(opens in new tab)
(opens in new tab)
(opens in new tab)
(opens in new tab)
(opens in new tab)
I downloaded 9 so far, I'll probably spend 40 bucks tomorrow on apps when I get my iphone

Glad I saved the gift cards I won from here... thanks again guys!

I wonder what the chances of this app store getting flooded from all over the world tomorrow... good thing I'm doing the downloading now...

will any of theses work until the iphone has 2.0? lol which im pretty sure is tomorrow :)
Peace

I cant get my apps to sync. My iTunes says the iPhone most current version is 1.1.4. Any tips?

I'm having the same problem. Wonder if you have to have the iphone version 2.0 update for the apps to work.

hello AP!
you have to update your version. just click on update button it start download 1.1.4 version on your iphone

help me
any one have iphonevideorecoder seril no?
Get the best of iMore in in your inbox, every day!
Thank you for signing up to iMore. You will receive a verification email shortly.
There was a problem. Please refresh the page and try again.