Super Mario 3D World + Bowser's Fury: How to use amiibo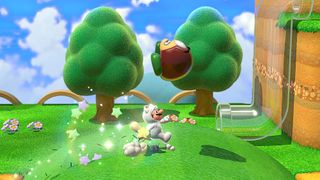 (Image credit: Nintendo)
Super Mario 3D World + Bowser's Fury combines a rerelease of the Wii U game Super Mario 3D World with a brief new section, Bowser's Fury. The Nintendo Switch game is compatible with all amiibo, though what they do depends on which section of the game you're playing and whether you have one of the most useful amiibo for Super Mario 3D World + Bowser's Fury. Here's what you need to know to make the most of the Super Mario 3D World amiibo.
How to use Super Mario 3D World + Bowser's Fury amiibo
Regardless of which section of the game you're playing, you activate amiibo the same way. You just need to hold down the left arrow on the Joy-Con D-Pad while playing through a course, which will cause the amiibo symbol to pop up. Then tap the amiibo to the NFC touchpoint on the right Joy-Con stick.
The vast majority of amiibo scanned in either Super Mario 3D World, or Bowser's Fury will cause a 1UP mushroom or a random Super Mario 3D World item to appear, helping to give you a little bit of an edge in your gameplay.
While Cat Peach is one of the new Super Mario 3D World + Bowser's Fury amiibo, she just spawns a powerup like any other amiibo. However, there are three amiibo that have special effects in the game.
Special Super Mario 3D World + Bowser's Fury amiibo effects
Along with Cat Peach, Nintendo is also releasing a new Cat Mario amiibo along with the game and rereleasing the amiibo for Bowser and Bowser Jr. These have special effects if used in the right segment of the game.
Cat Mario will turn you into an invincible white cat for a short duration when used, basically fusing the Super Star and Super Bell powerups. Since this amiibo hasn't been released yet, it's unclear if it works in both Super Mario 3D World and Bowser's Fury.
Bowser's Fury is a two-person co-op game, with one player taking on the role of Bowser Jr. Using the Bowser Jr. amiibo there will make the character unleash a powerful shockwave attack to knockout nearby enemies and obstacles, though it has a cooldown.
Using the Bowser figure will summon Fury Bowser. You can then fight him if you've managed to collect the Giga Bell, or you can just kite him around to make him destroy obstacles and walls for you. While Nintendo is rereleasing the standard Bowser amiibo for the game, other versions like the wedding outfit one from Super Mario Odyssey, will have the same effect. If used in Super Mario 3D World, both Bowser and Bowser Jr. just have the standard effect of spawning and powerup.
Toying around
Amiibo tend to sell out quickly and can become extremely expensive, so be sure to pick up the new and rereleased Super Mario 3D world amiibo when you preorder Super Mario 3D World + Bowser's Fury. The game releases on February 12, so check back here for a review and other coverage.
Meow-rio
Super Mario 3D World + Bowser's Fury
Save the Sprixies with Cat Mario

Bowser has kidnapped all of the Sprixies, and it's up to Mario, Luigi, Princess Peach, and a blue Toad to save them. Collect coins, defeat enemies, and platform your way through this vibrant adventure.
Master your iPhone in minutes
iMore offers spot-on advice and guidance from our team of experts, with decades of Apple device experience to lean on. Learn more with iMore!
Samantha Nelson writes about gaming and electronics for iMore, Windows Central and Android Central while also covering nerd culture for publications including IGN and Polygon. She loves superheroes, RPGs, cooking, and spending time outside with her dog. You can follow her on Twitter @samanthanelson1.