Super Mario Party: Everything you need to know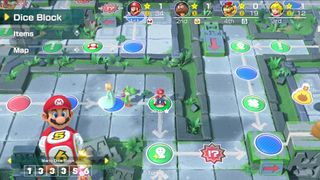 (Image credit: Nintendo)
After multiple lukewarm Mario Party entries and a brief flirtation with 3DS versions, Nintendo finally brought its beautiful, competitive self to the Nintendo Switch with Super Mario Party. Nintendo looks to be banking on nostalgia for older players with this entry, referring to it as a "complete refresh" of the Mario series and focusing on the basic elements of the game: playing mini-games and collecting stars. It's the first Mario Party to have an online mode of any kind and will also implement the Joy-Cons in fun ways for its new line-up of mini-games.
November 8, 2018: New Super Mario Party bundle coming to the Nintendo Switch!
Today Nintendo of America released a Tweet to let us know that there is a new Super Mario Party bundle coming to the Nintendo Switch on November 16, 2018. This bundle will include the game and a pair of Joy-Cons that are a mix of Neon Green and Neon Yellow. Stay tuned and we'll let you know when this bundle goes live for purchase!
You weren't able to buy this combination of colors as a bundle before. Now you can add a little more color into your life without having to buy two different sets. If that's not enough to get your excited you can always check out more color options for your Joy-Cons. The possibilities are endless.
What is Super Mario Party?
Super Mario Party is the latest entry in the Mario Party series and the first to release on the Nintendo Switch. Up to four players can face off in a board game-style competition to see who can collect the most stars, but elements of both strategy and randomness can throw off even the best players. Mini-games sit at the center of Mario Party as always, challenging the skill of players and offering coin rewards to those who can master them.
What's different from past Mario Party games?
Super Mario Party promises a return to a more classic Mario Party experience, nixing features that appeared later in the series such as the car mechanic in Mario Party 9 that wasn't very popular with fans. The game focuses on traversing a game board to collect more Stars than your fellow players by the end of the turn limit. Some elements from recent games do return, such as ally characters, but the focus is largely on star collection and playing mini-games.
As in past games, mini-games occur at the end of each turn and pit players against one another to earn coins, which can be exchanged for Stars at certain spots on the board. The board also includes other obstacles that might take away stars or coins, give stars or coins, move players around, or otherwise allow for strategic elements to trip up opponents or elevate one's own position.
Super Mario Party is also the first Mario Party game to include online play, but it only works for the game's Online Mario-thon mode.
What characters can I play as?
Here are all the characters we've seen for sure so far in Super Mario Party:
Mario
Luigi
Peach
Wario
Daisy
Boo
Rosalina
Yoshi
Waluigi
Donkey Kong
Bowser
Bowser Jr.
Hammer Bro
Goomba
Dry Bones
Pom Pom
Shy Guy
Diddy Kong
Isabelle
Koopa Troopa
Monty Mole
What kinds of mini-games are available?
Though we haven't yet seen a full list of mini-games, Super Mario Party promises over 80 different mini-games that incorporate both old and new styles of play. The Joy-Cons will be used liberally for motion control elements, such as flicking it like a frying pan. Other games center around ideas like fishing, racing trikes, cooking, catching falling items, dodging Fuzzies, picking cards, guessing games, horse racing, skewing fruit, bumper cars, and far more.
Games will return in free for all, 2v2, and 1v3 varieties. Some of them look to be similar to past games while others are entirely unique.
What modes are included?
Super Mario Party includes multiple game modes. The basic game is a four-player board game in the classic style, though there are some board features that will throw new mechanics into the mix such as character dice blocks. There is also a Partner Party mode where you can play in teams. A single player experience, called Challenge Road, allows one player to work through what's effectively a party campaign.
Another mode, Toad's Rec Room, allows players to bring two Nintendo Switches together and play in tabletop mode. Both systems must own a copy of Super Mario Party to play. The mode includes several minigames that use both Switches together, allowing the player to draw across both systems to connect the two in small games such as matchmaking and maze navigation. One of the games, Shell Shocked Deluxe, is a tank battleground that plays out across both screens.
Online Mario-thon is the game's online mode and lets players compete with one another in a series of five random minigames, with scores tracked on online leaderboards.
River Survival Mode is a co-op, four player experience where players control a boat with Joy-Con paddles. There is also a Sound Stage rhythm game that's separate from the normal minigames.
Finally, players will be able to play mini-games of their choice in a separate mode just for mini-games.
When can I get it?
Super Mario Party launches on Oct. 5, 2018, and will cost $60.
Any questions?
Want to know more about Super Mario Party? Ask your questions in the comments below!
Updated Nov 8, 2018 : We've updated this aritcle with information about a new bundle option that is coming to stores soon!
Get the best of iMore in in your inbox, every day!
Essa Kidwell is an expert in all things VR and mobile devices who can always be found with an Oculus Go, a Pixel 2, and an iPhone 7+. They've been taking things apart just to put them back together for quite some time. If you've got a troubleshooting issue with any of your tech, they're the one you want to go to! Find them on Twitter @OriginalSluggo or Instagram @CosmeticChronus.
Thank you for signing up to iMore. You will receive a verification email shortly.
There was a problem. Please refresh the page and try again.