Daily Tip: How to set custom app icons on iPhone or iPad [Jailbreak]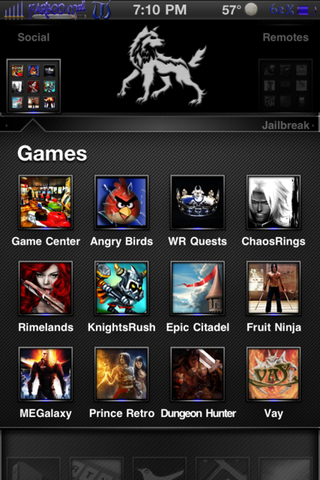 Ever hated an iPhone, iPod touch, or iPad app icon and wondered how you could change it, or gotten tired of a low-res icon on your gorgeous Retina Display and wished you could set up something custom? Well if you're jailbroken and running Winterboard, you can. We'll show you how after the break!
Winterboard lets you customize many aspects of your iPhone and iPad's appearance, including custom icons. Custom icons will not replace the actual image files and can be turned on and off through Winterboard. As icons are usually part of a theme, you should know that only icons for apps purchased through the App Store are automatically skinned by most themes. iOS apps such as Photos, Compass, Settings, etc. will not be automatically skinned and must be specially done for each theme. All jailbreak apps (apps from Cydia) will likewise not not be auto-skinned and must be made to fit your theme if that is what you are trying to accomplish.
Before we get started you will need to SSH into your phone and have Winterboard installed. SBSettings and iFile are greatly recommended but not absolutely necessary.
Creating Your Theme
Go to: /private/var/stash/Themes
Create a Folder labeled "Custom Icons.theme"
Inside that folder, create a folder labeled "Bundles" - All your icons will be put into this folder which will direct winterboard to skin them accordingly.
Finding Icons to Skin
There are online databases for this information, but since icons and apps are often updated, this method will show you how to find them on your own.
The best method is to use SBSettings and click the "More" icon.
Scroll to the bottom and click on "App Folders"
Click on the app you are looking to skin, and mark down the folder name.
Use iFile or your SSH browser and go to the location you marked down.
Inside that folder there will be another folder, usually the name of the app with ".app" after it. Open that folder.
Find Info.plist and open it. You will be looking for a line labeled "CFBundleIdentifier" and the string directly below it. Mark down the name of the bundle listed in the string, it will look something like "com.company.appname" This will be the name of your bundle folder that you will be making.
(opens in new tab)
(opens in new tab)
In the same folder where you found Info.plist, find the icon you wish to replace. This step is often tricky, and might require trial and error until the correct file name is found. Usually the icon will be labled Icon.png or Icon@2x.png if it is a retina quality icon. Remember this file name is case sensitive.
Go back into your Custom Icons.theme/Bundles folder and make a new folder labeled with what you found to be the CFBundleIdentifier (i.e. "com.company.appname"). Your Icon will go here. Now that you have both the icon name and the bundle name, its time to make an icon.
Making Icons
If you are making icons for a device with a Retina display you can make them 118x120. If on a non-retina display, they should be 59x60. I use Adobe Photoshop to make my icons from pictures I find on the web. It does not matter what size the original icon is. Only what device you are currently on. You can skin a non-retina quality (59x60) icon with a retina quality (118x120) icon.
(opens in new tab)
Once you have your icon, you need to label it exactly like the icon you are skinning, again it must be case sensitive.
Place the icon in your newly created bundle folder.
(opens in new tab)
Using Winterboard to Implement Theme
Open Winterboard and make sure the Custom Icons Theme is checked and above any other theme, as themes will override each other depending on which theme is listed above the other.
Your device will respring and your icon should now appear. If it did not appear, double check the icon and bundle name to make sure they are exactly the same as the ones you have created.
I hope you found this tutorial helpful and remember to have fun! If you have any questions ask in comments or get expert help in our Jailbreak Theme Forum!
Tips of the day will range from beginner-level 101 to advanced-level ninjary. If you already know this tip, keep the link handy as a quick way to help a friend. If you have a tip of your own you'd like to suggest, add them to the comments or send them in to dailytips@tipb.com. (If it's especially awesome and previously unknown to us, we'll even give ya a reward.)
Get the best of iMore in in your inbox, every day!
Your source for all things Apple
Great article farbod. I remember hearing on iphonedownloadblog there is a way to change icons without jailbreaking. you have to use itunes or something.

Change icons without Jailbreak. (App Store) http://lifehacker.com/5647008/change-your-iphones-app-icons-without-jail...

what theme is that ? it's very nice and I'd like to try it

Jailbreaking is really Gay! Keep ur iPhone 4 factory fresh I guarantee it will run much smoother!

You clearly have never tried jailbreaking.

@49ers Fan!
Shut the Frak up!!! Lemming!

What's with all the anti JB trolls lately?

Is there any way to create a custom icon to use for a FOLDER? Meaning, can you create an image to replace the teeny 3x3 set of icons that is created in the spot where the folder goes?

Yeah, what theme is this?!? look snice!!!

I followed what you said and it worked just as you described, but my question is this......the icon I'm using is a baseball cap, just a plain baseball cap....but when the icon shows up it has the baseball cap with a black box behind it. For example if you were to the stock phone icon that came with the iPhone 4, painted it black then put the baseball cap on top of it. Does that make sense? Anyway, any help would be greatly appreciated.

1st of all thanks for the tips.. It really works.. But I hav a question here.. After I changed the Viber icon.. The new Viber icon appears on my springboard but it comes together with the 'glow effect' which i dun want becoz it looks a bit blur.. How to remove that 'glow effect'?

Hi,
I have got some icons to chane but a few don't change at all and others turn into a black square?? can't seem to get them to work any way.
Thank you for signing up to iMore. You will receive a verification email shortly.
There was a problem. Please refresh the page and try again.