Twitterific 5 update adds iPhone 6, 1Password support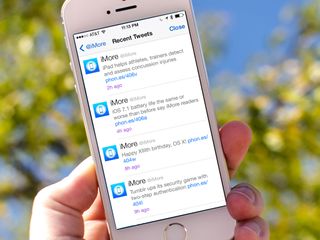 Twitterific 5 has been updated with support for some iOS 8 features and the app is now optimized for the iPhone 6 and iPhone 6 Plus displays. The big new feature is that 1Password Extension is now supported in the browser in iOS 8. Additionally, a number of improvements and bug fixes are also part of the version 5.7.6 update.
Here is the rest of the change log:
Streamlined action sheets when used with a single bookmarking service
Adjusted and smoothed zooming behavior in the photo viewer
Added support for larger display sizes
Streamlined authorization with Twitter
Compatibility and future-proofing
Pasting jpegs and pngs when composing a tweet no longer triggers an error
Fixed an issue with untappable links in emails from the in-app browser
Fixed an issue with the swipe gesture when composing a tweet
Location services permissions now work properly
Fixed a number of crashing issues
What do you think of the update?
Get the best of iMore in in your inbox, every day!
Did they add support for LastPass as well or is it only for 1Password. LastPass is the better choice of the two, you get the free mobile app and only pay a small annual fee of $12 for "premium" access unlike 1Password which now charges $10 for IAP, and when they roll out the next update it will be another $10 and so on and so on.

When's imore going to update their app? Sent from the iMore App

Absolutely stunning on the 6 Plus, great work Icon factory! Sent from the iMore App

I didn't have to pay for the premium features but then I purchased the last version. I don't think whatever they charge will add up to $12 a year. Sent from the iMore App

Does this mean if I click a link for a site that I have a password saved it will pull it from 1Password? Sent from the iMore App

And yet Tweetbot is still stuck on pre-ios7 design on the iPad.....
--side note, who is going to be the 1st Twiiter dev to take advantage of widgets & implicate "tweet from notification bar" like we used to have before iOS 7????
Thank you for signing up to iMore. You will receive a verification email shortly.
There was a problem. Please refresh the page and try again.