Uncensored Playboy magazine for iPad will not be in App Store - It's a web app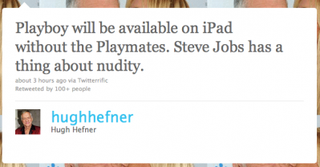 Yesterday, Hugh Hefner announced that Playboy magazine would be available uncensored on the iPad, but what he failed to mention was that it would be in the form of a web app, not a native application from the App Store.
The Playboy spokesperson went on to say that they "also have plans to release a non-nude version of a Playboy-branded iPad app in the coming months that adheres to all of Apple's policies and guidelines." So the above tweet by Hugh Hefner back in August still holds true.
So any concerns that Apple may be relaxing or removing their current restriction against nudity can be dropped. It looks like if you want porn, you'll still have to go to Android - or just launch Safari.
[Forbes]
Former app and photography editor at iMore, Leanna has since moved on to other endeavors. Mother, wife, mathamagician, even though she no longer writes for iMore you can still follow her on Twitter @llofte.
i knew it wouldnt be in the app store

Porn (not to be confused with sex between two consenting adults) destroys lives. We'd be better off as a society without it.

Really? As far as Im concerned violence is the real pornography but we wouldn't want to label Americas valiant generals pornographers par excellence. Oh you puritains and your gun fetishes.

Agree 100%.
I think it is INSANE that the ruling class in my country expends so much effort protecting our fragile little minds from "naughty words" and punishing fraction of a second "wardrobe malfunctions" but does nothing about sparing us from the orgy of murderous violence, rape and gore we see constantly in nearly every form of media.
Personally, I can handle either one, but our priorities are definitely in the wrong place.

I thought they might let it in becuase they've let the "SUN" an UK mag in, which has a half naked woman on page 3 everyday and on Monday's you get to spin her around for a full 360 view of the beauty of the week.

Only the extremely naive actually thought a nude Playboy app was coming to the App Store. Obvious from the beginning it was going to be web-based.

People in the comments totally called that in the original post about this. Noice TiPb readers.

The only thing I was thinking is that the new terms for magazines/news would have some provisions.
However they could have done a web app a long time ago. Subscription type services aren't all that complicated to do. There are quite a few things you can do without a 'real' native app.

@SheiknetChris
At the risk of posting this link yet again, the new terms for magazines/subscriptions are very much against the publishers, and while magazines will continue to dip their toes in the iPad waters -- it is too successful to ignore, I would expect more and more of them, not just boobie mags, to abandon the app in favor of webapps, as long as Apple keeps these changed subscription rules in place (Again, which I find a damn shame, because I love my Economist app, but I will totally understand if/when they abandon it.)
http://bit.ly/g4bTx3

Web-based nudity? Hugh Heffner is a ground breaker!!!

Who reads play boy any more. Last time i read playboy was when dial up was too slow to download porn. And all the girls have fake jugs. Ionno. Playboy is way overated, boring mostly.

who can smile about it?
http://mhlnk.com/DCC29A6F

I have been browsing online more than 3 hours lately, yet I never found any attention-grabbing article like yours. It's pretty price enough for me. In my view, if all webmasters and bloggers made good content material as you did, the net will probably be much more useful than ever before.
Get the best of iMore in in your inbox, every day!
Thank you for signing up to iMore. You will receive a verification email shortly.
There was a problem. Please refresh the page and try again.