VLC for iPhone now available in the App Store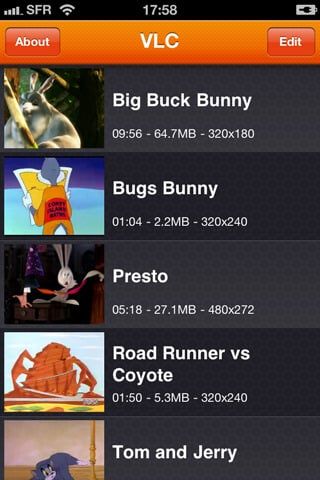 VLC has been updated as a universal app that now supports iPhone as well as iPad. The update is now available in the iTunes App Store and allows you to:
Watch natively unsupported videos on your iPhone or iPad (WMV, AVI etc)
Open natively unsupported video attachments from emails/internet
Open natively unsupported videos from other apps, like Dropbox
VLC also allows you to sync your favourite videos to your iPhone, iPod Touch or iPad without having the need to convert them.
[ Free - [iTunes link](http://itunes.apple.com?at=10l3Vy&ct=UUimUdUnU7769 /us/app/vlc-media-player/id390885556?mt=8), thanks to everyone who sent this in! ]
by George Lim
Err, your link doesn't work. Thanks for the head-ups about the app!

Favorite. Or is that how they spell it in Canada

thats great, but after downloading how do i get the .avi files onto my iphone4?

I didn't know it could open files from dropbox and mail app thanks for the info

EXCELLENT. This phone keeps getting better and better! Dropbox + VLC = All sorts of WIN.

VLC, the multi-format, all-purpose video viewer FTW! Truly the Swiss Army knife of video viewers.

And it works from the web, hell yes!

Vince - "Favourite" is how the word is spelt in English, i.e. Your native language, pre bastardisation.... Same as "colour".....

Great app, nut why doesn't it support subtitles? Or am I missing where to enable it.

Is anyone else loading .avi's and it saying "no volume available"? Even for ones i shot with my iphone 4.

This makes playing downloaded music videos on the tv in my car even easier!!!!

It just made my phone crash....tried to add a 2gb movie with 8 gb of space and it made me lose everything...restoring now...

@Jimi - The developer posted on their twitter account that if you are experiencing this problem, your phone is on silent. hit the switch and it should be fine.

What's the easiest way to get this to play on TV? I'm using TVOut2 Mirror from Big Boss with composite cable and it works OK after widening & stretching, but there has to be a better way?????!

great, can't wait to try it once I get home... not having to convert my .avi files will be awesome.

:( My 3gs is too slow to play most videos...

Is is just me or does anyone miss the ability to stream video from an external source, like a server or shared computer?

Haha thanks George. Odd "feature"

Everybody hold tight....I'm going to check and see if h e l l has frozen over.

hmm - trying it out right now - says my iphone 4 is too slow to play the movie correctly? anyone have any suggestions?

Excellent app. Instructions on how to add video when you open the app on your iphone. Very fast transfer and you can delete the movie right on your iphone, no having to hook up to computer to do it. Perfect app.

I take the above review back. The first small file was perfect. Once a larger movie was put on, the video was choppy and the sound was out of sync if at all. Looks like I got my hopes up for nothing.

Were the heck is 'file sharing' within the apps tab, am i the only one who cant follow the 'simple' instructions on this app!?!?

I'm finding that the VLC app will play AVI filed but without any sound. Help?!

Yeah same as Billy Bob, i can't find this file sharing option ANYWHERE. my itunes doesn't recognise half of the files that vlc can play. What am I doing wrong??

ok this is for jailbreakers!
theres a way to download torrents with torrentula (look it up in cydia) also need ifile (cydia) once you finish downloading a movie on your iphone, open ifile copy the movie file into the vlc folder (var/mobile/applications/vlc/documents) close it, open vlc and you see the movie added
gotta love the iphone!!

says not compatible with my iphone.......not jailbroken iphone 3g is this the case?

to answer my own question only works with iphone 4 or 3gs and newer ipod touch......

billy bob
click on your phone in itunes, then onto apps at the top as if you were gonna sync it, then scroll down! its at the bottom of the page.
good luck!

VLC WILL NOT SUPPORT A VIDEO & AUDIO OUT CABLE SO MOVIES CAN BE WATCHED FROM YOUR IPHONE ON YOUR TV.
A FIX IS NEEDED AS THIS IS THE ONLY REASON I GOT THE APPLICATIONN.
HOPE FOR AN UPDATE SOON!!!

Ditto on the TV Out capability. I love VLC, but the only reason I got the cable was to use it with VLC. Ooops.

VLC is now pulled from iPhone store due to some license issue. VLC player is open source and is under GNU General Public License !! I hope you will update this article and put a little Note before or after this post that "VLC is now pulled out frpm iPhone app store".
Thanks :0

This is getting a bit more subjective, but I much prefer the Zune Marketplace. The interface is colorful, has more flair, and some cool features like 'Mixview' that let you quickly see related albums, songs, or other users related to what you're listening to. Clicking on one of those will center on that item, and another set of "neighbors" will come into view, allowing you to navigate around exploring by similar artists, songs, or users. Speaking of users, the Zune "Social" is also great fun, letting you find others with shared tastes and becoming friends with them. You then can listen to a playlist created based on an amalgamation of what all your friends are listening to, which is also enjoyable. Those concerned with privacy will be relieved to know you can prevent the public from seeing your personal listening habits if you so choose.
Get the best of iMore in in your inbox, every day!
Thank you for signing up to iMore. You will receive a verification email shortly.
There was a problem. Please refresh the page and try again.