Week in review: More on that gold iPhone, iTunes updates and a bunch of games you have to get!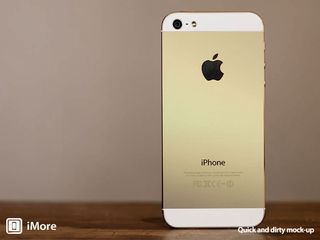 As we move ever closer to the reported September 10 iPhone event, talk is rapidly shifting towards new stuff, and what we might be seeing Apple show off there. We've had a lot of discussion this past week around the next iPhone(s), where they may be headed, and even what color we might be seeing them in. All that plus Apple dropped a new beta of iOS 7, we saw a ton of great games for both iOS and Mac, and we launched our Countdown to iPhone 5s mega contest! This is the week that was.
First up, the next iPhone. Ahead of September 10, we're all at this point strongly anticipating a new flagship product, the iPhone 5s, and a new lower-cost product, the iPhone 5c. The last few weeks before an Apple event are always strong for the ever churning rumor mills, but this week there were some interesting, and credible stories. The big one is the purported Gold iPhone 5s. Several sources, including our own, have eluded to the existence of such a product, and Rene has dissected it all for you. So, if you missed that the first time around, you definitely want to go and check it out.
Talk of gold wasn't the only newness this last week either. Apple dropped a new beta of iOS 7 for their registered developers, more rumors of new iPads for Q4 this year came to light, and the worlds largest carrier, China Mobile, declared their interest in getting the iPhone once a few issues have been worked out. We also got a look at some new parts, reportedly from the iPhone 5s that may indicate that a fingerprint scanner – long rumored – may well be on the way.
Lighter iPad 5, Retina iPad mini once again rumored for the fall
Apple releases iOS 7 beta 6 - Developers, go get it!
China Mobile keen on the iPhone, commercial and technical issues remain
iTunes featured in the news too this week, but for differing reasons. Perhaps the biggest television event of the year, the Breaking Bad finale, began last weekend followed by episodes hitting iTunes and other online video services almost immediately after. Issues with fine print left fans under the impression that the last eight episodes – technically still season 5 – would be available under their existing season pass. This isn't the case, leaving many frustrated that they've had to pony up again.
On a more positive note for iTunes, Apple pushed out an update to version 11.0.5 this week that fixes some pretty irritating issues with iTunes in the Cloud that many were seeing. If you haven't snagged it yet, hit the Mac App Store where it should be waiting for you, or manually check for the update within the App on your Windows machine.
Final episodes of Breaking Bad reportedly require new season pass on iTunes, Amazon, other services
Apple pushes out iTunes update to address iTunes in the Cloud issues
There was a bunch of great game related news from the last seven days, too. Perhaps the biggest being the long awaited arrival to iOS of Plants vs Zombies 2: It's About Time. Our very own Georgia has been playing it for some time now – she was so impatient, she snagged the Australian version – and has put together an excellent tips, tricks and cheats guide to help you on your way. We also got a pre-release look at Gameloft's next racing extravaganza, Asphalt 8, which is due to hit the App Store on August 22. And, Madfinger Games delivered a treat for Mac gaming fans as their multiplayer shoot-em-up, Shadowgun: Deadzone, hit the Mac App Store following an earlier release on Windows. It's free, and lets you take on players on iOS, Android, Windows and Facebook, so there's never a shortage of willing victims.
Plants vs. Zombies2 now available in the U.S. - Go get it!
As we continue to look forward to both new hardware and software releases, we're making sure that iMore is the absolute best place to get all your iOS 7, OS X, and hardware fix. We've launched our new daily show, iMore today, that comes to you live every weekday – except on iMore show days – where Rene Ritchie, Peter Cohen, myself and who knows who else, will bring you the biggest stories of the day as we charge towards September 10. Our iOS 7 and OS X Mavericks previews are now complete, so you'll want to check those out for the full insight into what Apple is dropping our way in the not too distant future.
And last, but by no means least; don't forget that iMore is throwing a Countdown to iPhone 5s mega-contest, where you can walk away with a $500 gift certificate towards the next iPhone of your dreams!
iMore today: Gold iPhones, Shadowguns, Editorials, iOS 7 beta 6, and more!
Countdown to iPhone 5s contest
Get more iMore in your inbox!
Our news, reviews, opinions, and easy to follow guides can turn any iPhone owner into an Apple aficionado