What can't the HomePod do at launch?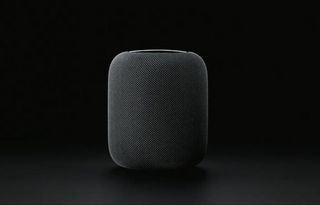 Apple's HomePod is upon us and it's finally bringing Siri to a smart speaker to match the likes of Amazon Echo and Google Home. There are a few things it can do, but it might be best to know what it can't do at launch time, so you can make an informed decision before going all-in right away with your hard-earned $349.
See at Apple (opens in new tab)
What the HomePod can do
Let's get this out of the way first, since HomePod will be launching with a relatively limited feature set. First, it will have Siri baked in. You'll be able to control HomeKit-enabled devices with your voice, search the web, set alarms, and a lot of the other things you can already do with Siri on your iPhone.
The HomePod will also have Apple Music integration, so you'll be able to listen to all of your Apple Music library, stream radio stations and playlists, and anything else you enjoy with Apple Music. It'll also play podcasts!
With Siri's integration, you'll be able to make calls and send messages (something you can't easily do with Google Home or Alexa).
There'll also be accessibility features baked in, like VoiceOver, and you'll be able to AirPlay audio from your iPhone, iPad, or Mac.
Aside from voice control, there will be touch features built into the hardware, which boil down to tap playback control.
What the HomePod can't do
Come launch time, there are some key features that the HomePod is missing. For one, despite it basically being a Bluetooth speaker, it can't act as a Bluetooth speaker — AirPlay only. So if you want to listen to tunes on your HomePod, but you're without Wi-Fi, you're S.O.L.
For another, AirPlay 2 isn't ready yet, which is needed for multi-room audio and stereo pairing (which all of its top competition can do). It's slated to show up later in the year with a software update, but for now, if you grab two HomePods, they'll be quite separate from one another. You also won't be able to set Spotify, Pandora, or any other music services as your default (like Alexa's "Skills" or Google Home lets you).
It can't do anything Siri can't do, which means it's missing a lot of the third-party app integration that Amazon Echo and Google Home are known for.
You can only use one iPhone to set up the HomePod right now, which means only one user's account/Siri can be supported at a time. There is no voice registration at the moment, so anyone can use Siri, but not everyone can hook up their individual Apple music libraries (though you can AirPlay them so long as you set it up that way).
Are you buying in or waiting for more features?
Will you be one of the first to buy the HomePod or will you wait and see if more features are added before dropping $349? Sound off in the comments below!
Get the best of iMore in your inbox, every day!
Mick is a staff writer who's as frugal as they come, so he always does extensive research (much to the exhaustion of his wife) before making a purchase. If it's not worth the price, Mick ain't buying.
I'm going to wait for multiple account support. I want to be able to access my playlists and my wife will want to access hers.

Exactly. I'm waiting for proper multi-user support that enables individual access to personal Apple Music accounts via voice command. When Apple adds that, I'm in. In the meantime, I'll happily wait.

@ 350$ it does way less than the competition like way less

You're paying for the speaker quality, as well as the assistant side.

For $499AUD, even as an Apple enthusiast why would I buy HomePod over (say) a Sonos home theatre system with extra Sonos Ones around the house? Especially when I can use my iPhone, Apple TV and Apple Watch to control HomeKit devices?

I bought some Echo Dots during the holidays because I could use my hotel points to do so (and I rarely every use them for hotel stays). I thought it would be a nice way to make intercom calls to parts of the house I'd rather not yell loud enough to be heard. I rarely use it for that. I do love that it can pull in my local radio stations, my NBA game audio feeds (and I'm assuming that MLB will work the same way) and music (Pandora and Amazon). I only have two smart home devices and I rarely ever use Siri or Alexa control them. So, while I'm sure that the HomePod is likely worth the money I just don't see the use for it in my life when Alexa does more (that I am interested in) than what the HomePod can.

I'm with you. If the HomePod had 3rd party app support, I'd be all over it.

Even when Apple adds AirPlay 2 support, if Sonos follows through on their promise to also add it, the HomePod will still be way behind. They need to allow multiple users and multiple services of the same kind to even gain parity with the competition. Then the speaker quality can really shine. Until then it's just half-baked, and I always recommend buying a product for what it does, not what it promises to do in the future.