What's in Daniel's WWDC 2016 gear bag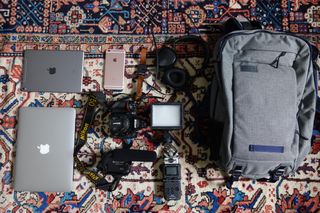 Every year, thousands of reporters and developers make the anguishing decision of what gear to carry with them to San Francisco before WWDC. This year is no exception: While there aren't likely to be any significant hardware product announcements during the keynote, I tend to carry a bare minimum of video gear with me wherever I go, just in case. So what's in my bag for WWDC 2016?
Timbuk 2 Command TSA-Friendly Backpack

(opens in new tab)

: I bought this for my recent trip to Google I/O, and did not regret it for a second. This is my third Timbuk 2 bag, and I am more impressed with every purchase. Great design, with plenty of space and intelligently-placed compartments for all my minutiae, the Command has a 31-liter capacity for all my camera gear, and a separate waterproof side compartment for my MacBook, iPad and e-reader. The beauty of this bag is that there is really no compromise: while it's certainly bigger than any backpack I've owned before, it doesn't feel onerous, and my hefty payload is well distributed.
13-inch MacBook Pro

(opens in new tab)

: My single most important piece of gear, the MacBook is the epicenter of my professional life. As important as my iPhone is for casual tasks when I'm home, my mid-2015 MacBook Pro — with a Core i7 and 16GB of RAM — is essential on the road.
iPhone 6s Plus

(opens in new tab)

: My next-most-important piece of gear, my iPhone 6s Plus is my main camera (despite appearances), my mapping tool, my lifeline home, and in many cases, my Wi-Fi hotspot. Not pictured: a 13,000mAh Anker battery pack

(opens in new tab)

to keep my iPhone charged at all times.
iPad Pro 9.7

(opens in new tab)

: The smaller iPad Pro is, for me, all about typing. When I want to write long form in full-screen with no other apps open, I go to the iPad: There's something calming about writing on it. Of course, that longform productivity requires the optional Smart Keyboard, which is permanently affixed to my iPad Pro's Smart Connector

(opens in new tab)

. So much smartness.
Apple Watch

(opens in new tab)

: Because you have to be able to tell the time. And receive notifications. And use Authy for quick two-factor authentication. And maybe even send a heartbeat to Rene or Serenity through Digital Touch (but probably not). But mainly to tell the time.
Nikon D750 DSLR

(opens in new tab)

w/ 24mm f2.8 prime lens

(opens in new tab)

: My go-to shooter for most things, the Nikon D750 is a versatile and relatively compact full-frame camera. While it's not great for video, it does a decent job when paired with the 24mm f2.8 prime lens. I'll mainly be using it for any hands-on video I might take, or just for shooting photos of the iMore team as we dominate WWDC. For the keynote, I'll be using Lory's 55-300mm zoom lens, which on the full-frame D750 has a 82-450mm zoom range, due to the sensor crop. That means I'll be getting right up in Eddy Cue's nose hairs — if you're into that sort of thing.
Zoom H5 travel microphone

(opens in new tab)

: Simply the best way to capture audio while traveling, the Zoom H5 is great on its own with its included stereo condenser microphone, which we'll be using for the iMore show after the keynote, and its optional XLR inputs for grabbing audio from up to two external microphones. An essential tool for any traveling podcaster/videographer.
Padcaster shotgun microphone and LED light: The sidekicks to the video gear's superheroes, the Padcaster shotgun microphone and LED light combo are great for live indoor filming where the lighting isn't great, or it's impractical to use a lav microphone. I may not use these at all — we'll see.
Audeze Sine headphones

(opens in new tab)

: A great pair of headphones on their own, Audeze's Sine on-ear planar magnetic 'phones are the first I've used with an optional Lightning cable. Plugged into the iPhone directly, the Sines bypass the phone's regular DAC, opting instead for its own more-powerful version built right into the cord itself. Great stuff.
Not pictured: Lots of cables, cords and other accessories that will inevitably clutter up my bag. On trips like this, I always bring a Thunderbolt-to-Ethernet adapter, in case I come across wired internet somewhere and need to plug in. Also: good hand cream, because flying dries me out, man. Also also: a Kindle Voyage e-reader ((/imore-show-512-no-new-macs?utm_medium=slider&utm_campaign=navigation&utm_source=im)) and a portable tripod.
○ Everything about WWDC 2020
○ WWDC 2020 remote lineup
○ Download the Apple Developer app (opens in new tab)
○ iOS/iPadOS 14
○ macOS 10.16
○ watchOS 7
○ tvOS 14
○ Discussion forums

Get the best of iMore in in your inbox, every day!
Daniel Bader is a Senior Editor at iMore, offering his Canadian analysis on Apple and its awesome products. In addition to writing and producing, Daniel regularly appears on Canadian networks CBC and CTV as a technology analyst.
Liking the backpack. Understated.
Thank you for signing up to iMore. You will receive a verification email shortly.
There was a problem. Please refresh the page and try again.