What's in Mikah's WWDC 2016 gear bag?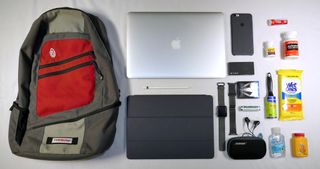 Holy cow, WWDC 2016 is less than a week away! So excite. Much wow. Very yes. I'm getting packed and pumped to head to San Francisco for Apple's latest event, and that means gathering up my gear for the trip. Here's most of the gear I'll be taking with me!
Timbuk2 Shotwell Backpack: I've had this bag since my freshman year in college, and I love it with all my heart. Sadly, Timbuk2 stopped making this bag at some point — a travesty! It's important for me to look like I'm not carrying a bunch of stuff even when I am, and that's what's great about the Shotwell. The pockets and pouches are sewn in such a way that they bulge into the bag, not out. It's a good-looking bag that (because it's made by Timbuk2) has lasted me ages and will continue to do so. Even with its slimming technology, this bag can hold quite a bit and remain comfortable to boot! Oh, did I mention it has a bottle opener on the shoulder strap? It has a bottle opener on the shoulder strap.
15-inch MacBook Pro

(opens in new tab)

: It's the cornerstone of Sargent Industries, which is what I'm now officially calling my personal brand. Despite its slim slimness, this machine can render video and hit the ground running with Photoshop at the same time. There's no other way to put it: I love my MacBook Pro.
12.9-inch iPad Pro

(opens in new tab)

with Smart Keyboard

(opens in new tab)

: Hello, beautiful! I've said it before, and I'll say it again: The iPad Pro is my favorite device on which to write. I feel more focused and I love the sound and feeling of the Smart Keyboard keys.
Apple Pencil

(opens in new tab)

: What's an iPad Pro without an Apple Pencil? Not as much fun, that's what! Truth be told, I probably won't use the Apple Pencil all that much while I'm in San Francisco, but I'm bringing it along just in case.
iPhone 6s Plus

(opens in new tab)

with iPhone 6s Plus Silicone Charcoal Gray Case

(opens in new tab)

: I'd be lost without you, iPhone 6s Plus! I use my iPhone more than any other electronic device in my possession.
Space Gray Apple Watch Sport

(opens in new tab)

: Who has two thumbs and's going to be filling up his fitness bands in the California sun? This guy! My Apple Watch will help me keep an eye on the notifications from my iPhone without having to pull it out in each and every instance.
Bose QuietComfort 20 headphones

(opens in new tab)

: I went to CES earlier this year and it was the first time I'd been on a plane in awhile. I'd forgotten how loud airplanes are! I had some measly earbuds that I couldn't hear over that roar, and that made for a less-than-enjoyable trip. But this time I'm prepared! I charged up these bad boys for the first time the other night, tried them on with Coffitivity playing in the background, and nearly lost my mind! These things are freaky good — well worth the cost.
Mophie Juice Pack Powerstation Mini: You won't catch me traveling without Bae, otherwise known as this 2,500 mAh power station battery pack thingy. I can plug in anything that charges via USB and let's be real: This thing is slick! It's tiny and good-looking; I'm happy to have it along for the ride.
Various goodies:

Aspirin: Fun fact: If you're going to take an NSAID for a hangover, use Aspirin. Most of the other stuff will do to your kidneys and liver what the alcohol is already doing. Not good.)
Tylenol: For headaches and other aches and pains
Airborne Dual-Action Immune Support Tablets: Because I am a paranoid human who doesn't want to get sick
Germ-X: Because I am a paranoid human who doesn't want to get sick
Wet Ones Antibacterial Hand Wipes: Because I am a paranoid human who doesn't want to get sick
Travel Lint Roller: Because lint is everywhere
Gold Bond Body Powder: This is the holy grail of living a happy life. I finally listened to Aaron Draplin and picked up some Gold Bond, and now my life is forever changed. If you want to be cool, dry, and frictionless everywhere you go (particularly in sunny California), get some Gold Bond and cover yourself in it — you won't regret it.
Gum and mints: Because lots of talking after lots of coffee
There are other cables and various tidbits that'll inevitably end up in my bag, but these are the most important pieces to the WWDC puzzle. My wallet will, of course, be part of my daily carry, a pen (opens in new tab) or two will be on my person, and so will my sunglasses (opens in new tab).
Be sure to check out iMore for everything you need to know about the big event! The keynote starts at 10am PT/1pm ET on Monday, June 13, as does our live coverage.
○ Everything about WWDC 2020
○ WWDC 2020 remote lineup
○ Download the Apple Developer app (opens in new tab)
○ iOS/iPadOS 14
○ macOS 10.16
○ watchOS 7
○ tvOS 14
○ Discussion forums

Get the best of iMore in in your inbox, every day!
Mikah Sargent is Senior Editor at Mobile Nations. When he's not bothering his chihuahuas, Mikah spends entirely too much time and money on HomeKit products. You can follow him on Twitter at @mikahsargent if you're so inclined.
That's a nice looking bag. Love reading the "What's in my bag" articles.

Thanks for checking out the article! I love my bag. I wish the company still made it so others could partake in its glory. ;)

The Gold Bond & Wet Ones go well together. Clean yourself with the Wet Ones then apply Gold Bond to that favorite spot.

I love the articles showing what's in the bags but I wish they would show what they do with cables. I know in my bag, that's the problem I have; how to manage the cables :(

Hi Marco! I use two things to manage my cables: a Cocoon elastic band grid and Velcro cable ties.
1. Cocoon grid
2. Velcro cable ties

Wow thanks for responding! Going to Amazon now :)

You might also want to check out the BUBM organizers, those are very useful. This is the one I carry in my bag currently: https://www.amazon.com/BUBM-Universal-Electronics-Accessories-Healthcare...

Hey, Mikah! Great choice on gear and Sargent Industries has a nice ring to it ;) Quick question, I'm kind of a case fiend so I'm curious, what makes you choose the Apple silicone case over the Apple leather case?

Hiya, Brance! I do like Apple's leather case, but I'm not fond of the way it ages. Also, when I was buying my case(s) for the iPhone 6s Plus, the silicone case was the only one that came in colors I liked. That's sense changed, so it goes back to what I said before: I wish it aged better.

Thanks for the reply, Mikah! Your point about the aging leather is very valid. I prefer the Apple leather case but so far I've only bought the Black and Storm Gray because almost every other color looks awful in a matter of weeks, if not days. I tried using the silicone case but I couldn't stand how much lint it picked up all the time, drove me crazy. I wish Apple made their leather cases built to last a bit better (and closed the bottom like the 5s case) but alas, I will hope for improvements with the leather version of whatever comes out this September.

I find it interesting that most of these 'What's in the bag' lists include both a MacBook Pro and an iPad Pro. That seems to suggest that each independently are insufficient in some way as a portable option. I'm curious what the MacBook lacks that the iPad makes up for and vice-versa. There must be a reason why you would travel with both.

I can only speak for myself, but, for me, the iPad Pro is FAR superior for taking notes (and drawing, and reading). On a normal trip or conference, I bring nothing more than the iPad Pro. Going to WWDC though, I wouldn't want to miss on the opportunity to play with new tools, code, etc.

Yep! Agree with Richard Ludwig here. It's more about the fact that this is WWDC where I'll have a chance to play with new macOS software and new iOS software. That said, the MacBook Pro does a helluva lot better job cranking out video than the iPad Pro. Or, at least, I'm classically trained. Perhaps if I'd first started editing video on iPad Pro, I'd find that to be faster and easier.
¯_(ツ)_/¯

I far as feeling fresh, Gold Bond good...Fresh Balls better...just check it out...http://goo.gl/M7H05T Alan

Thanks for sharing Mikah. New iPad Pro is also my fav device, it took place of MacBook Pro 15 as my main personal computer. MacBook hasn't left my music studio since I got iPad and I'm using it now only for music production.

How have you found the iPad Pro for doing music production work? Any particular apps you enjoy or use-cases you want to share?

I meant I'm using MacBook only for music, so I don't do on it any other personal computing stuff I used to, cause iPad took that place, sorry for confusion, I'm not native English :) However iPad Pro is great studio companion device. Depending on what DAW you are using there are great apps for touch control of your Logic, Cubase or Ableton and having 13 inches you can control a lot of channels, knobs, faders, plugins and scenes. Using recently revealed Ableton Link technology you can use iPad synths, drum machines, FX seamlessly within Ableton on your MacBook or other iOS devices. There is even pretty powerful fully touch controlled DAW for iPad from Steinberg - Cubasis.
https://youtu.be/vBFIpNZzRK8
https://youtu.be/1cYzdABT2Vc
https://youtu.be/Fjb4U-cUGSE I make electronic music and iPad apps are great tools for learning, practicing, shaping some music ideas like this recent app Klimper, that helps to improvises in terms of chord progressions etc.. https://youtu.be/Y4X9ZUtqUWE Pretty much every major audio company has it's own iPad App that assists or control studio hardware or software, it's very exciting to use that tools, cause touch on a big surface can complement traditional form of audio work with mouse and keyboard.

Very, very cool! Thanks for sharing.
Thank you for signing up to iMore. You will receive a verification email shortly.
There was a problem. Please refresh the page and try again.