What's on Richard's iPad right now!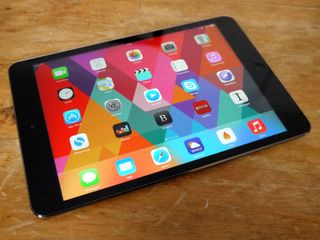 We spend a lot of time throughout the weeks talking about new, exciting and updated apps and games, but we don't often take the time out to share what we use on our own devices. The apps and games that we love and put to use in our own everyday lives. So, following from Rene, Ally and Peter's reports of what's on their devices, it's now my turn. Here's what's currently taking residence on my Retina iPad mini!
My iPad homescreen isn't quite as stock as say, Rene's, but I do keep many of the stock apps on there. Well, the ones I actually use from time to time anyway. I don't really have any organisation or folders on my iPad's main home screen. I have promoted some stuff to the front though, including:
I've also promoted two apps to the dock because I like having quick access to them:
Yahoo! Weather: Now on the iPad, just as gorgeous as ever.
Flint: The Mobile Nations way of group chat is Campfire, and Flint is the absolute best way to do it on iPad.
Swiping over to the next (and final) screen, there's more stuff packed in there. I'm not one for having too many pages on my iOS devices. Some of my lesser used Apple apps have been relegated to page two; Notes, Photo Booth, Newsstand and Game Center. To this day, I wish Photo Booth wasn't there at all. I don't like it one bit. The other apps that I do like include:
Entertainment folder: This houses my other media focused apps. BBC iPlayer, TVCatchup, Apple's Podcasts app and Google's pairing of YouTube and Chromecast all have a place in here. TuneIn Radio is the only Internet Radio app I use on any device, on any platform. It's that good.
Productivity folder: Not used all the time, but full of essential work related apps that I do call upon from time-to-time. Trello is how we're organising a lot of our content production right now, and Numbers is there for the occasional need to edit some spreadsheets. Otherwise I'm using: Dropbox, SkyDrive, Google Drive, Quickoffice and Readdle's Documents. Oh, and TextExpander. Possibly the best productivity tool I've ever come across.
Shopping folder: Just the three apps, but it keeps that stuff grouped together. Amazon, Amazon Local and eBay. Pretty straight forward.
Travel folder: Again just the three apps at the moment. If iPad had Passbook there would probably be the British Airways app in here, but alas, that stays only on my iPhone for that purpose (giant boarding passes would be killer, though!) TripIt needs little introduction. If you travel a lot, TripIt is an essential. Hooked up to my inbox, I need never go to any other app to look through my travel details. Skyscanner is pretty handy for pricing up flights, and App in the Air is there because it's my absolute favorite flight tracking app.
Games: A few games currently still have a home on my iPad. Despicable Me: Minion Rush, Riptide GP 2 and Castle of Illusion.
Find my iPhone: I don't want to lose my iPad, but if I ever do i'll be glad this is on here.
mSecure: I use mSecure over 1Password because it has had better support over the years outside the Apple ecosystem, and is a ton cheaper. Not as elegant, but does an equally good job.
Eye-Fi: Primarily because I'm currently reviewing a new Eye-Fi card. I'm not going to say more than that before writing a review!
Kindle: Three reasons for Kindle over iBooks. Price, cross-platform and the fact I've been using it long enough I'm happy not to even consider changing.
Air Display 2: The Retina iPad mini isn't the greatest device to use for a secondary display for your Mac, but you know what, it's handy to have in a pinch, especially travelling. Air Display is how I do this, and I'm very happy with it.
And that's the lot! Every app I currently use on my Retina iPad mini. I use my iPad very differently to my iPhone, and as such it isn't loaded up as much with apps. Any of these match your own iPad app preferences? Drop us a line in the comments with your own iPad preferred setups!
Get more iMore in your inbox!
Our news, reviews, opinions, and easy to follow guides can turn any iPhone owner into an Apple aficionado