Will Apple be able to let Ted Lasso go?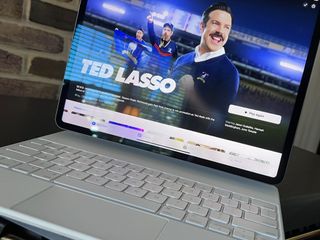 (Image credit: Bryan M. Wolfe / iMore)
The legend of a goose that laid one golden egg per day, only to be killed by its impatient owner, is not a perfect way to describe Ted Lasso's importance to Apple TV+. Still, perhaps the Oxford English Dictionary's definition of a golden goose is: "A continuing source of wealth or profit that may be exhausted if it is misused."
There's no doubt that Ted Lasso has been incredibly important in the relative success of Apple TV+ thus far. It's the most viewed and, importantly, most talked about show on the service and has earned critical acclaim in buckets. Designed with a three-season arc, though, Ted Lasso is due to end by this time next year. But will Apple be able to let go of its lovable mustachioed soccer coach?
Ted Lasso's success
By pretty much every metric, Ted Lasso has been a hit for Apple. In a hyper-competitive streaming space, Apple TV+ needs subscribers, and the best way to attract subscribers is with quality content.
Both critics and the general public think Ted's English football escapades are worth watching with a 95% and 88% rating, respectively, on Rotten Tomatoes.
Kenny Madison, co-host of Lasso Cast, a podcast dedicated to all things Ted, thinks the show's success comes down to its incredibly novel point of view.
"Ted Lasso tapped into something that no one wants to greenlight: something different," says Madison. "It has the trappings of a sitcom and uses that framing to talk about making the choice to be a decent human being even when everything is against you."
Then there are the award nominations and wins; Apple has picked up prizes at the Emmy, Golden Globe, Peabody, TCA, and Screen Actors Guild awards, among others, for Ted Lasso.
"It's rare for a half-hour sitcom to see such critical adulation from the get-go," argues Sigmund Judge, editor-in-chief of ScreenTimes about Ted Lasso's acclaim. "The show's critical success is proof that Apple has the ability to connect with writers and showrunners where others have failed."
Rewards aside, are people actually watching? Though Apple, like other streamers, doesn't break out viewing data for its shows, we know that Ted Lasso's recently-ended second season "posted big increases over season one," according to Apple, with the show breaking Apple TV+ into the top five among original series in Nielsen's streaming rankings for the first time last month.
Data from Parrot Analytics suggests that Lasso's second season debuted with close to 39x the demand of the average U.S. television series and 20x more demand than its first season debut, making it the best Apple TV show so far in terms of viewing numbers. On top of that, Ted Lasso caused upticks in engagement for other Apple TV+ shows like Physical, Schmigadoon!, and Mythic Quest, according to Variety.
More of a good thing?
All of that begs the question as to whether Apple will be able to sack coach Lasso. The show was designed with a three-season story arc, meaning next year's episodes are set to be the last. That being said, showrunner Bill Lawrence wouldn't rule out a fourth season, and the show's creators and stars all just got significant pay bumps for season three.
"A successful pitch will always have a beginning, middle, and end," says Judge, but in recent years the industry has been more receptive to trends than ever, leading him to be unsure if Apple would let Ted Lasso end after the following season.
Madison is similarly torn but wouldn't be surprised if there was a fourth season. "I would also be slightly disappointed because the storytelling seems so deliberate," he adds.
Of course, there's a way Apple could try to capitalize on the demand for Ted Lasso beyond squeezing in an extra season or two: a spinoff, something Lawrence himself hinted at when considering the prospect of future seasons saying that the show might "veer off" from the original plan beyond season three.
A spinoff from a popular show is not in and of itself guaranteed to render the same results as the original. For every Better Call Saul there are tenfold more Joeys.
Should Ted Lasso continue beyond season three, Judge imagines it would begin a new story for Ted, perhaps returning to coaching American football with Roy Kent in the reverse role. "That could tie in well with any potential live sports ambitions that Eddy Cue and team may have and work as a 360 on what birthed the Ted Lasso character in the first place at NBC Sports," Judge theorizes.
For Madison, Apple renewing Ted Lasso beyond season three would reveal that the company is wanting to hang onto its biggest hit, whereas ending the show once season three is done "would be a flag to Hollywood that Apple TV+ is a creator-friendly environment."
Apple TV+ without Ted Lasso
With the success of Ted Lasso, it's clear to Madison that Apple TV+ needs another breakout hit to keep the word-of-mouth marketing and press coverage going. "Apple TV+ has a lot of good content like Mythic Quest, For All Mankind, Foundation, Boys State, and Greyhound, but these aren't watercooler pieces," suggests Madison. "Compare this to Ted Lasso, which has a guaranteed recap every week on sites like AV Club, Vulture, and the New York Times."
For the Lasso Cast co-host, Ted Lasso feels like an anomaly for the streamer with its big-budget shows like Foundation, See, and The Morning Show seeming to be chasing trends.
"I think that Apple should lean into nicecore storytelling because clearly audiences are so hungry for it," he says of Ted Lasso's positive message. "I think people are tired of anti-heroes and want aspirational fiction."
An end to Ted Lasso doesn't have to be an end to its creators' relationships with Apple, though, as Judge points out. "What's more important than keeping a good thing going? Keeping the trust of your colleagues and giving them opportunities to create something new," he argues. "The great storytellers never tell the same story twice."
With a backdrop of an increasingly-competitive streaming market, with viewers' screen time and disposable incomes already highly sought after, does Apple TV+ have enough upcoming content to keep people subscribed or will there be significant churn after Ted Lasso?
"Apple is a company that has never rested on its laurels and I expect that to be the case with its original content division," states Judge. Speaking of his knowledge of productions at Apple, Judge says that "everyone is really excited to be back working again, creating new experiences," and he believes that enthusiasm will transfer. "Keep your Friday nights free!"
Get the best of iMore in your inbox, every day!
Adam Oram is a Senior Writer at iMore. He studied Media at Newcastle University and has been writing about technology since 2013. He previously worked as an Apple Genius and as a Deals Editor at Thrifter. His spare time is spent watching football (both kinds), playing Pokémon games, and eating vegan food. Follow him on Twitter at @adamoram.
It's a fair concern for an at best modestly successful streaming service to see its most popular show end. But this isn't at all unique to AppleTV+. Their success and other, especially newer, services significantly hinges upon the next hit show. Consider HBO with repeated big time hits Sopranos, Band of Brothers, *** In The City, Game Of Thrones. And other pretty much bigger successes with Boardwalk Empire, Silicon Valley, True Love, Big Love, Entourage (and I'm sure others I've missed).
HBO did it, Netflix did it, AppleTV+ will have to do it.
IMHO AppleTV+ is trying for a much more specific content type. Because of this they have a narrower range of possibilities. They may win more awards -- that may be what AppleTV+ is going for -- but I have my doubts that will translate to >50 million paid subscribers.

What Apple needs to do most is to continue to figure out what's best for their shows. And that does not include thinking like other streaming services. Apple has done a masterful job so far (that doesn't mean there aren't some seriously bad duds). They'll do what's right. If there is a season four, it will be because the originally conceived arc was not the right play. Not because they want to squeeze the proverbial turnip for more blood.