Win an iPad from Waze and TiPb!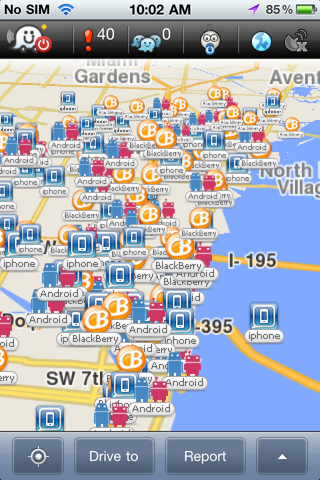 Between now and November 10th, we're partnering with Waze to give away an iPad (or a Galaxy Tab if you're feeling Android-y). Here's how it works:
Download and install Waze from the App Store
Drive around with Waze and collect "Road Goodies" - which basically just means drive over the TiPb logos as you move about your city. As you can see above, they are *everywhere*.
It's a competition between iPhone users, Android users, and BlackBerry users - which is to say you're up against the kids from Android Central and CrackBerry.com. Whichever site whose users collect the most Road Goodies will win and be able to give a tablet away to one of their users - selected randomly from amongst the top 25 collectors. Remember - you only get credit for driving over the iPhone icons.
That's it! Use Waze, collect Road Goodies, and stick it to those Android and BlackBerry users while automatically getting a chance to win an iPad or Tab
What's Waze, then? It's a free social mapping tool: you can get directions, find out where the traffic is, ping other users, and generally find your way around while helping other Waze users get better location and traffic information. Check out the full details on the Waze Blog and check out the demo after the break to see a bit more about how Waze works.
This is pretty cool, and I'm actually surprised to see a good bit of 'goodies' in my area. Apparently there's one right on the highway next to where I work :)

You should also mention that this (seems to be) US-only...no tipb logos in Monterrey, Mexico :/

Yes it should be mentioned in the post....that it is for US only

Suprised to see that it's a ton of icons on my location.. My stratagy is to just drive around with waze on everywhere I go. It's worth a shot, and it will also make waze better since this is peer based pretty much

this is a pretty neat marketing tool. there's quite a few "goodies" in my area. so we'll see if we can get all of them

I wonder how many people will crash there cars because they were trying to look at the logos instead of the road.lol

Yea I'm wondering how many people will crash or get into a fender bender with this. Basically if you can stare at your iPhone while driving without crashing, you might win an iPad. Considering in NY state it's illegal to drive and operate your cell phone AND any type of MP3 player. Sadly some uneducated person will probably crash, sue, and even more sadly win the law suit.
I guess there should be a common sense disclosure, saying a passenger should operate the phone while you drive, but the thing about common sense is...
its not that common.

"It's a free social mapping tool"
Too bad I hate social mapping. I got Loopt, manually set my location to the Hilton Waikoloa Village, and just left it there. (Never been there, but I hear it's nice.)

Cool app. Tons of blackberry icons as opposed to tipb icons in my area :/ that sucks

Guess it doesn't work in Canada , all I can see are cupcakes..

So, if we just open the app and leave it running in the background will it still collect coins or what not? or does it actually have to be up and running?

Great, there's a ton of android icons on the main roads while the tipb icons are on side streets and neighborhoods. Also, am I entered automatically or is there someplace I need to sign in to link with a tipb account or something?

So is it bad if we get the android/blackberry ones?

LOL this is awesome. My favorite website combined with one of my favorite iPhone apps = awesome.

I have been using Waze daily for several weeks now and love the app. Now your telling me it could pay off! (and not just bragging rights, currently 46th in Louisiana) where do I sign!

Just loaded it today. Can anybody tell me if in the settings menu on the iphone4, if I have Location Services turned "ON' will it drain my battery horrible or not? Looks like a great app!!!!

this sucks theres only like 3 logos in miami! how am i suppose to win!! =/

There aren't that many in my area, I'll try but who knows if I will win.

The waze blog says the other blogs will post updates to see where we stand. When will we see this?

Drive? why not ride bike?
Would be better for health and earth ;-)

dang, theres non in puerto rico

it is time to win good luck to me
Thank you for signing up to iMore. You will receive a verification email shortly.
There was a problem. Please refresh the page and try again.