The Witcher: Monster Slayer for iOS — Tips and tricks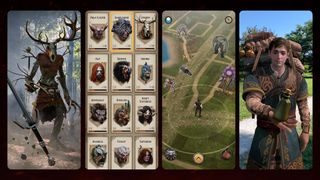 (Image credit: Spokko)
With the wild popularity of The Witcher video game series and Netflix show, CD Projekt subsidiary Spokko has expanded the franchise to mobile with The Witcher: Monster Slayer, an augmented reality game in the vein of Pokémon Go and Harry Potter: Wizards Unite. If you're a fan of those games or The Witcher 3: Wild Hunt, you might want to download this free iOS game. First, you should check out these The Witcher: Monster Slayer tips and tricks to start your monster-hunting career off right. You might also want to pick up one of the best iPhone cases to keep your phone safe during your adventures.
The Witcher: Monster Slayer tips and tricks Use your Witcher senses
Witchers are trained to be monster hunters and are imbued with supernatural powers to help them in their mission. All Witchers are also given a medallion that reacts to the presence of nearby magical effects and monsters. You can see monsters that are right near you on the main screen, but you can also click on the Wolf School medallion symbol at the bottom of your screen to see the auras of all creatures in the area and sort them by rarity. If you're looking for something specific, drink a Falcon potion, and you'll also see the names of all of the monsters in your Witcher senses view.
The Witcher: Monster Slayer tips and tricks Pay attention to enemy weaknesses
The primary objective of The Witcher: Monster Slayer is to find and kill monsters, which will reward you with XP, trophies that let you level up your skills, and components you can use for crafting. That's a lot easier if you're prepared for a specific fight. When you click on a monster within your attack range, you'll see a list of vulnerabilities that you can exploit to build up to a critical hit. That can involve hitting them with fast or strong attacks, swapping between a steel and silver sword, or lobbing bombs to do kinetic damage. Critical hits do a bunch of damage and earn you bonus XP, so you'll really want to try to get them when fighting tougher monsters.
The Witcher: Monster Slayer tips and tricks Get crafty
Witchers are alchemists who can enhance their blades with oils, drink potions to improve their combat capabilities, and build bombs to deal huge amounts of damage. You can buy all of these items from the in-game store, but gold is hard to come by, so you're much better off making your own. In the inventory tab, you have a crafting station you can always use, and you can buy or earn more. Use them and the components you gather from plants and slain monsters to craft a wide variety of items. Crafting can take between 15 minutes and two hours, so be sure to plan ahead!
The Witcher: Monster Slayer tips and tricks Make sure to parry
You don't want to be hit head on by a nasty attack from a monster, so you'll need to learn to parry. Monsters will have a red skull appear above them when they're getting ready to swing at you. Tap the screen and hold it down as the attack is coming to parry. Perfectly parrying will earn you XP and save your hit points. Getting hit by an attack will reduce your critical hit meter unless you've invested in skills or armor to mitigate the effect.
The Witcher: Monster Slayer tips and tricks Complete contracts
Upgrading your weapons and armor can let you better capitalize on monster weaknesses and use your magical effects more often. But equipment is expensive, and unless you're planning on spending a fair bit of real money to buy gold, the best way to earn the in-game currency is by completing contracts. You'll receive a new contract every day, which is completed by killing specific types of monsters, crafting certain items, or performing the designated actions in combat. If you think a contract is too challenging, you can swap it out once per day. Completing them earns you 50 to 100 gold. You also can earn one stamp per day to build up to collecting a greater reward.
The Witcher: Monster Slayer tips and tricks Make friends
Witchers typically work alone, but you can get a little help from your friends. Click on the friends icon and build up a friend list by entering another player's Witcher ID or sharing your own. You'll gather packages of crafting ingredients and crafted items from your adventures, but you can't use them yourself — you have to send them to a friend who will hopefully reciprocate by sending one back to you. Packs can be exchanged once per day.
The Witcher: Monster Slayer tips and tricks Level up your skills
The Witcher: Monster Slayer is an RPG, and you'll earn skill points by leveling up and collecting monster trophies. You'll want to spend these to enhance your combat and crafting skills with a mix of pretty basic abilities like increasing your fast attack damage to learning magical signs you can cast to prevent damage. More skills unlock as you level up, following skill trees and costing varying amounts. Choose carefully based on your preferred playstyle as there's currently no way to respec.
The Witcher: Monster Slayer tips and tricks Quests can be moved
You'll want to work your way through the game's narrative quests to earn big rewards. These require moving around the real world to locations placed on your map as you complete steps like fighting specific monsters or solving puzzles. If you start a quest when you're visiting a friend and then go back home, the next step of the quest will stay where you were. However, you can use the quest relocation feature if you're sufficiently far away to move the objective to somewhere closer. You're still going to need to walk or drive around to complete the quest — it won't drop it right on your present location.
Toss a coin to your Witcher
Using these The Witcher: Monster Slayer tips and tricks should make it a bit easier for you to get started on your career as a Witcher and face all the fearsome foes you find in the game. If you have any other questions about the game, let us know in the comments section, and we'll do our best to answer them!
Mutant vs. monsters
The Witcher: Monster Slayer
Fight monsters, get paid

The Witcher: Monster Slayer brings the world of CD Projekt's hit RPGs to your iPhone with an augmented reality experience that requires you to wander around completing narrative quests and chopping down creatures to collect trophies and alchemical components.
Master your iPhone in minutes
iMore offers spot-on advice and guidance from our team of experts, with decades of Apple device experience to lean on. Learn more with iMore!
Samantha Nelson writes about gaming and electronics for iMore, Windows Central and Android Central while also covering nerd culture for publications including IGN and Polygon. She loves superheroes, RPGs, cooking, and spending time outside with her dog. You can follow her on Twitter @samanthanelson1.