WWDC 2016: What we're here to see!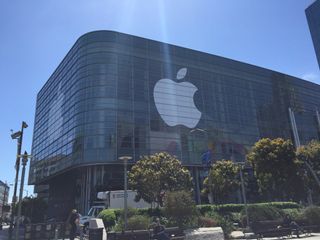 It's that time of year: Some of us are about to board airplanes, others are frantically packing last-minute supplies, and others still are lounging about in Sacramento until they have to drive in. (Hi, Lory.) Apple kicks off its yearly developer conference this Monday, June 13, at 10am PT and we'll be here. You can follow our journey via the social accounts below, and read on for what we're planning!
When are you getting in?
Serenity
Friday evening! The conference doesn't start until Monday, but I like having the weekend to get situated to west coast time. (And as a plus, I get to spend time with good California friends, and go to wacky things like cat circuses. What is a cat circus? I'll let you know on Saturday night after I view one.)
Bader
I'm already here! I like to park my deck chair and beach umbrella outside Bill Graham a few days early to, you know, scope out the place! Kidding — I'm in SF for something else, which gives me a nice weekend to mentally prepare for Dub Dub. But now that Apple has pre-announced its App Store enhancements, I doubt there's much else to talk about, so I guess I'll be heading home.
Lory
Since I live about 90 miles from San Francisco, it's like I'm always there. I just have to hop in my car and drive into the city. I will, however, be staying in downtown San Francisco Sunday night because traffic is a nightmare during rush hour. Without exaggerating, it would probably take me four hours to go 90 miles on Monday morning. In fact, I made that drive during rush hour last week and it took 3.5 hours.
Mikah
Sunday, Sunday! Last to arrive, first to leave — so it goes for the non-blessed. By non-blessed I mean I won't be at the actual keynote, but I'll be tuning in close by!
Rene
Saturday. I'm always terrified that something will go wrong with my flight, and I'll be stuck somewhere and miss the keynote, so I try to fly in a day early. It's normally more likely in the winter with freezing rain, when I've been stuck in Montreal, or turned around before reaching Toronto, or stuck at Toronto for the better part of a day. But I take no chances!
What do you have planned for the week?
Serenity
I'm up early on Monday to cover the WWDC keynote with Rene and Bader, maybe do a little podcasting action with the folks at Relay, then visit with as many developers and SF-area engineering friends as I can! I'll also be volunteering at Layers on Tuesday and Wednesday: The design conference was my favorite non-WWDC hangout last year, and it's chock-full of wonderful talks and people. And snacks. Oh, the snacks.
Bader
Visiting San Francisco is always a treat, and I try to make the most of it whenever I can. During Dub Dub, that means talking to as many developers as possible, preferably over libations, and learning from my colleagues, whom I rarely get to see in person. Should be great fun!
Lory
Monday will be all about the Keynote, iMore Show podcast, State of the Union, and other WWDC stuff. I'm excited about the iMore/Loop Beard Bash Monday night. It will be great to mingle and meet new people. But really, I'm just there for the party snacks. I am a veritable WWDC noob and have no idea what else to expect for the rest of the week. I'll get to sit in on John Gruber's Talk Show Live, which promises to be very exciting. But really, I'm just there for the snacks. I also have loose plans to meet with friends that live in the Bay for lunch. Everything else is up in the air. I'm ready to embrace all that is WWDC and its outlying events with open arms and an open heart. But, snacks mostly.
Mikah
So, so much! I'm only in town until Wednesday (and I have to be at the airport pretty early on Wednesday), so you'd better believe I'm going to make the most of my first visit to WWDC! Monday we'll be tuning in for the Keynote and podcasting afterward. There's also RelayCon and the Beard Bash on Monday. I'll be doing a live show with Christina Warren and Brianna Wu on Tuesday at AltConf and sneaking in some libations and celebrations with colleagues and new friends throughout. I hope to see and meet some of you there!
Rene
I'm in full-on WWDC mode. I'll be covering the keynote with Ren and Bader on Monday Morning, trying to cram a podcast in with the whole team right after, then hitting State of the Union, the Apple Design Awards, and the iMore/Beard Bash until the wee hours. The rest of the week will be covering sessions, likely watching them multiple times each so I can start writing up all the "Explained" I'm compelled to write each year.
How will you be enjoying the keynote?
Serenity
WWDC was the first event I ever got invited to as a member of the press, so it always holds a special place in my heart: I've covered many conferences and keynotes, but I still love the magic that comes along with thousands of excited developers crammed into a room waiting to hear how the company is going to change their lives (hopefully for the better).
Bader
Feverishly trying to get the best photo of Craig Federighi's luscious hair from every angle. And perhaps some photos of new software announcements.
Lory
I'm honored to be able to crash the Relay FM remote watching party with my cohort Mikah. I've never met any of these awesome, intelligent, and funny people in real life (including Mikah), but I feel like I know them already. I hope they don't mind if I bring my flask of Jameson. Don't worry, I'll share.
Mikah
Lory and I are going to be the rowdy bunch at the Relay FM remote watch party. I was already excited to meet her for the first time, but now there's going to be a flask of Jameson. This meetup is about to be OFF THE CHAIN! (I never say off the chain. Who am I?)
Rene
It's funny, I can't enjoy a keynote when I'm covering it. I can barely even watch it. I need to get into a state where whatever is said is transmitted through my brain, out my fingers, and into the liveblog with as little interference as possible. I'll need to watch it later to enjoy it. Likely several times.
What are you most excited to see this week?
Serenity
Aside from Eddy's new colorful shirt? I can't wait to see what the company has in store for watchOS and the iPad Pro. After a year with both watchOS and the iPad Pro, Apple likely has some pretty solid data on how both devices are being used, and I'm hoping that translates to smarter design for the watch and more power features for the iPad.
Bader
I'm increasingly looking forward to seeing what the company has in store for OS X. Mac's OS has been riding a wave of incrementalism over the past three years — Mavericks, Yosemite, and El Capitan — and I'm ready to see some bigger changes. The aforementioned improvements to the Mac App Store will go a long way, but that and Siri, which is sure to arrive on the Mac in some form, will not satiate me.
I'm also terribly excited for watchOS 3, which should prove to be a fun little update to a fun little product.
Lory
Everything. Every year, Apple blows my mind with something new and exciting. This year will focus on software, and I'm looking forward to the milestone update of iOS 10. I'm also hoping for something big with tvOS. It is still in its infancy and could use a lot of brain-exploding new features. Updates to the Mac software is always a pleasant addition, but learning new stuff can affect my productivity. So, while I'm hoping for some big new features, I'm also hoping we don't get socked in the face with too many major changes all at once. As for watchOS 3.0, I just want them to tell me it will run faster.
Mikah
All. The. Things! I've got a watch on my wrist that's begging to be loaded with beta software, an iPhone that's thirsty for risk, and an iPad that's getting tired of the current way of things. My Mac, however, will not be tasting the beta life. I love it and need it too much to expose it to beta software.
Other than the obvious, I'm really excited to see what it's like being in the city where it happens.
Rene
What's next. Not in a cliched sense, but after redesigns and re-architectures, launches and relaunches, we now have iOS, macOS, watchOS, and tvOS, all in public, all for the first time. It'll still take some time to stabilize, polish up, and round out, but it feels like we're now in place where Apple can start pushing out the next phase of its software vision.
Technology aside, I'm also interested in seeing how Apple balances the keynote. There are those that feel the traditional Steve Jobs-style keynote is still best and any deviation from it is less than ideal. Others feel time has changed and Apple needs to change with it. Everything from SNL-style opening skits to dad jokes to Jimmy and Drake on stage are examples of that clash. Yet it feels like there's a unified approach, somewhere in the middle, that Apple could ride forward.
I'm hoping we see that this year.
What are you dreading?
Serenity
The inevitable post-WWDC hangover/sickness on Thursday when I fly home. (Also, that I have to immediately drive to Philadelphia after getting off a plane. But it's for roller derby camp, so not all bad.)
Bader
Having to go home just a day after the keynote, and the FOMO that comes with missing all the awesome WWDC festivities. Blame the weak Canadian Dollar, and a longing for my own bed.
Lory
Accidentally getting too drunk at the Beard Bash and making a fool of myself, and then having Mikah Snapchat it. I'd be mortified.
Mikah
Travel. Travel stresses me out, I get really anxious and become hyper-aware of everyone sneezing and coughing around me. I'm an anxious human. Can't help it.
I'm also dreading Lory catching me Snapchatting her Beard Bash antics. Something tells me she has a strong kick.
Rene
The pace! WWDC is non-stop from beginning to end. It's a blast, don't get me wrong, but trying to keep up with everything is almost impossible.
Also the internet getting vandalized by same-day hot takes that are really not takes, and think pieces with little thought. But that's the cost of silly Apple headlines getting clicks.
What non-WWDC event are you most looking forward to?
Serenity
There are a lot this year — so many that Apple itself is advertising them! RelayCon on Monday will be great fun, as will the combination iMore/Beard Bash party later that evening; in the daytime, Tuesday and Wednesday is all about Layers, with the evenings reserved for seeing old friends at various gatherings. I am especially looking forward to John Gruber's live Talk Show, and whomever he tricks into appearing on the stage this year. (And hey, now that I have an iPad Pro, I've got a pretty good rig for liveblogging and transcription on the go.)
I'm also looking forward to having the entire core iMore crew (minus the two Gs, Georgia and Gartenberg) in the same room for the FIRST TIME EVER. And I've never met Mikah in person yet; I expect to be Snapchat-tortured and face-swapped. Oh dear.
Bader
This is my first WWDC with the iMore team, so I'm excited about introductions to, and conversations with, new friends. Beard Bash should be a blast, so at the very least, I'll raise a Heineken to everyone who worked so hard to make it happen.
Lory
I'm most excited about spending some non-work time with the iMore team. Most of us are somewhat new to the crew and, since none of us live anywhere near each other, we only communicate via the internet. I've only seen Rene, Serenity, and Bader in real life on two occasions and I've never met Mikah in person. I'm sad that I still won't get to meet Georgia or Michael, but hopefully, that won't be for too much longer.
Mikah
Can I say all of them? Oh, looks like Rene did. ALL OF THEM! I know this is an extremely privileged thing to say, but I'm just looking forward to having a bunch of fun hanging out with my colleagues and friends in a tech-loving environment. These are my people.
Rene
All of them! From Layers to Alt, from parties like the Beard Bash we're co-throwing with Jim Dalrymple to the Talk Show Live, there's more than ever going on around WWDC this year.
It literally sucks that I have to work all week. I'm super-jealous of those that get to attend.
What are your must-eat places in San Francisco?
Serenity
I've been dreaming about Specialty's freshly-made oatmeal chocolate chip cookies, so I guess I have to go get one. Around Moscone, my secret favorite place is the Westfield Mall food court: They have a ton of delicious, high-quality food that's way under above-ground SF prices.
I also may have to get pizza at Zero Zero, since I've done it at every WWDC I've been to.
Bader
My favorite little spot is Naked Lunch, an awesome lunch spot with a great patio on Broadway near Columbus. It's a little out of the way, but being in such close proximity to the beautiful Telegraph Hill, with its gorgeous cross-city vistas, makes it worth the trek. Uphill. Both ways.
Lory
There is this little Mexican food restaurant in the Mission that I love going to called Taqueria Vallarta. They make the best tacos! It is also right up the street from one of my favorite record shops in San Francisco, Thrillhouse Records. There is this awesome crepe place in Japantown called Belly Good Cafe & Crepes. When you get a sweet crepe with a scoop of gelato, they decorate it to look like an adorable little monster.
Mikah
I lived in California growing up, but we never visited San Francisco! I have no idea what food places are must-eat. I do know I'm hunting down delicious macarons (no, not macaroons) and I'm definitely hanging out with Rene at Blue Bottle. Outside of that, who knows?
Rene
Blue Bottle for coffee, but really there's an embarrassment of riches around WWDC. You can find everything from great tea at Yerba Buena to great Mexican, Indian, and Bistro down the alley, to top-flight food of every type in the restaurants surrounding Moscone. And then there's the rest of San Francisco...
Any advice for first-timers at WWDC?
Serenity
Have fun, talk to as many people as your brain will allow (but don't forget to take breaks). Remember it's okay to be by yourself and breathe, and though the FOMO is real, it's not worth stressing over. See who (and what) you can, and enjoy San Francisco's strange pseudo-winter June weather!
Bader
Everyone knows each other, and you know no one. That's OK, because they were all like that, too. Inside, even the cool kids want to meet you; they just don't know it yet. It often seems like the Apple community is one big club to which you'll never know the right password. But the reality is that most people are pretty darn nice, and just take a bit of warming up — much like the pseudo-winter June weather in San Francisco. (Last phrase credit: Serenity Caldwell)
Lory
Since I am a first-timer to WWDC, I'll take any advice you can give me.
Mikah
reads everyone else's answers because he is a first-timer
Rene
Pick your shots. It's impossible to do everything. If you're attending WWDC, get to all the labs and ask all the questions you need to. The sessions are recorded and you can watch them on-demand. Getting to talk to the engineers who work on the frameworks, and getting help with your specific problems, is worth more than the price of the ticket — it's invaluable.
If you're not attending, then still pick your shots. There are so many parties and bars and surrounding events you can't make it to all of them, and you can seriously hurt yourself trying. Don't miss a day or more because you took yourself out on the first night. Think marathon, not sprint, and many things in moderation, not obliterating excess once.
Bottom line: Your top three predictions for WWDC 2016.
Serenity
watchOS 3 will make my Apple Watch Sport feel new again. Eddy will wear a colorful shirt and/or a Warriors jersey (that yellow is pretty colorful!) during the keynote. And I will end up bricking one of my devices with a beta before the end of the week.
Bader
The keynote will be overwhelming, in a good way. Apple Music will get its much-needed visual overhaul. And macOS will remind us how a minor rebranding can do a lot to re-energize a user base.
Lory
Apple will announce new features coming in iOS, watchOS, and tvOS. They will also officially reveal that they are renaming OS X to macOS. An indie game developer will get to show off their super cool, amazing game on the upcoming iOS 10 platform and we'll all go wild about it over the next few months. A band that I know very little, if anything at all, about will play at the very end of the Keynote.
Mikah
No hardware will be announced, Jony Ive won't physically walk across the WWDC keynote stage, and Rene will buy another Apple Watch band.
Rene
Our devices will become smarter again and even more secure. We'll be given more control and more options. Much medium-hanging fruit will be addressed, but not all of it. We'll love some of the new features immediately but others we'll come to appreciate down the road.
And we'll have a lot to talk about between Monday and the fall.
○ Everything about WWDC 2020
○ WWDC 2020 remote lineup
○ Download the Apple Developer app (opens in new tab)
○ iOS/iPadOS 14
○ macOS 10.16
○ watchOS 7
○ tvOS 14
○ Discussion forums

Get the best of iMore in in your inbox, every day!
Rene Ritchie is one of the most respected Apple analysts in the business, reaching a combined audience of over 40 million readers a month. His YouTube channel, Vector, has over 90 thousand subscribers and 14 million views and his podcasts, including Debug, have been downloaded over 20 million times. He also regularly co-hosts MacBreak Weekly for the TWiT network and co-hosted CES Live! and Talk Mobile. Based in Montreal, Rene is a former director of product marketing, web developer, and graphic designer. He's authored several books and appeared on numerous television and radio segments to discuss Apple and the technology industry. When not working, he likes to cook, grapple, and spend time with his friends and family.
Thank you for signing up to iMore. You will receive a verification email shortly.
There was a problem. Please refresh the page and try again.