9.7-inch iPad and iPad mini 4 FAQ: Everything you need to know!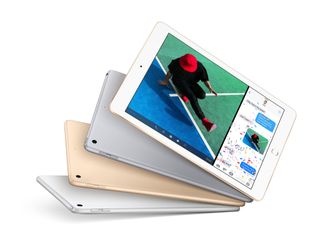 Apple has just announced a new version of its 9.7-inch iPad, replacing the aging iPad Air 2. That comes with a moniker change: Instead of "iPad Air 3," the non-iPad Pro model is just called "iPad." The iPad mini lives on as "iPad mini 4," but has been reduced to a single 128GB model (and no processor upgrade).
While the new 9.7-inch iPad won't match the performance of the similarly-sized iPad Pro, it's a nice entry point for the education market and first-time tablet users. Here's everything you need to know about Apple's updates.
So this is a new iPad Air without the iPad Air name, huh?
Exactly. The new 9.7-inch iPad (opens in new tab) replaces the iPad Air 2 in Apple's tablet lineup — but though it's the same size, it's not an iPad Pro. Apple's newest tablet is a bit cheaper ($329 vs $599 for the entry-level 32GB Wi-Fi model), but it's lacking many of the Pro's keystone features.
What's the difference between the new 9.7-inch iPad and the iPad Air 2?
The biggest change is a processor upgrade: Apple's newest tablet includes the iPhone 6s's A9 chip and M9 co-processor, supplanting the iPad Air 2's A8X chip. It's also a little heavier and bulkier than both the iPad Air 2 and, strangely, the 9.7-inch iPad Pro, weighing in at 1.03-1.05 pounds (depending on Wi-Fi vs Wi-Fi + Cellular) with a depth of 0.29 inches — 0.05 more than the iPad Pro.
There's also no laminated display and no DCI-P3 color gamut. That means the screen is like iPad Air 1 rather than iPad Air 2 or 9.7-inch iPad Pro. So, not so much anti-glare and sRGB-only color.
Besides that, the new iPad is relatively identical to its older Air cousin: It has a 9.7-inch Retina display, 8MP rear-facing iSight camera, 1.2MP FaceTime camera, Touch ID sensor, and 10 hours of battery life. You also have the same three color options for the new iPad: Silver, Gold, or Space Gray.
I didn't see you mention the Apple Pencil or Smart Connector.
Yup. Those two features remain iPad Pro-only, as does the 9.7-inch Pro's True Tone and Wide Color (P3) display. Also somewhat strange is that the iPad mini 4 has features the new 9.7-inch iPad lacks — it doesn't sport the laminated display or antireflective coating present on all other iPad models, Pro and Mini.
What else is different between the 9.7-inch iPad and iPad Pro?
By picking up the cheaper 9.7-inch iPad rather than the 10.5-inch iPad Pro, you'll be missing out (opens in new tab) on the quadruple-speaker sound of the Pro model, its A10X chip and M10 coprocessor, Wide Color display with ProMotion refresh technology, 12-megapixel camera with True Tone flash, Live Photos, 4K video recording, 1080p slow-motion recording, increased video stabilization, autofocus recording, front-facing 7-megapixel camera and Retina Flash, LTE-Advanced network, embedded Apple SIM, or rose gold coloration.
| Device | iPad mini (7.9) | iPad (9.7) | iPad Pro (10.5) | iPad Pro (12.9) |
| --- | --- | --- | --- | --- |
| Colors | Silver, Gold, Space Gray | Silver, Gold, Rose Gold, Space Gray | Silver, Gold, Rose Gold, Space Gray | Silver, Gold, Space Gray |
| Size | 8"x5.3" | 9.4x6.6" | 9.8"x6.8" | 12"x8.68" |
| Capacity | 128GB | 32/128GB | 64/256/512GB | 64/256/512GB |
| Weight | 0.65/0.67*lbs | 1.03/1.05*lbs | 1.03/1.05*lbs | 1.49/1.53*lbs |
| Depth | 0.24" | 0.29" | 0.24" | 0.27" |
| Battery | 19.1-watt, 9*-10 hrs | 32.4-watt, 9*-10 hrs | 30.4‐watt, 9*-10 hrs | 41‐watt, 9*-10 hrs |
| Cellular* | LTE | LTE | LTE Advanced | LTE Advanced |
| Display | Retina (2048x1536, 326ppi) | Retina (2048x1536, 264ppi) | Retina (2224x1668, 264ppi) | Retina (2732x2048, 264ppi) |
| Laminated? | Yes | No | Yes | Yes |
| Brightness | 450 nits | 511 nits | 600 nits | 600 nits |
| Refresh Rate | 60Hz | 60Hz | 120Hz (ProMotion) | 120Hz (ProMotion) |
| True Tone | No | No | Yes | Yes |
| Wide Color (P3) | No | No | Yes | Yes |
| Apple Pencil | No | Yes | Yes | Yes |
| Smart Connector | No | No | Yes | Yes |
| Bluetooth | 4.2 | 4.2 | 4.2 | 4.2 |
| Speakers | Stereo (dual) | Stereo (dual) | 4-Speaker | 4-Speaker |
| Touch ID | 1st-gen | 1st-gen | 2nd-gen | 2nd-gen |
| Taptic Engine | No | No | No | No |
| Chip | A8 | A10 | A10X | A10X |
| Motion | M8 | M10 | M10 | M10 |
| RAM | 2GB | 2GB | 4GB | 4GB |
| Rear Camera | 8MP f/2.4 | 8MP f/2.4 | 12MP f/1.8, P3 color | 12MP f/1.8, P3 color |
| Video (Rear) | 1080p (30fps) | 1080p (30fps) | 4K (30fps) | 4K (30fps) |
| Front Camera | 1.2MP f/2.2 | 1.2MP f/2.2 | 7MP f/2.2 | 7MP f/2.2 |
| Video (Front) | 720p (30fps) | 720p (30fps) | 1080p (30fps) | 1080p (30fps) |
*Only pertains to the cellular model.
How much does this new iPad cost?
The Wi-Fi-only 9.7-inch iPad starts at $329 and comes in two storage capacities: 32GB for $329, and 128GB for $429. Additionally, the cellular model comes in the following configurations: 32GB for $459, and 128GB for $559. Unlike the iPad Pro configurations, there's no 256GB model available.
Okay, so why would I buy a new iPad over an iPad Pro?
While not outwardly stated, the primary market here is clearly education: The new 9.7-inch iPad is inexpensive even at large capacities, making it a potentially appealing choice for educators looking to pitch their administrators on a tablet workflow. But it could also be a great tablet for first-time buyers and those who don't need the iPad Pro's bells and whistles.
On the upgrade side, if you still have an iPad Air 2 and are happy with it, there's no real need to upgrade unless you desperately want the A9 processor. But if you're coming from an older iPad and don't want a Pro-level commitment, the new 9.7-inch iPad is a good alternative.
I heard we also got a new iPad mini?
Well... sort of. Apple did make a slight update to the iPad mini 4, but not the kind most hoped for. The mini retains its aging A8 processor with no speed bump; instead, the only change is to consolidate the model into a single storage configuration: 128GB. The Wi-Fi model of the iPad mini 4 costs $399, while the cellular model costs $529. (Yes: The entry-level mini is now more expensive than the entry-level 9.7-inch iPad.)
When and where can I get one?
The new 9.7-inch iPad will be available on Apple's website on Friday, March 24 (opens in new tab). Deliveries will begin next week to an Apple Store near you as well as those who order online.
Questions?
Let us know in the comments.
○ Which iPad model should you get?
○ Should you upgrade to iPad Pro?
○ iPad Pro vs. MacBook: Which should you buy?
○ What storage size should you get?
○ What color iPad Pro (2018) should you get?
○ Which U.S. carrier and plan should you get?
○ Should you get AppleCare+ or insurance?
○ The best way to buy your iPad
○ How to sell your iPad
○ Buy iPad at Apple (opens in new tab)

Serenity was formerly the Managing Editor at iMore, and now works for Apple. She's been talking, writing about, and tinkering with Apple products since she was old enough to double-click. In her spare time, she sketches, sings, and in her secret superhero life, plays roller derby. Follow her on Twitter @settern.
You got to be kidding me...nice to see they updated the entry level iPad...sort off.. Posted via the iMore App for Android

Apparently, Apple just released a new video app called "Clips." Why has this not been reported here on iMore?

They are probably doing the write up as as fast as they can...patience young padawan.... Sent from the iMore App

Yah, but it's a little embarrassing to learn about it on their competitor's sites so much earlier.

Is the new iPad cheaper than the air 2 but with a faster processor? That's not bad at all. Sent from the iMore App

I don't see enough enough here to justify replacing my iPad Air 2.

Be happy - If/when your Air 2 needs to be retired, your next ipad will be $70 cheaper.

is just me or has anyone noticed that since tim cook took over apple's products and innovative marketing schemes have become stagnant.

Nope, not just you. Pretty much a non-story series of updates... but, on the bright side, I guess they didn't have a big press-event and take to the stage. (Though, I suppose if they had, it would have been more exciting than the last few keynotes.)

This ipad is heavier than the ipad air 2 - the same weight as ipad air so i guess is actually an ipad air body. Significant price drop and clearer marketing as a "leisure" rather than work device. Very attractive entry level positioning - should do well.

Agreed, but not for me. First thing I said is "that should help move a lot of units". But for me I'll either keep my 9.7" Pro or sell it and just use my Mac and 7 Plus. I still struggle to fit iPad into my daily life, despite me absolutely loving it when I do use it.

I'm interested to see how well this thing performs with last year's chipset (and not even an "X" version) compared to the iPad Pros or the current iPhones.

It should basically perform like an iPhone 6s and 6s Plus - which is pretty good. Since, as (I believe) iMore got it right, this is aimed at education (and probably at bread and butter corporate - flight crews, health care, etc.) an A9 (instead of an A9x) is probably just fine. Gamers will need to cough up the extra dough for the Pro version. And, the A9 should be GREAT on battery, it is on the iPhones. At first I thought the thicker case meant more battery, but it's just thicker because the glass is not laminated, they reverted to Air 1 "gap" screens.

Very very disappointing. All of this talk about a 10.5 iPad in the same size shell. And they basically take the old iPad Air, and replace the chip. Its thicker than the Air 2. For what they are offering, I think the $329 entry price is too high.

This is Apple, when was the last time they priced something really reasonable? :)

It's worth checking out Fry's prices on entry level Macbook Air's if you subscribe to their email offers. The prices are better than comparable Windows laptops, which is pretty amazing.

"All of this talk about a 10.5 iPad in the same size shell." The apple rumour industry has a great deal of trouble telling the difference between prototypes apple is experimenting with (that may never see the light of day), pre-production prototypes (where Apple makes a few hundred of the thing for internal testing a full year or more ahead of its scheduled release date), and devices that are being mass produced in advance of being released a few months from now.

I was hoping for $299 as floated by the rumor mill (specifically, the rumor mill posited an Air 2 reduced to $299). BUT the big news isn't now, it's Black Friday and other end-of-year sales when these might go for as little as $249 if we are lucky. Either way, the milled aluminum body, full sRGB color gamut with excellent factory calibration will make these things a joy to use compared to most Amazon Fire tablets.

What about the dimensions or weight? And what about the screen brightness or lamination? All four of those have changed so what exactly is the difference? Apple claims the A9X is 1.6x faster then the A8, but how does it compare to the A8X in the Air 2? Thanks!

I think it's also a bit thicker (no big deal) but heavier... need to find out more about that. And, doesn't have the same screen coating, or something like that. (a bit lower price is nice though... I need to replace my iPad 2)

Cool. Simplifying the naming of the iPad lineup. Just iPad, iPad Pro, and iPad mini. Mirrors the Mac product offerings, kinda--iMac, Mac Pro, Mac mini. But since they're dropping the numbering scheme from this one, they might as well drop it from the mini as well. I notice they're calling it "5th generation" in the FAQ, as if the iPad Air and Air 2 never existed--some people consider the Air the 5th generation and Air 2 the 6th, because there wasn't a corresponding "fat" iPad released after the 4th generation. Things like this make me wish they'd just call them by the year like they do their computers.

I haven't seen Apple call their computers by the year they are released. That's become a standard for most people to refer to them by, but it's not found on Apple. "Mac Mini." "Mac Pro." "The New MacBook Pro."

Also important to note that this is not the thinner bonded less-reflection screen of the Air 2 but the screen of the Air. 1

I'm actually quite interested in one of these. The iPads Pro just aren't justifying their price, for very little real world improvement over this.

Exactly. I have the original Air and am in need of an upgrade. The only question is if I should wait for their Spring iPad Pro annoucments, and will the upgrades be worth the premium. The pricing on the new iPad is great though.

I agree with you, since I'm not a gamer. I got my kid an Air 2 and myself a Pro 9.7 on Christmas sales, and in a darkened room (my preferred ambient lighting for Netflix) reflections are not an issue on the Air 2, the Pro 9.7, or my old iPad 4 (air gapped display). In ambient lighting at room levels, I can't see any difference either, although I'm sure DisplayMate and others who measure reflectivity are right about the Air 2 and Pro models being exceptional. All I know is that in our well-lighted living room, there are too many reflections for quality video, but all of them are fine in a dark room.

A yawner of a product release. Wake me up for a new phone or iPad Pro upgrade, or the mid-sized small bezel Pro.

Been a long time since I've posted here. But this is the iPad update I've actually been waiting for. I still need to go over the specs, but this may be perfect for my wife. She has the original iPadMini wifi 16GB stuck on iOS8. She uses it for general emails, web browsing, paying bills, etc. She is in desperate need of an upgrade. Doesn't use it for heavy computing, so no need for an iPad Pro. With the iPhone Plus, it appears to me that the iPadMini may be slowly disappearing from Apple's lineup. Getting this latest iPad"Air" with (what appears to be) 2GB RAM, 128GB storage (for all her photos and videos), an A9 chip, with cellular for $559 is great. The previous iPadAir in the same configuration and the A8x chip was going for $629. My wife may be getting a very nice birthday gift in 6 weeks. :-) EDITED to add that I currently have the original iPadAir with only 1GB RAM, 128GB storage, A7 chip, +cellular, no TouchID, and I paid more for that baby back then than what this new device is offering. Although I currently have no need to upgrade my own current iPadAir, I would expect the new iPad Pro will have the A10x chip when it's officially released next month.

A cheaper iPad Air with a faster processor in the design of the iPad Pro? If I was in the market for an iPad I would pick this over the iPad Pro. It is nearly half the price AND it gets rid of the camera bump from the iPad Pro!!!. But one thing about skipping all of Apple's 2016 mobile offerings is that I realized that I really have now use case for a tablet.

It is not in the design of the iPad pro. It looks like they are using the original iPad Air design. Thicker than the air2 and the pro.

my bad. so basically it is like an iPad se?

The Air was trash anyway as it was waaay too thin. I took mine back after I could not get over the excessive screen vibration with the sound barely on. Ended up getting a Note Pro 12.2 and now that's getting long in the tooth so I might pick this one up as I don't need the pro.

What's with some of these comments? People this daft? It's just a general refresh, they've done this before. This isn't a generational update. People complaining because it's just receiving an upgraded processor are being dumb. A generational update won't happen until summer -- with iPhone in the fall. It's been like this for years. My god.

I like this move. I like it a lot. I don't relish the idea of Apple (or anyone) having a monopoly on a given market, but if they are the only manufacturer who is coming out to play, then let them have it, I guess. The iPad Pro is too expensive, full stop. 90% of the functionality at half the price for an Apple quality device is more than reasonable for the iPad.

Do think that they are showing a distinction between the Pro an the consumer version. The Pro is too expensive for me, but with the Pencil is a valuable Pro tool. This feels a bit more like the iPad for the masses.

I have an iPad mini 2, that I am very happy with. I have been wanting to get an iPad for me and a family member. They just sold two iPads. That's a great price point. Anyone feeling the 16GB space pinch from an older iPad will happy to have affordable upgrade options. The 128 GB upgrade is substantial and tempting. I think this a good move. I predict a good year for the iPad. The key features here are price and space. That's more tangible than a processor bump. It's as simple as that.

At this point I'm certain Apple is just trying to make it as confusing as possible to identify an iPad. iPad
iPad 2
"The new iPad"
iPad with retina display (making "the new iPad" the old iPad)
iPad Air / Air 2 (which also have a retina display)
iPad Maybe they'll call the next one "The newer iPad".

"Apple is just trying to make it as confusing as possible to identify an iPad." Only if you're looking at older models. Looking at what they currently have on sale (not counting older products that are waiting for the axe*), it's now simpler. Ipad, ipad pro. Macbook, macbook pro. * the macbook air and the ipad mini are probably doomed.

I see this and I realize how ahead of its time the iPad Air 2 was. I bought mine late (1.5 years after it was released) and to this day it just works wonders. I guess this edition will satisfy those upgrading from an Air 1 or prior, Apple didnt go for a direct Air 2 buster.

Apple: "this is the Ipad air 2, it's thinner and lighter than the last ipad!" The Internet: "jeeze Apple, when are you going to get over your fetish with thinner and lighter? You shrank the battery, now the battery life is worse than it was before on some metrics, how awful!" Apple: "here's our new entry level ipad. We made the battery bigger, and put in a more power efficient SOC, so the battery life will be better than ever!" The internet: "holy crow, Apple, you've taken a massive step backwards, this thing is thicker and heavier than the previous Ipad!"

I love the fact that it's thicker.

The only iPad I have at home is the ORIGINAL 64 GB and it's getting a bit long in the tooth. $879! (ouch) and I can't run any modern software on it, of course. I think it might be time to scratch up some pennies and look at these new ones. The iPad Pro just doesn't have a lot of extra stuff for me to warrant paying so much more money.
iPad 32 GB at $449 vs. iPad Pro 32 GB at $799. That's getting too close to double the price for me!!!

Is it just me or is this Apples way of giving the iPad Mini a death knell? Storage aside, it is the most confusing thing in the line up. I don't use a mini but my wife and kids love theirs and I would love to replace them but not at that price point and processor. I just can't wrap my head around this. I am glad that Apple found a way to keep a 9.7" iPad model at a lower price point without pro features. Still confusing that the Pro models didn't at least get a chip bump to get in line with the iPhone.

"Still confusing that the Pro models didn't at least get a chip bump to get in line with the iPhone." Coming this summer or more likely this fall. I think Apple looked at the numbers from last year's spring launch of the 9.7" ipad pro and decided that they made a mistake moving one of their flagship product launches to the spring... so this year we wait a few extra months and we go back to almost everything new from apple launching in the fall.

Yes , the mini is slightly odd. My guess is that they will revamp the Pro range with three sizes at premium price points with a single basic 9.7 iPad left at low price point for mass market. The positioning of the mini is a bridge to that new pro line-up as they didn't want to kill that size and then later bring it back.

At first I was "meh" about the product release (the love child of an iPad Air 1 and Pro 9.7?), but the more I think about it, I think Apple is taking the right approach. After all the Pro 9.7 is around if you've got to have it "all", but Apple is making some "artful" comprises to bring us a $329, still cutting edge tablet. What I like: 1. The A9 chip. So much better than the A8, with (probably) better battery life than the A8x. 2gb of onboard RAM is likely since that's the new standard across the line - even in the iPhone SE. 2. Back to "air gap" instead of "fully laminated." Keep in mind the Air 1 was renowned for low relfectivity as the iPad line has been historically. So reverting to an Air 1 "gap" display won't affect most practical uses, including Netflix, in typical ambient lighting. BUT screen repair costs should be a lot more reasonable moving forward, which is important for education and corporate, and for us too. 3. 32gb. Apple, thankfully, didn't try to cut costs here with a skimpy 16gb. What I don't like: We don't know for sure yet, but it doesn't look like the case is identical in dimensions and controls placement to the Air 1, so we won't be able to save a few bucks on Air 1 cases or the Apple Air 1 Smart Case. The Smart Cover IS apparently compatible, based on the compatibility listing for the new iPad Smart Cover on the Apple website. Note that the Air 1 had a "slide to mute/rotate" button on the side, the 2017 iPad doesn't. I'm neutral on the increase in thickness - I thought maybe Apple finally reversed tradition by moving to a thicker battery, but no such luck, it's due to the thicker screen. I'm looking forward to the iPad whatever-the-heck-we-call-it. It's not an advance, but it's a solid player for Team Apple.

I have my handy iPad Air that while great, has started to show its age and this looks like a fantastic upgrade in my opinion. Hopefully 2 gigabytes of DDR4 RAM are in this, especially with an A9 chip! Thank goodness Apple is nixing 16 GB as the base model on their devices. Posted via the iMore App for Android

Looking at the configuration, I want to buy this iPad as soon as possible. Apple has made this technological generation more smoother and sensational. Cheers to them.

I have heard that the glass is not laminated on the new iPad and that it does not have the same antireflective coating as the iPad Air 2. Is this true? Is glare going to be more of a problem than the air2? If so that is going backward and would be a big deal to me.
Get the best of iMore in in your inbox, every day!
Thank you for signing up to iMore. You will receive a verification email shortly.
There was a problem. Please refresh the page and try again.