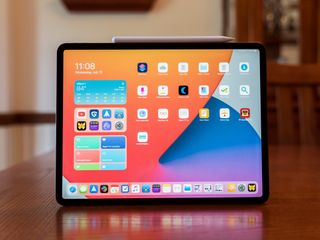 (Image credit: Joseph Keller / iMore)
Looking to sell your old iPad so you can more easily upgrade to the best iPad available? iPads aren't usually available with subsidies or leasing programs, especially not the Wi-Fi versions (though if you have an Apple Card, there is a new financing option available for you). So one of the most popular strategies for those who want to reduce the cost of the upgrade — especially frequent upgrades — is to sell an old iPad to pay for a new one.
Here's a look at how to sell your iPad!
When should I sell?
The best time to sell your old iPad is typically just before Apple announces a new one. Once the announcement is actually made, more people want the new model and so start selling the old. That leads to a lot of supply, which reduces the potential price you'll get.
Originally, Apple would release new iPad models in the spring. This would put a nice distance between new iPad models being announced and purchased before Apple began ramping up the hype again for the fall iPhone releases.
Since Apple's iPad roster (and overall product offering) has expanded to include several different iPad lines, release timeframes have been more spread throughout the year. There have been recent spring releases, like the 2020 and 2021 iPad Pro models and iPad mini 5, though fall announcements have also occurred in recent years like the 8th-generation iPad and 4th-generation iPad Air in September and October 2020, respectively.
For most people, tablets aren't as necessary as phones. So if you can sell a bit early, even if you have to do without for a few weeks, you might get a better price.
Anything I should do before I sell?
Yes, there are a few things you'll definitely want to do before selling!
Before you do anything else, make sure you have an up-to-date backup of your iPad. That way all your data is safe and secure and you'll be able to easily restore it to your new iPad when you get it. iCloud automatically makes a backup overnight, as long as you're plugged in, but a manual backup will make sure you're absolutely up to date.
Make sure your iPad is connected to Wi-Fi.
Plug your iPad into a power source.
Launch the Settings app on your iPad.
Tap your iCloud banner.
Tap This iPad.
Tap iCloud Backup.
Tap Back Up Now.
If you prefer to back up your iPad to your Mac, you should also trigger a manual backup to make sure you have all of your recent data backed up.
Connect your device to your Mac.
Click the Finder icon in the dock.
Click on your device under Locations in the Finder sidebar.
Click Back Up Now to manually initiate a backup.
Click the button next to Back up all of the data on your iPad to this Mac if you want your iPad to favor backups to your Mac instead of iCloud.
Click the checkbox to enable or disable encrypting your local backups. It's highly suggested that you do this if you're going to use a local backup to move data to a new iPad, as some data will be lost if the backup isn't encrypted.
Click Manage Backups... to view all existing device backups.
Click on any device backup you want to delete.
Click Delete Backup. Be aware that the backup might not disappear until the next time you visit the 'Manage Backups...' view.
Click OK.
And if you need to use iTunes on macOS Mojave or earlier, or on a Windows PC:
Plug your iPad into your Mac or Windows PC.
Launch iTunes.
Click on the iPad icon in the menu bar when it appears.
Click on Back Up Now. (Click on Encrypt Backup and add a password— you want the security.)
Back up Apps, if asked.
2. Erase your personal data
Once your data is safely backed up, it's important to wipe it from the iPad you're selling so your personal photos, files, messages, etc. don't end up as a surprise bonus for the new owner.
Launch the Settings app from the Home screen of your iPad.
Tap on General.
Tap on Reset at the bottom.
Tap on Erase All Content and Settings.
Enter your Passcode.
Tap on Erase to confirm.
You'll need to enter your Apple ID password to turn off Activation Lock and remove the device from Find my iPad, and you may need to enter your iPad passcode again to double-confirm.
That's because once the wipe is done, it's done. If you change your mind, you'll need to restore from an iCloud or iTunes backup.
Cleaning your iPad isn't just about removing data, it's about removing dirt. Even if you've run it hard, you should still take a few minutes to wipe it down and make sure it's free from dust, grime, oil, lint, and even fingerprints. Pay extra attention to the grooves and ports. If it's particularly nasty, a dab of isopropyl alcohol and some elbow grease will do the trick.
This is especially true if you're selling your iPad yourself and need to take pictures to show potential buyers. Of course, it's also the right thing to do — nobody wants to buy a dirty iPad.
4. Collect up the cables and cases
Make sure you include the Lightning, USB-C, or other cables that came with your iPad, as well as the AC adapter. If you have all that, and the original box, it will ensure you get the most money possible.
If you're selling your iPad yourself, including any accessories you'll no longer need can also sweeten the deal. Old cases, cables, chargers, and more won't just attract buyers, it will help declutter your collection as well.
Once you have everything, put it all nicely in the box and set it aside so it's all safe and ready to ship.
What's the best way to sell my iPad?
There are a few different ways to sell your iPad, but the two main categories are selling it to a reseller or selling it yourself. A reseller will be much easier but you'll get less money. Selling it yourself will take more work but has the potential to net you more cash. Figure out what's more valuable to you — time or money — and then you'll know what to do.
Apple
Though Apple doesn't offer an iPad upgrade program (yet...), that doesn't mean it won't give you some credit for your old device. While the Apple Trade In recycling program won't give you cash, the Apple Store credit you'll gain is the next best thing if you plan on using it toward your next Apple product purchase.
You can take your old iPad with you into your local Apple Store and submit it for inspection to receive in-store credit in the form of a gift card. Or you can send it into the Apple Trade In program online. If you choose to go the online route, Brightstar (the company that Apple works with to take recycled devices) will assess your iPad and offer you an amount based on the model and condition.
It's usually not as much money as you could get by selling it through one of the other mentioned services, but if you really don't want to do the work and aren't worried about getting a lot of return on your old iPad, it's the easiest way to offload it. Sell your iPad to Apple.
Gazelle
Gazelle is simple and easy to use. Tell them what you have and they'll tell you what they'll give you for it. If you accept the offer, you have 30 days to send in your old device. Gazelle will check your old device when it arrives. If there's anything different, they'll let you know and give you an updated offer. If you decline, they'll ship it right back to you free of charge. If everything looks good, or if you accept an updated offer, they'll pay you by check, Amazon, or PayPal.
Because of the 30-day window (and they've sometimes increased it to 50 days when new iPads are on the horizon), Gazelle is a good way to lock in a price before the market is glutted. Just make sure the condition doesn't change between when you get the offer and when you send it in, or the price will change as well. Sell your iPad to Gazelle.
Swappa
Swappa is a way to get more money for your old iPad than typical services provide, but in a way that's easier and more civilized than selling directly. You do have to have reasonable expectations and some patience. Sell your iPad on Swappa.
eBay
eBay can net you more money for your old iPad but requires you to do a lot of the work and take some of the risk. If you're comfortable handling your own sales and have the time to invest, you can get a better return than trade-in services. That being said, eBay's fees can often negate any extra money your iPad might bring in. Sell your iPad on eBay.
Craigslist
Craigslist is the old classified ads in new digital form and all the wonder and dread that entails. The advantage of Craigslist is that you can sell locally, face-to-face. That greatly speeds up transactions and reduces overhead like shipping. Just make sure to do the following when you sell your iPad on Craigslist:
Never put your personal or home address in an ad. NEVER.
Price your iPad competitively. Find existing ads on Craigslist in your area for iPads that are the same model, capacity, and condition as yours and price accordingly.
If you're comfortable, include a number for potential buyers to call or text. It can increase the likelihood of a quick sale. (If you have a virtual number, use it.)
Meet in a public place, preferably in the daytime. A coffee shop is ideal. Bring a friend with you, just in case.
Watch out for email scams. If someone offers a lot more money to encourage you to ship them your iPad, they're just trying to rip you off.
What if I want to sell to a family member or friend?
The same rules apply. If you don't just want to give your iPad away, you can choose if you want to give a friends and family discount. Either way, making sure the device is in the best condition possible, and everyone is being treated fairly, is the best way to make sure everyone wins and no one leaves with hard feelings. Besides, you're going to have to see these people again, so the last thing you want is simmering resentment over a raw deal at Thanksgiving!
Selling your iPad and still have questions?
We're not going anywhere! If you have additional questions about selling your old iPad, leave them in the comments below. Also, check out our iPad forums where you can get lots of great advice from people who've been buying and selling iPads for years.
And, when you've sold, be sure to tell us what you did and how it worked out!
Updated September 2021: Updated for Fall 2021.
Master your iPhone in minutes
iMore offers spot-on advice and guidance from our team of experts, with decades of Apple device experience to lean on. Learn more with iMore!
Adam Oram is a Senior Writer at iMore. He studied Media at Newcastle University and has been writing about technology since 2013. He previously worked as an Apple Genius and as a Deals Editor at Thrifter. His spare time is spent watching football (both kinds), playing Pokémon games, and eating vegan food. Follow him on Twitter at @adamoram.