AirPods Pro gets a USB-C charging upgrade and Lossless Audio for Vision Pro
The AirPods Pro are about to get even better.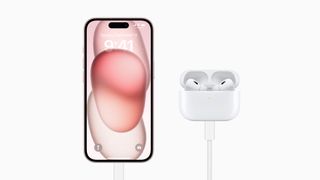 (Image credit: Apple)
iPHONE 15: What you need to know
- Apple Event - LIVE updates
- iPhone 15
- iPhone 15 Pro /iPhone 15 Pro Max
- Apple Watch Series 9 / Ultra 2
- iOS 17
- watchOS 10

After months of rumors, and much hemming and hawing, AirPods Pro is finally getting a huge charging upgrade: Yep, here comes USB-C compatibility.
Announced at this year's Apple Event on Sept. 12, the AirPods Pro will get the new connectivity alongside the iPhone 15, iPhone 15 Pro, and iPhone 15 Pro Max. This signifies a huge change for Apple, which is entirely ditching the Lightning port.
Though some may be nostalgic for their old cable collection, much of which is likely to end up as quite a lot of e-waste or in landfills, the swap is an important one that brings Apple up to speed with all other major phone manufacturers. As of right now, the only device in the AirPods line to get this treatment will be the AirPods Pro.
We anticipate other models will follow suit, and some of the much older AirPods will be discontinued as a result. You can pick them up for yourself as of today; Apple will likely stop selling all Lightning-compatible AirPods soon.
What's more, Apple's AirPods Pro (2nd generation) with USB-C also features Lossless Audio. "AirPods Pro (2nd generation) with MagSafe Charging Case (USB‑C) will enable Lossless Audio with ultra-low latency to deliver the perfect true wireless solution with Apple Vision Pro," the company stated. "The H2 chip in the latest AirPods Pro and Apple Vision Pro, combined with a groundbreaking wireless audio protocol, unlocks powerful 20-bit, 48 kHz Lossless Audio with a massive reduction in audio latency." While that isn't truly "lossless audio", it's still a cool upgrade. Sadly, it's exclusive to use with Apple Vision Pro, because it uses a combination of the H2 chip in both. To get the best audio experience on Apple Vision Pro, you're going to need those AirPods. If you don't have Vision Pro, it's Weasley audio for you.
A better future - iMore's Take
The next year will definitely have some growing pains as consumers have to get rid of old wires and maybe even exchange Lighting-compatible accessories. This will also hit AirPods users: someone updating their AirPods Pro but not their iPhone 14 Pro Max will be have to take two chargers with them, an awkward experience to be sure. If you also have an Apple Watch, you might need to bring three different wires to charge all your devices.
Despite this, the swap to USB-C is necessary for many and will end up with far less eWaste further down the line, due to a simplified, streamlined product family. If you have an iPhone 15 Pro Max, a new AirPods Pro, and an M2 MacBook Pro, you can technically charge them all from the same wire — an excellent prospect indeed.
---
We're covering all the Apple iPhone 15 event announcements live as they happen. Don't miss all our iPhone 15, iPhone 15 Pro, iPhone 15 Pro Max, Apple Watch Series 9, Apple Watch Ultra 2, iOS 17and watchOS 10 coverage so far.
Master your iPhone in minutes
iMore offers spot-on advice and guidance from our team of experts, with decades of Apple device experience to lean on. Learn more with iMore!
James is a staff writer and general Jack of all trades at iMore. With news, features, reviews, and guides under his belt, he has always liked Apple for its unique branding and distinctive style. Originally buying a Macbook for music and video production, he has since gone on to join the Apple ecosystem with as many devices as he can fit on his person.
With a degree in Law and Media and being a little too young to move onto the next step of his law career, James started writing from his bedroom about games, movies, tech, and anything else he could think of. Within months, this turned into a fully-fledged career as a freelance journalist. Before joining iMore, he was a staff writer at Gfinity and saw himself published at sites like TechRadar, NME, and Eurogamer.
As his extensive portfolio implies, James was predominantly a games journalist before joining iMore and brings with him a unique perspective on Apple itself. When not working, he is trying to catch up with the movies and albums of the year, as well as finally finishing the Yakuza series. If you like Midwest emo music or pretentious indie games that will make you cry, he'll talk your ear off.