Amazon Music — Everything you need to know right now!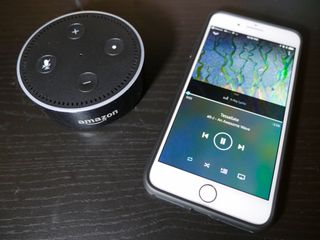 When you think about it, picking a music streaming service is no easy task. Between Apple Music, Pandora, Google Play Music, Spotify, and about a hundred other similar services, it's genuinely difficult to sort through the cruft and find something that's worth sticking with.
If you happen to be in that sorting-through-the-cruft stage, you might want to give Amazon Music Unlimited (opens in new tab) a go — the company's take on a subscription music streaming service is, at the very least, on par with most other offerings. To get a better idea of what Amazon Music Unlimited offers, you can peruse our FAQ!
OK, at the very base level, what is it?
Amazon Music Unlimited is a subscription-based music streaming service that'll run you anywhere between $3.99 and $14.99 a month (more on that later). It's Amazon's Apple Music. It's Amazon's Spotify. It's Amazon's Google Play Music … you get the picture. There are — broadly speaking — two types of music streaming services: radio and on-demand. The free version of Pandora is an example of the radio-style music streaming service; you choose a song, artist, title, or genre to start with and the service builds a playlist inspired by your choice. Skipping songs is typically limited and ads usually play between tracks. Limited skips and advertisements are the price to pay for a free music streaming service. Amazon Music Unlimited is the other type of streaming service, the on-demand type. When you subscribe to Music Unlimited, you get access to a catalog of tens of millions of songs that you can stream and download without ads and with as many hits of the next button as your heart desires.
Nice! In what countries is it available?
At last count, Amazon Music Unlimited was available in four countries: Austria, Germany, the United States, and the U.K.
Got it. Next question: How big is the library?
Amazon says there are "tens of millions" of songs available in the Amazon Music Unlimited library and sadly that's as specific as they get. See, here's the thing about most modern streaming music services: Deep down inside, they're all very similar. Most streaming music companies are able to get the same or similar deals for music distribution, so the size of the music library is bound to be pretty consistent across the industry. Because of these similarities, companies aren't motivated to be too detailed about specs unless they have a spec that sets them apart.
Amazon says Music Unlimited has "tens of millions" of songs, Spotify says it offers "over 30 million tracks" — so who has more? 🤷‍♀️ You can't be sure (and that's the idea).
What devices does it support?
ALL THE DEVICES! Music Unlimited is available on your iOS (or Android) devices, your Mac (or your PC), your Fire TV, Apple CarPlay, and Alexa devices like the Amazon Echo, Echo Dot, and Echo Tap. The only device it's not available on is your Apple TV. Sigh.
Does it offer student and family rates?
No and yes, respectively. Amazon Music Unlimited offers a six-member family plan, but there's no special rate for students. But enough about family and student rates! Amazon Music Unlimited has one of the most interesting pricing models I've seen in a music streaming service. So interesting, in fact, that I'm going to go ahead and lay out all the details in a handy chart for you!
Swipe to scroll horizontally
| Plan | Prime Member Pricing (per month) | Non-Prime Pricing (per month) |
| --- | --- | --- |
| Echo | $3.99 | $3.99 |
| Individual | $7.99 | $9.99 |
| Family | $14.99 | $14.99 |
Understanding Amazon Music Unlimited plans
Music Unlimited Echo Plan: This plan is exclusive to owners of an Amazon Echo, Dot, or Tap. For $3.99 a month, users can stream from the full Amazon Music Unlimited library (tens of millions of songs) on-demand and ad-free. The only catch is it's exclusive to your Echo device — your subscription won't grant you access to Amazon Music Unlimited on the web or in the app.
Music Unlimited Individual Plan: This plan works on all your devices. For $7.99 a month for Amazon Prime members and $9.99 a month for non-Prime members, you get access to tens of millions of songs on the web, in the app, and on any of your Echo devices.
Music Unlimited Family Plan: This plan also works on all your devices. For $14.99 a month for both Amazon Prime members and non-Prime members, you and up to six family members get access to tens of millions of songs on the web, in the app, and on any of your Echo devices.
I should also mention there's an entirely separate Prime Music service that's exclusive to Amazon Prime members. You get access to over 2 million songs and can listen on-demand and ad-free. This service is free for anyone who subscribes to Amazon Prime and it's available for use on your Amazon Echo.
How does it compare to other music streaming services?
It's a whole lot like other music streaming services but there are a few differences. And y'know, I had so much fun making that last chart I thought it'd be great to build another one. Here's a glimpse at how Music Unlimited compares to other popular streaming services!
Swipe to scroll horizontally
Header Cell - Column 0

Spotify
Apple Music
Google Play Music
Amazon Prime Music
Pandora
Free trial period
30 days
3 months
30 days
30 days (with Prime membership)
30 days for Premium, 7 days for Plus
Price
$9.99/month ($14.99 for family up to 6 people)
$9.99/month ($14.99 for family up to 6 people)
$9.99 ($14.99 for family up to 6 people)
Comes with Prime membership ($99/year), $7.99/month for Unlimited
Pandora Premium: $4.99/month, $54.89/year Pandora Plus: $9.99/month, $109.89/year
Library size
~ 30 million songs
~ 40 million songs
~ 40 million songs
~ 2 million (may differ depending on location), ~ 40 million (Unlimited)
~ 40 million
Number of countries supported
Over 60
Over 110
Over 60
See Amazon

(opens in new tab)

Australia, New Zealand, U.S.A.
Questions?
After you've given yourself some time to digest this Amazon Music Unlimited rundown, you might find you've a few more questions about Music Unlimited. If so, be sure to gimme a shout in the comments or over on Twitter and I'll look into things for you!
Which Music Service Should You Get?
Get the best of iMore in in your inbox, every day!
Mikah Sargent is Senior Editor at Mobile Nations. When he's not bothering his chihuahuas, Mikah spends entirely too much time and money on HomeKit products. You can follow him on Twitter at @mikahsargent if you're so inclined.
In my opinion, I feel if you're a Prime member and already paying for Amazon services, they should charge an extra $5 a month and not $7.99

I'm ok with the 20% discount for prime members, but it should also apply to the family plan. Otherwise, they should at least allow for two people to stream from the plan at the same time for no additional cost.

Hey Mikah, good article. I especially liked your charts. I've been a Spotify paid member for three years and am happy – but might be persuaded to switch someday. One thing I like about Spotify is that I can download 3,333 songs per device with a three-device maximum. You say that offline downloading is part of the Amazon package, but don't give specifics. Also, I know Spotify has a free trial, but what about AMU? I'm going to head on over to Amazon now for more info.

I've been using my free trial on Apple Music and its almost at its end (April 26). I will not be using it as a paid subscriber, just didn't seem to be a good fit for me. At the same time I've been using Amazon Music with my Prime membership and liking it very much, it does everything I want and seems to work great. I have had some, well several issues with Apple Music and the Siri interface, I ask Siri to play some things and no response or the wrong response. Amazon lets me tell it music I don't like and it won't play it or offer it up as a suggestion, very handy. For now its Amazon Music for me.
Thank you for signing up to iMore. You will receive a verification email shortly.
There was a problem. Please refresh the page and try again.