Pandora Premium — Everything you need to know right now!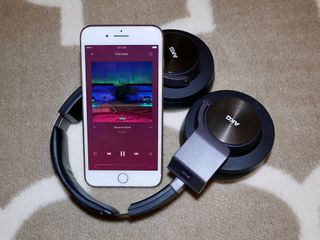 Pandora was one of the first companies out there for streaming music: The service used its Music Genome Project and smart licensing to quickly become a huge name in recommending great music to listen to throughout the work day.
But the company was hindered by a small catalog of songs and growing unrest from customers who wanted to stream what they wanted, when they wanted, rather than the internet radio experience.
After Pandora bought Rdio in late 2015, rumors swirled that the company planned to open a subscription-based on-demand service, and at last the fruit of the company's labors is here in the form of Pandora Premium.
What is Pandora Premium?
Premium is Pandora's newest subscription option: Rather than replace the regular Pandora experience or $4.99 ad-free Pandora Plus, Premium is additive; it takes everything from Plus, and drops a 40+ million song catalog atop everything else.
I want more details: What's the difference between Plus and Premium?
The $4.99/month Pandora Plus subscription is essentially an ad-free version of Pandora's automated radio stations. In addition to no ads, you'll get unlimited skips and replays, the ability to create personalized stations, higher-quality audio, and a way to listen to offline stations.
In contrast, the $9.99/month Premium is a direct competitor with Apple Music, Spotify, Google Play Music, and the like: It not only includes all of Pandora Plus's features, but it also lets you create playlists with unlimited skips and replays and search through Pandora's 40+ million song catalog to play or download anything you want locally to your device.
As of May 28th, 2018, you can now add a Premium Family plan for $14.99 a month. On top of having Premium features, the family plan also has an Our Soundtrack feature, which selects certain tunes based on family member's listening habits.
How do I sign up?
If you already have a Pandora.com account, signing up is easy — just log in to your account on the web or mobile, and select the Upgrade tab.
Signups are currently open to everyone in the U.S., New Zealand, and Australia, but there's a catch: Pandora Premium currently only works on mobile devices like Apple's iPhone, iPad, or Android. Visit Pandora.com, and you'll be reduced to the Pandora Plus feature set.
You might think it makes more sense to sign up on mobile, but there's a second catch: Because Pandora has to pay a share of each subscription to Apple when purchased through the App Store, Premium is $12.99/month on iOS, and just $9.99/month via the web or Android.
My suggestion? Sign up for Premium's free one-month trial on your smartphone or tablet; if you like the service, cancel your App Store subscription and re-subscribe on the web, then log in with your account on your iOS or Android device.
You mentioned free trial?
Yes! Premium currently offers a 1 month free trial on iOS and Android, after which you'll be billed monthly.
How do I avoid being charged if I just want to play with the free trial?
You can do this immediately after signing up for a free trial so that you don't get billed at the higher $12.99 rate; here's how.
Does Pandora offer a family plan?
Not at this time, likely because Pandora Premium is currently only available on mobile devices. We'll have to wait and see if the company plans to release a family option later down the road.
If I don't want Premium but still want to use Pandora, what other options do I have?
Plain 'ol Pandora, Free: This is the Pandora we've known and loved for years — ad-supported algorithmic radio stations. Pick an artist, and you can create a radio station around them that plays songs from them and other artists like them; that station can be further customized by giving songs likes and dislikes.
Pandora Plus, $4.99: Pandora's low-end subscription service; Plus removes all ads and lets you listen offline on mobile.
What countries can I use Pandora Premium in?
Currently, only the U.S., Australia, and New Zealand have Premium as an option. (Sorry, Canada and the U.K.)
Which devices support Pandora Premium?
Currently, Premium is limited to your iPhone, iPad, or Android device; if you play Pandora on your Mac, PC, Amazon device, or Roku, you'll be limited to Pandora Plus's features.
What's the streaming bitrate?
Unknown at this time, as Pandora hasn't officially announced it, but it theoretically boasts the same "higher quality" tier as Pandora Plus (née Pandora One), which at last reporting offered 192kbps for streaming.
I heard there are some songs you can only play via Pandora's radio stations?
Unfortunately, this is true: Because of the way Pandora licenses its music streaming, there are certain artists (like the Beatles) which are restricted to Radio-only play. You'll be able to see which tracks this applies to when searching; artists and songs that won't play on-demand will have a "Radio" badge next to them.
What differentiates Pandora Premium from every other streaming service?
Currently, Premium's main draw is the data behind its Music Genome Project — some people have been Pandora users for over a decade at this point, and that translates into a lot of information about what you like and dislike about your music.
When you sign up for the service, you automatically get a playlist that collects every song you've ever liked over the course of your Pandora listening time; in addition, it uses those likes to suggest new artists and stations you might enjoy. You can continue to create algorithmic stations, as always, but one of Premium's cooler new features is automatic playlist completion: When you create a new playlist using a few songs, Pandora can automatically fill the rest of the playlist with similar music. It's akin to Apple's "play more like this" Genius feature on Siri or Spotify's Daily Mixes, but slightly easier to use in practice. And when you finish your playlist, Pandora will keep the music playing by building an algorithmic radio station with similar characteristics.
You can even share these playlists, though only Pandora Premium subscribers will be able to play them.
How does it compare to other streaming services?
In many ways, Premium has a long road ahead to catch up with the likes of Apple Music and Spotify:
It's lacking any way to play music on your Mac or PC
You can't upload your computer's personal song library to mix in with Premium's collection
It's only available in three countries
Aside from the Music Genome Project's data, there isn't any "killer" feature that differentiates Premium from the other streaming services
Pandora seems to be banking on the trust of its longtime subscriber base — hooking them and others who know the Pandora name and don't want to fiddle with other streaming services might be the key to make up these omissions. There's also no discounting the reliability of the automated engine powering Pandora: The Music Genome Project has some of the best algorithmic suggestions in the streaming game, and pairing that with a full 40 million song catalog could be a huge attraction for potential subscribers.
Here's our general feature comparison, if you're curious how Pandora stacks up.
Swipe to scroll horizontally
| Header Cell - Column 0 | Spotify | Apple Music | Google Play Music | Amazon Prime Music | Pandora |
| --- | --- | --- | --- | --- | --- |
| Free trial period | 30 days | 3 months | 30 days | 30 days (with Prime membership) | 30 days for Premium, 7 days for Plus |
| Price | $9.99/month ($14.99 for family up to 6 people) | $9.99/month ($14.99 for family up to 6 people) | $9.99 ($14.99 for family up to 6 people) | Comes with Prime membership ($99/year), $7.99/month for Unlimited | Pandora Premium: $4.99/month, $54.89/year Pandora Plus: $9.99/month, $109.89/year |
| Library size | ~ 30 million songs | ~ 40 million songs | ~ 40 million songs | ~ 2 million (may differ depending on location), ~ 40 million (Unlimited) | ~ 40 million |
| Number of countries supported | Over 60 | Over 110 | Over 60 | See Amazon | Australia, New Zealand, U.S.A. |
Should I subscribe to Pandora Premium?
If you're curious about a music streaming service that pairs the excellence of the Music Genome Project with a simple, easy-to-use iOS or Android app, Premium might be worth a shot.
If you're looking for a more complex streaming service that lets you pair songs with your existing music library, or you prefer human-created playlists, Apple Music and Spotify might be more up your alley.
Questions?
Any other questions about Pandora Premium? Let us know in the comments.
Which Music Service Should You Get?
Master your iPhone in minutes
iMore offers spot-on advice and guidance from our team of experts, with decades of Apple device experience to lean on. Learn more with iMore!
Serenity was formerly the Managing Editor at iMore, and now works for Apple. She's been talking, writing about, and tinkering with Apple products since she was old enough to double-click. In her spare time, she sketches, sings, and in her secret superhero life, plays roller derby. Follow her on Twitter @settern.