Amazon Prime Video on Apple TV: Everything you need to know!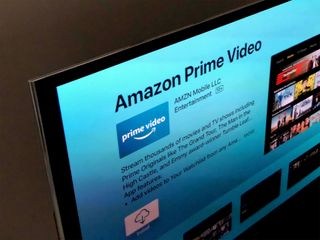 Six months after it was first announced at WWDC 2017 and years after the company should have shipped it, Amazon Prime Video for Apple TV is finally available for download. And here's everything you need to know about it.
What's new with Amazon Prime Video?
Well, the first and biggest news is that Amazon Prime Video is finally available on Apple TV. With your Prime membership, you can access and watch all of the movies and TV shows Amazon has to offer.
See what's new on Amazon Prime Video this month!
What is Amazon Prime Video?
Amazon Video is the company's video streaming app. With it, you can rent, buy, or watch Prime content. It is available on a plethora of devices, including smart TVs, Blu-ray players, set-top boxes, game consoles, Android devices, and iOS devices.
If you have a Prime account, you can stream some content for free as part of your subscription. You can also rent or buy movies from Amazon and watch them from the app or on Amazon.com (opens in new tab) directly.
How do I get Amazon Video on Apple TV?
If you update Amazon prime video for your iPhone or iPad, it should automatically download to your Apple TV.
Get it in the App Store (opens in new tab)
If, for whatever reason, it doesn't work, you can also:
Pick up your Siri Remote, hold down the Siri button, and say "Amazon Prime Video App Store" and you should go right to it.
Go to the App Store on your Apple TV and browse around or search for the new Amazon Prime Video app.
How do I sign up for Amazon Prime Video
Amazon Prime Video is actually part of Amazon Prime. If you already have a subscription to Amazon Prime, you already have a subscription to Amazon Video.
If you don't already have a Prime subscription, you can sign up today if you live in one of the 200 supported countries. Most regions offer a 30-day free trial so you can test the waters before you jump in.
How to sign up for Amazon Prime
What can I watch on Amazon Prime Video?
Oh, a lot. In March of 2016, Variety reported that Amazon has more than 18,000 movies and nearly 2,000 TV shows. Content covers all manner of categories, including comedies, drama, action, sci-fi, fantasy, kids, and more. Not only can you watch a lot of free content with your Prime subscription, but you can also rent or buy movies and TV shows, expanding your available content even more.
The Amazon Video app is updated regularly, and as you watch or save content in your watchlist, recommendations are catered to your favorite types of movies and TV shows.
Are there any premium channels?
There are. Currently, you can subscribe to a number of channels, like HBO, Showtime, Cinemax, and Stars, and then access content from your subscriptions in the Amazon Video app. It's about more than just the major premium channels. You can subscribe to smaller channels, like Cheddar, MUBI, Outside TV, Shudder, and more.
There are even channels specifically for watching concerts, like Qello, and having karaoke fun, like Stingray. After you've signed up, visit the Channels section on Amazon (opens in new tab) to see the type of content you can add.
How do I rent or buy videos with Amazon Prime Video?
If you find a movie or TV show that you want to watch, but it's not available to watch with Prime, you can rent or buy it. Rentals are available for 30 days after you first rent them, but expire 48 hours after you've started watching them.
You'll have to rent or buy videos from Amazon.com, but you can add them to your watch list, and then watch them in the Prime Video app after you've made your payment.
Once rented or purchased, videos show up in the Library section of the Amazon Video app. Hit the play button to start watching. If you've rented and watched a movie, it will disappear after 48 hours - 30 days if you've never watched it.
Any questions?
Do you have any questions about Amazon Video and how to watch it on Apple TV? Put them in the comments and we'll help you out.
Lory is a renaissance woman, writing news, reviews, and how-to guides for iMore. She also fancies herself a bit of a rock star in her town and spends too much time reading comic books. If she's not typing away at her keyboard, you can probably find her at Disneyland or watching Star Wars (or both).
I live in NY and I still don't see it.

try searching for it, that worked for me (ATV 4th generation).

oh, also, if you have ATV 4th generation. or 4K, you need to update to tvOS 11.2, otherwise, see my comment below

How do you get it on 3rd gen apple tv (A1427)?

try searching for it, otherwise: "...the "Apple TV 3rd generation or later" —but installation may necessitate a reboot of the device, or a reboot followed by a user signing out of iTunes, then back in. " from here: http://appleinsider.com/articles/17/12/06/amazon-prime-video-arrives-on-...

This is great. After using Apple TV for a while, switching back to Fire TV is unbearable. The advertising and the clutter make it so unappealing. It's too bad Amazon music is so much better than Apple Music. That's the only thing I'm missing now.

"Everything you need to know!" wow, so many unanswered questions: "Does it work with the TV app, including "up next" function?" YES "Will it show up on my ATV 2nd generation?" NO, the Prime Video app requires iOS 7 (ATV 3rd gen.) or tvOS 11.2. "I don't see it on my ATV" ... I searched for it, that worked for me, but, if that doesn't do it: "Amazon notes that the tvOS app requires the "Apple TV 3rd generation or later" —but installation may necessitate a reboot of the device, or a reboot followed by a user signing out of iTunes, then back in. " Also, see last note, works on ATV 3rd gen. (latest OS), 4th gen. & 4K w/tvOS 11.2 (just came out Tuesday) "Does it support 4K and HDR on ATV 4K?" YES "Can I purchase content via the ATV?" NO, however, you can purchase via amazon's website then add to your watchlist and it will show up in your watchlist on ATV, (at least in the US). "Will it work in my country?" It's being released in 100+ countries, see press releases below: Amazon press release: http://phx.corporate-ir.net/phoenix.zhtml?c=176060&p=RssLanding&cat=news... Apple press release: https://www.apple.com/newsroom/2017/12/amazon-prime-video-arrives-on-app... ...I'm not into sports, but, tvOS 11.2 added live sports and team notifications, so, this may work with NFL as amazon has NFL thursdays?? c'mon iMore, when you say "Everything you need to know!", really make it everything or just leave that out of your headlines from now on. I appreciate that you don't necessarily report the fastest, and don't post rumors, but have real journalism, please do not change into a clickbait site.

ALSO: (at least in the US): Any MoviesAnywhere titles will show up in the "Video Library" tab...as long as you have MA linked to your Amazon Prime Video account.

My only complaint is how hard it is to sign into the Amazon Prime Video app with 2FA enabled on my Amazon account. I can use a bluetooth keyboard to input my email and password but I have to use the on screen input to enter my 2FA number and it takes me almost 30 seconds to do that. It took me a few tries and I barely got it entered in time.

Omg. **** apparently froze over!

Really, iMore? Rene can drop GD in a podcast but H e l l gets sensored in a blog comment? 🤦‍♂️

It appears as though the user profiles do not exist in the Amazon Prime for Apple TV app - my family uses the profiles all the time. Am I missing something?
Thank you for signing up to iMore. You will receive a verification email shortly.
There was a problem. Please refresh the page and try again.