Mobile photography may have made it much easier to take photos, but it's also made it easier to forget them. If you're anything like me, you could end up with dozens of photos on your phone every time you visit a park or see a cute dog. Revisiting your favorite images can be a bit like searching for a needle in a haystack after awhile, and even then, it's not quite the same as having a photo on your desk or on your wall. Then again, with one of Kodak's photo printers, you can print your favorite pictures from your camera roll or social media wirelessly and keep them closer.
Today only, Amazon is having a sale on select Kodak photo printers and instant cameras with prices discounted by an extra 20% through the end of the night. The sale also includes a handful of bundles that package photo paper with the printer or camera of your choosing. Prices start at $71.99 on Kodak's photo printers while the Kodak Mini Shot 3 cameras are now on sale starting at $89.99.
In a Flash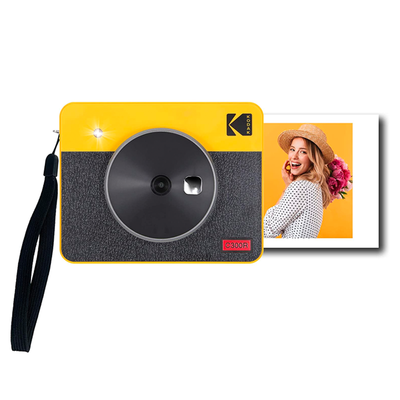 Kodak Instant Cameras and Photo Printers
Amazon is taking an extra 20% off select Kodak instant cameras and photo printers today only. Wirelessly print your favorite photos from your smartphone or social media, or grab a Mini Shot camera to take photos and print them instantly!
Limited Time Only
The Kodak Mini Shot 3 Wireless Instant Camera lets you take photos and print them instantly, though there's another feature that's even more helpful for mobile photographers. With the Kodak app, you can connect to the camera wirelessly using Bluetooth and then print photos directly from your phone or save photos that you've taken with the Kodak Mini Shot 3. The app also has a variety of stickers, frames, and filters you can add to your photos before printing or sharing to social media. Today's sale saves you $30 off the Kodak Mini Shot 3 while supplies last, bringing its price down to $89.99.
Several Kodak photo printers are on sale today as well, though there are a few different sizes and colors to consider. The latest model is the Kodak Mini 3 Retro Portable Photo Printer. Today it's on sale for $78.99, saving you 25% off its full price. It's able to print 3x3" photos directly from your iOS or Android device using Bluetooth.
Amazon's sale is coming to an end later tonight, so be sure to check out the entire selection on sale before these prices rise back to normal. Then again, if the Kodak Mini Shot 3 isn't the right camera for you, this guide to the best instant cameras has a lot of other great options to consider.
We may earn a commission for purchases using our links. Learn more.