Angry Birds Seasons Easter Update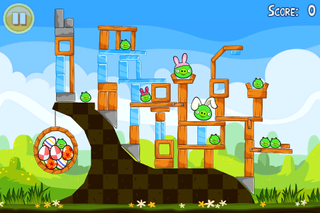 Angry Birds Seasons has been updated yet again, this time for the Easter Season. The update includes:
15 new levels full of spring.
New theme to fit the mood.
Golden Eggs A-Plenty.
The update has come for both the iPhone and iPad version.
Let us know if you're going to be collecting your Easter Eggs from those green pigs, this Easter.
[$0.99 (iPhone) - iTunes link (opens in new tab)] [$1.99 (iPad) - iTunes link (opens in new tab)]
Writer for iMore, YouTube Vlogger, and Host for [TEChBrits]
There goes my day. However I don't like the intro music.

I swear, angry birds seasons is the hardest one.

I had planned on being productive today, oh well. Guess I'll be sneaking in levels at work.

Though AngryBirds is probably the one of the most ingenious App series on the app store, I personally am getting bored. They should make a more explosive angry birds (both literally and metaphorically) that is more complex for us that find it less interesting as time goes on.

Explosive birds (my little round black canon ball friends) make the game easier and less challenging. So what you're saying is you'd like the game to become more challenging, by becoming less challenging?
And iDroid bricks the final shot.

No, I mean that the developers could add more complex features, like flight control, multiple bird launching, and more than one features per each bird. This way, the better players could use combos of birds in different ways. This would also allow super cool and super hard levels.
I agree though, the black birds are too easy.

The mass popularity of Angry Birds is based on it's simple "child-like" interface. Building a more complex system in the game might jeopardize usability and make the product nose dive.

Wow... some of you are just nuts over this game and don't mind wasting your time.

I'm glad to know that I'm NOT the only one who never downloaded this game (designed for toddlers)
:)

The game is the best game ever! Over 75 million sales says everthing ;)

Yeah, it says that too many people are sitting around doing nothing when they could be out there doing something. Volunteering, making money, etc.

Lighten up Francis. Jeez.

Glad you could take time out from your endless charity work to post on a meaningless iPhone blog. We have so much to learn from you about spending our time wisely.

Angry Birds is awesome but I would like to see more birds. The current ones are getting old. It would be cool is your given a budget and you could buy birds for each level. Better birds would cost more i.e. Black birds and big red ones. Also let people create own levels then upload for people to play. Just a thought.

Damn it,it is free for android.

How about a passover version where you fling angels of death at Egyptians?

who still plays angrybirds...
for every season: christmas, easter, they have to release a new one
booooring
useless..

Hi there very nice website!! Guy .. Beautiful .. Superb .. I will bookmark your web site and take the feeds also?I'm satisfied to seek out numerous helpful info here in the post, we'd like work out extra techniques in this regard, thanks for sharing. . . . . .

I like the helpful information you provide for your articles. I will bookmark your blog and test again right here regularly. I'm quite certain I'll be told plenty of new stuff right here! Best of luck for the following!
Get the best of iMore in in your inbox, every day!
Thank you for signing up to iMore. You will receive a verification email shortly.
There was a problem. Please refresh the page and try again.