App Giveaway: HoursTracker for iPhone and iPad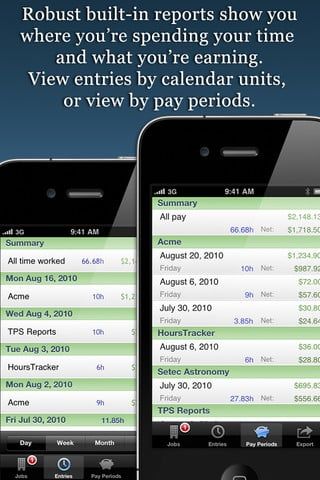 HoursTracker is an app for keeping track of your time and earnings at your hourly job or as an independent contractor. You can clock-in and out to as many jobs as you need, and HoursTracker will do all the work and even calculate your earnings, including overtime, and view them by day, week, month, or job.
I must say, the iPhone version looks quite beautiful.
Keep track of your time and earnings at your hourly job, or track time as an independent contractor. HoursTracker makes it simple and easy. Jump in and start a timer with two taps of the finger. Or, track your time by entering in your punch times manually. View your earnings (even overtime!) in the app, or export via e-mail in text or CSV format and work with it however you need to.
Tracks your time while you use other apps (or power off your phone!) without running in the background. No extra drain on your battery just because you are clocked in to your job in HoursTracker.
Add as many jobs as you need to track, there's no limit.
Assign a pay rate and HoursTracker will calculate your earnings, even taking overtime into account.
Supports daily and weekly overtime with two thresholds and rates for each. So if you get paid time and a half over 8 hours and double-time over 12 hours or by the week (or both!), HoursTracker has you covered.
Track your time in real-time by clocking in/out while you work. Watch as time and earnings accumulate in real-time.
Already working but forgot to clock in? No problem, use "Start Clock At..." and start counting time from when you started work.
Clock in to any number of jobs at a time, or set it up to have only one timer running at a time automatically.
Enter time manually -- just choose a start date/time and an end date/time or duration. Add comments, change the hourly rate for that time, and easily subtract breaks.
Flexible rounding options to automatically round your time worked can be configured per-job.
Set up pay period details and view your time by weekly, bi-weekly, semi-monthly, or monthly pay period on the Pay Periods tab.
View your time and earnings by day, or by calendar week or month, or by job, on the Entries tab.
Date formats and currency symbols respect your device's international settings.
Export data via e-mail in text or CSV formats in the message body or attachment. Export all jobs, or any selection of jobs, for all-time or between any two dates. Combine all entries into one daily summary, or export each one including the clock in / out times.
Full edit and delete of jobs and hours worked. Easily copy a job if a new job will have similar settings.
Basic cloud data backup/restore included free with the app. Enhanced Backup services also available, including automatic backups and moving data between your iOS devices. iTunes File Sharing is enabled, so you can keep your data entirely under your control if you prefer.
Developer Carlos Ribas kindly gave us promo codes to give away to 5 lucky readers! For a chance to win, just leave comment below telling us which version you want, iPhone or iPad, and about how many hours a week you expect to track with HoursTracker.
HoursTracker is available on the iPhone and iPad for $2.99 each.
[iPhone App Store link] [iPad - App Store link]
Have an app you'd love to see featured on TiPb? Email us at iosapps@tipb.com, tell us about your app (include an iTunes link), and we'll take a look.
[gallery link="file"]
Get more iMore in your inbox!
Our news, reviews, opinions, and easy to follow guides can turn any iPhone owner into an Apple aficionado
Former app and photography editor at iMore, Leanna has since moved on to other endeavors. Mother, wife, mathamagician, even though she no longer writes for iMore you can still follow her on Twitter @llofte.