App Giveaway: Skyfire Web Browser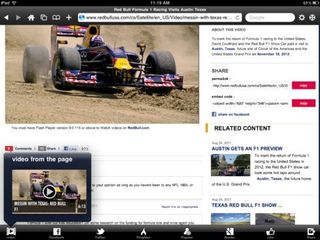 Skyfire Web Browser, the popular iPhone and iPad app that lets you watch flash videos, received an update today. Now it will suggest videos that you will like based on what you've watched. It's like Pandora - for video!
Watch Flash Videos
Brand new must-try Video Recommendation Engine which intelligently suggests related video based on the content you are browsing!
Skyfire allows you to watch Flash videos that otherwise don't work on iPhone.
Enjoy videos from sites like South Park, The Daily Show, Justin TV, and more.
More than 200,000 websites supported and new ones added daily.
You can check support for you favorite site at www.bit.ly/site_check
Just press the "Video" icon on the bottom left of the toolbar on a page that has a flash video.
Save Money while watching video
Our patent pending video compression technology saves up to 75% bandwidth while streaming video.
When you watch video using Skyfire toolbar, you can watch up to 4 times more videos while still staying within your data plan limits.
Awesome modern UI
Full-Screen browsing: use every pixel of that gorgeous screen.
Load page as iPhone, iPad or Desktop: access the full versions of your favorite websites for more features and videos
Private Browsing mode: Keep your browsing session private.
Popular content: Find out what's popular on any website with the click one of a button.
Facebook + Twitter: Stay in touch with your Facebook and Twitter feeds without ever leaving your browser.
Google Reader: So you can stay in touch with your RSS feeds.
Share webpages: Using Facebook, Twitter, Email, Instapaper, PinBoard, Read It Later, Tumbler, and more.
The good folks at Skyfire Labs have agreed to gift 5 copies of Skyfire to our readers! For a chance to win, just leave a comment below! Must have a US iTunes account to win. Apple's rule, not ours! Must also provide a valid email address.
Skyfire Labs is available on the iPhone for $2.99 and the iPad for $4.99.
[iPhone App Store link (opens in new tab)] [iPad App Store link (opens in new tab)]
Have an app you'd love to see featured on TiPb? Email us at iosapps@tipb.com, tell us about your app (include an iTunes link), and we'll take a look.
[gallery link="file"]
Get the best of iMore in in your inbox, every day!
Former app and photography editor at iMore, Leanna has since moved on to other endeavors. Mother, wife, mathamagician, even though she no longer writes for iMore you can still follow her on Twitter @llofte.
Would be a great addition to my new 4s!

Yeah, would be nice to have a copy for my iPad too.

sounds great hope to win :)

A must need app on my iphone4

Would love it on my iPad 2 Thanks...hope I win.

This would be so good would prefer it on my iPad but would use it on my iPhone too!!

Oh yeah!!! Thanks for the tiP :) love to try the app

Sounds good to me. Let it on meeeee!!

That would be a treat. All the internet porn these days tends to prefer flash..

That's why Apple doesn't support Flash.

This looks so much better than safari!

Flash?!? ..... on iOS.... that will never catch on. :-)

winning! well hoping anyway.

I could use it, I loved this app on every other platform I've tested it out on!

Ugh I could so use this, please and thank you.

Sounds good to me. Lay it on me!!!

I want to win! You are the best tipb

Oh!this is the only app I need

Now thats an AWESOME browser for the AWESOME iPhone and iPad. It would be AWESOME if I can get the app free for my iPhone 4S and iPad.

Oh! This is the only app I need!

would be great to get this for my new Ipad2 - in my opinion it's the only thing missing from Ipad (flash). Thanks for the chance to win

Would be fantastic to win this browser! I've only heard good things about it! Please oh please!

I would really like this for my iPad

Drats, I posted from Pulse and it didn't seen like it went through. Now I've double posted.

Flash on iPad will make it my ultimate device! Goodbye windows laptop hello iOS

Hope I win a copy for my 4s coming tomorrow! :)
Cheers to tipb!

I've been meaning to try this out but every time I remember to I don't have any money!

Liked this on my woeful old Android phone, be nice to have on iPhone

I would love this on my iPad 2. Sounds cool.

This would be a completion of the browsing experience

Here's to my chance. Lets go skyfire and tipb!

Flash on my iPhone would be great but what would be better is flash on my new 4s :D

Bought the iPhone version, wouldn't mind winning the iPad one!

Flash would be great on my iPhone. I want this app.

I want to win skyfire web browser for iPad so I can rock those flash video web sites with skyfire!

good luck to everyone!
I want this browser >:D

Don't have to saw what we would watch with it? Cool ...putting my name in the hat!

Awesomeeeeeeee...I want one

sky fire would be useful for me, my school's website is predominately flash based!

This is the missing link from iOS 5! Getting this app would also make me better looking and smarter

:O When you say "Must have a US Apple ID" this doesn't include Canada does it?

Would love to use flash on my ipad :-)

I want the iPad version, already have the iPhone one.

I would love to own this for my Iphone. Skyfire is great I use to use it on my Android phone. Now that i switched to the Iphone, I qould love to see flash!!

I......WANT.....NOW..!!!!! .....please?

Sounds cool! I'm very excited to get some new apps. Moving from a 3g to the 4s.

I would LOVE to watch Flash on my iPad!!!

Hope I will be able to win first app from TIBP

I need this for my new iPhone. Pick me.

Great giveaway. This app would be the icing on my new iphone4s cake.

No pie in the sky with Skyfire! Love it on my iPhone, can only imagine how awesome it must be on the iPad.

New iPhone user here...me want it!

Amazing app on any platform!

I would LOVE to win a copy :D I have tried 3 or 4 other web browsers and this one seems very cool. Good luck to everyone else.

I absolutely loved Skyfire when I had my old old Windows Mobile phone and I enjoyed playing with it on the iPhone. It's such a great browser and def a must have for anyone with an iOS device!

Hey i'd love to win a copy for my iPhone!

Ahhh I'd love to have skyfire running on my "outdated" iPhone 4 :-P

Cool stuff!!! Can't wait to use it...

I will love to get Skyfire to be able to use flash on my iPhone

I have been wanting to try this browser for a while. Hope I win.

Give away more Apps!!! Especially the more expensive ones!!! haha.

Nice would be a great ad on to my ipad!

I'd like to win this app for my wife

I'd like to give this one a try.

count me in for a chance at one

Yes, I would love a copy please!!

I'd love a copy for my iPad.

I would love to have Skyfire on the 4s I'm planning to buy.

Would love to win a copy for my iphone. This was the great app on windows mobile and even better on the iphone. i'd still get it for the cost too, but it would be great to win.

Yes, Kindly enter me as well. Iphone 3GS

I'd love it for the iPhone for those rare cases when HTML5 video isn't available!

Skyfire and ios5 perfect combination even better when its a free copy for my iphone

my brothers all use android phones and rave about flash on their phones,this will prove them wrong and make me look good with my iPhone.

I love the sky fire app and the flashy world it gives to me.

I would love to win one. Thanks!

I want to try this app out someday. Will you provide me with a free copy ? lol

i would love a copy of skyfire for my ipad

hoping to win one for the ipad

I would love this! My first iPhone ever will be delivered tomorrow! Good by Droid incredible..y stupid hello Apple love!

Greatest browser for iPhone!

I would love to have Skyfire on my iPad so I wouldn't have to drag my laptop out for training sessions at work!!! Gimme gimme gimme!

I've been watching this app for a while, and if I don't win a copy I'll probably end up buying it. Here's to hoping!

i would like to try skyfire out. lemme have it please!

The iPhone 4S will be my first Apple device since the 3rd Gen iPod Classic. I have been an Android user for almost 2 years now, and ready to check out everything iOS. Will really miss (kind of...err...maybe not) Flash. This would help me transition. THANKS!

Tipb is always amazing giving away things like this! Would love to show it off!

want it for my ipad. hate laptops!

Awesome app to watch streaming videos online. Hope to win one. Thanks!

I guess if I have to look at FLASH content on my iPhone, this is the best (and nicest looking) way to do it...

Ahh its an amazong app for iPhone & iPad looking nice!!

I just had my first iPad. So I hope I can use Skyfire with it.

Skyfire is awesome!
Although I didn't buy it yet, I played with it in a friends iPad... Awesome!

i've always wanted to try this out. will be cool win this

Great way to get to some old pages that still use the ancient flash!

I would love to have a copy In for the win!!

Used it on Droid before flash was available and it "just worked"!

I'd love to give it a shot!

Please ad me to this one. This would allow me to FINALLY see my own companies web-page on a iPhone/iPad.

I want it! I used it on Windows mobile and loved it!

My ipad would be very happy :-)

My ipad would be very happy :-)

I would be interested in winning either, but the ipad version would be very cool to show off flash on my apple device!

Please pick me! silvertundra40@hotmail.com

I am excited to try this out.

As always, I appreciate Tipb giving us the opportunity to get free stuff - I hope I win!

Thanks! Hoping to win a copy of this program. Have heard lots of good things about it.

I'm fairly new to owning an Ipad2 and have heard the Skyfire Web Browser enhances what you view. I would really appreciate the app if I received it.

I am interested in this for sure, but the reviews do not look that good. One way to find out is to win this giveaway.

Love the giveaways from TiPb. And Skyfire would be awesome to have to make up for the shortcomings of Safari!

Awesome. I would love to watch me some Yahoo flash trailers.

Sky fire one way to get the job done

I wanna play play with a fancy browser thing! Pick me.

For all you Gears Of War fans outh there, "SKYFIRE!!!!!"

Would love this for my new iPhone 4s which is taking impossibly long to be delivered.. I've been camping out on my fraternity's front porch perhaps a bit too eagerly.

I would love to try flash on my iPad. (⌒▽⌒)

I need to see Flash!! I need this app!

I'm new to the iPad and new to your site, but already have a need to do Flash training videos for my job. Wouldn't I be lucky to win Skyfire?? So sweet...pick me, pick me! Thanks for your good work.

Oh cool! Hope I win a copy.

I ran into a problem traveling with my ipad and needed to watch a specific how-to video...but it was a flash video which cause much frustration :(

I really need it, I need flash in my iPad

Great !!! I hope it will work with some of the flash sites I'd like to use to watch some sport vs having to watch on my PC

I can't agree more!!! I was recently sitting next to a person with an IPad 2 like me, and he's sitting there watching college football games live as I was trying to on the "Watch ESPN" app and I was so upset because I could not access the coverage because I'm an AT&T ipad2 and he was a Verizon ipad2. in trying to find out on this site if I can change coverage to Verizon from AT&T (which now I know I can't) I stumbled upon this app. it may not help with the ESPN app (hoping it will though) but I am very much hoping at it solves my other many many let downs of not being able to access so much of what is offered because Apple refuses to add Flash and it's the main too needed to watch SO much media on the net. thank u Skyfire high hopes for success on this app

My 4S is here any browser whichcan play flash will be a plus

Sweet give away always wanted to try this but 5 bucks for something I'm not sure off? I know it's not alot of money but I have wasted more before. Would love to win for my iPad or iPhone 4

A free version of Skyfire would be nice. Clever app. Can't wait to try it!

Not sure when the giveaway is over, but here I am. Hopefully not too late =]

I hope I can win the app I need flash for my iPad now!! xD

Would love to win. Kylekinsey@gmail.com

Woo hoo! I knew there was a reason I held off buying this! Because I'm gonna win it from TiPb!

Wow...just what I've been looking for! I felt "left out" when I couldn't watch some viedos... Ain't technology awesome.. even us "older" chicks learn something new everyday! Maybe I'll even get lucky and win the Skyfire Web Browser for my iPhone. Skyfire Labs rock!

I have been looking for a means to watch flash driven videos on my Ipad since I got it! Where I stay there is no Tv so my iPad is all I got. Now I could at least watch a more variety of video ! Thanks,

I must have mistyped "hulu.com," because that's where I was trying to get when I got the same scam. Luckily I'm skeptical of everything and didn't proceed.

I really want this app!!!!

The "official codec" from MS did not work either.
Thank you for signing up to iMore. You will receive a verification email shortly.
There was a problem. Please refresh the page and try again.